SportsNation Blog Archives

Central Florida Knights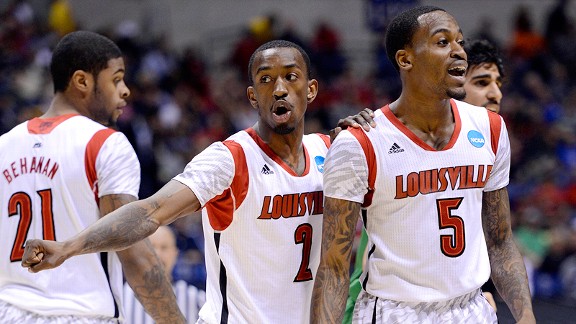 Louisville is the overwhelming favorite to win the American Athletic Conference in its first and only season in the league. Memphis, last year's Conference USA champions, is projected to finish third behind Connecticut. How will the inaugural AAC season play out?
Conference rankings: A-10 | ACC | Big 12 | Big East | Big Ten | C-USA | Pac-12 | SEC
More rankings: 2013-14 preseason Top 25 | Conferences


2013-14 American Athletic basketball teams

Cincinnati

Cincinnati
2012-13 overall: 22-12
2013 Big East: 9-9


Connecticut

Connecticut
2012-13 overall: 20-10
2013 Big East: 10-8


Houston

Houston
2012-13 overall: 20-13
2013 C-USA: 7-9


Louisville

Louisville
2012-13 overall: 35-5
2013 Big East: 14-4


Memphis

Memphis
2012-13 overall: 31-5
2013 C-USA: 16-0


Rutgers

Rutgers
2012-13 overall: 15-16
2013 Big East: 5-13


South Florida

South Florida
2012-13 overall: 12-19
2013 Big East: 3-15


SMU

SMU
2012-13 overall: 15-17
2013 C-USA: 5-11


Temple

Temple
2012-13 overall: 24-10
2013 A-10: 11-5


UCF

UCF
2012-13 overall: 20-11
2013 C-USA: 9-7

Your Rankings
1.

2.

3.

4.

5.

6.

7.

8.

9.

10.

In the ongoing shoe wars, the University of Central Florida seems like it ought to be kind of a forgotten outpost. Sure, they have a nice new arena down there in Orlando, but the Knights went 17-14 last season and are a middle-of-the-road program in middle-of-the-road Conference USA. Then again, the Falkland Islands weren't exactly a global hotspot, either.
Freshman Marcus Jordan, Michael's son, laced up his Nike Air Jordan sneakers for UCF's first exhibition game, and adidas, which has a contract for UCF players to wear its brand, dropped the school like it was Bryon Russell at the end of an NBA Finals game.
Of course, the school's contract with adidas also was in its final year, so it might have been a convenient way for the company to save some money in the future while reminding people it's still in the shoe game. Or perhaps we're just cynical.
"

No way UCF disciplines young Jordan. If he becomes an alumni, they can plan on more donations to the University from the Jordan family, than Addidas' contracts for 50 years. This was well thought out by UCF way beforehand.

"

-- vweaver69
"

This doesn't appear to be a big deal. UCF was in the final year of the contract and likely views having Marcus on the team as alot better marketing tool than having a sponsorship from Adidas. They can probably get a Nike or Jordan contract now.

"

-- khav32