SportsNation Blog Archives

Miguel Cabrera
Remember when perfect games were a rarity? It used to be that years would pass between them -- now, it seems like several happen per season. Baseball's Triple Crown might be going in the same direction. Miguel Cabrera, who won the first Triple Crown in 45 years last season, is leading in two of the three major categories, and he's only one behind the lead in home runs after bashing three against the Rangers on Sunday night. It's not easy to keep up the required level of excellence necessary to lead in three major offensive categories, but considering how well he's been hitting over the past year, it's difficult to see who could prevent Cabrera from winning again.
malepreciousmetal: "I'm guessing Hamilton's numbers were similar to Cabrera's at this point last year. I think Cabrera is a better hitter but just some food for thought."
bhopx: "Is there another hitter in baseball that could have hit for a HR the pitch that Cabrera hit for his third HR? I don't think that was even a strike."
JimDetroitFan95: "Miguel Cabrera is the best hitter I have seen in my lifetime."
damixedone08: "I honestly love how Cabrera would get down in the count..and still make you pitch a strike eventualy. Dude is nasty. Made holland throw it to him ...and Holland made it obvious on what he was going to do."
sportsnirvana: "still insane that he won a Triple Crown last year. Best hitter hands down in baseball. Not even close."
What do you think? Leave your comments below.
---
The best again?
Triple Crown stats are nice and all, but we're more concerned with the fact that Cabrera is leading all of baseball in OPS -- he's ahead of Baltimore's Chris Davis by fifty points.

No one could have known in 1966 and 1967, when Frank Robinson and Carl Yastrzemski won back-to-back Triple Crowns, that the feat wouldn't be matched again for 45 years. Miguel Cabrera ended that drought Wednesday night. But Cabrera wasn't the only player to make history in 2012, as three pitchers threw perfect games -- the most in a single season. Both achievements are rare; just 23 pitchers have tossed perfect games, and only 10 hitters have led in batting average, runs batted in and home runs since 1920. And keep this in mind: Of those 10 Triple Crown hitters, the previous nine are in the Hall of Fame.
SupaFlySlammaJammazz...:" A lot of it is mental too. Knowing the opposing pitcher, his arsenal, what he likes to throw on 2-2- counts for his strikeout pitch, being patient and selective. A very good player. We probably won't see another 3 Crown in a long time."
bri_weaver:"Not even worried whether or not Cabrera wins the MVP award. Every year someone is handed the MVP award by a panel of voters, but Cabrera accomplished something based solely on his sheer talent, and had not been done in 45 years. Much more proud of Cabrera earning the TC and the Tigers winning the division."
Black.Ice:"Cabrera hit 40 doubles to Trout's 27. You don't need to steal second if you're already there."
scoocar:"Perennial all-start first basemen happily moves to play toughest position on the infield to accomodate adding another first basemen and then promptly wins Triple Crown which hasn't been done in 45 years. Does anyone really think someone else could be MVP?"
Mustelvulpo:"Since WW2- Ted Williams, Mickey Mantle, Frank Robinson, Carl Yaztrzemski, Miguel Cabrera- that's elite company."
400vras:"Congrats. Joining Mantle, Williams, Gherig, Yaz is incredible. Other than RBI almost similar numbers to Yaz. Great to be able to see it. Who knows if we will see it again in our lifetime."
mjr6638:"Props to my fellow Royals fans who showed up in force for a 71 win team on a Wednesday night to cheer Cabrera and give him the ovation he deserved...very nice."


Join the conversation or respond by signing in or creating a profile and blogging.
In a move that Ted Williams no doubt would appreciate, Miguel Cabrera likely won't sit in tonight's season finale as he chases the Triple Crown. If he does decide to sit, would you still respect his accomplishment?
etrillion: "Well,we should know about the triple crown and whether or not Cabrera is gonna play tonight because both Tex and LA have early games."
theSportzReporter: "He deserves the Crown and I hope he hits another today to seal it. That way if JH hits 2 hrs , he'll still get the TC."
Tarek091294: "RBI's shouldnt even be considered a statistic its too much of a team stat just like wins and loses for a pitcher. You can only drive in who is on the bases for you."
oz7com: "I favor Miguel: I hope there is no funny business by pitchers in the TX game."
ryan27866: "Amazing accomplishment if Miguel Cabrera can achieve this. It takes an incredible player to be able to hit for average while still swinging for the fences. "

Join the conversation or respond by signing in or creating a profile and blogging.
Miguel Cabrera is closing in on baseball's first Triple Crown in 44 seasons. Most years, that would be more than enough to justify a vote for the AL Most Valuable Player award. But Mike Trout's phenomenal rookie season has made the MVP a two-horse race. We looked to history for guidance, and the last three Triple Crown winners -- Carl Yastrzemski (1967), Frank Robinson (1966) and Mickey Mantle (1956) -- all won the MVP. But Ted Williams' Triple Crown seasons weren't enough for MVP voters in 1947 or 1942, when the Yankees' Joe DiMaggio and Joe Gordon won the award, respectively. Should winning a Triple Crown be an all-but-automatic MVP? Or is it just one factor to consider?
spartygreen44:"Trout is a great player, but was slumping for the most important 2 months of the season. His team needed him, but he couldn't deliver - does that sound like an MVP? Plus, pitchers have figured him out now - these are the same pitchers that have had 10 years to figure out Cabrera, and still haven't - 10 YEARS!! Miggy carried his team all year, and was clutch down the stretch - which is what an MVP is supposed to do."
I_Like_Lamp:"This is why common sense is lacking with sooooo many people. The numbers don't lie. There is no way you can more than likely win the triple crown and not win the MVP. Trout is an amzing defender and batter and can steal a heap load of bases but with what Cabby has done this year is by far more special. What he has done at third base has far exceeded mine and everyone elses expectations. There is noone like Cabrera and never will be."
Prague_2_Istanbul:"Mike Trout is the true MVP!!! Angels have a better record then Detroit and they are in the toughest division in baseball. Angels were in last place with one of the worst records in the majors when Mike Trout was called up."
The Knowledge12:"Assuming, hypothetically, cabrerra doesn't get the triple crown. Not talking about who should win MVP, but if you're voting, does Trout get a bit of extra credit for doing it as a rookie, or does Miggy get a bit of an edge b/c trout has more future years to win an MVP?"
goblue42452:"I find it puzzling that Trout is still being touted as a legitimate threat to Miguel Cabrera for the MVP. Check out how his second half is going. Cabrera is by FAR the more deserving player. No one has won the Triple Crown in 45 years, and it looks as though Miggy will win it. He carried the Tigers on his back, offensively, during the last couple of months (with some help from A.J and Prince). He's also played in all but one game this year for Tigers at a position he hasn't played in 6 years. Plus, he's done all this with the enthusiasm of a little leaguer. Nobody deserves the MVP more than Cabrera."
Frank19872:"Trout gets it because he's a better all around player!"
tehleetfan:"If Miggy gets the triple crown and Trout gets MVP over him it will be a travesty. A 30/50 season is great but a triple crown is even better imo. Go miggy and go Tigers."


Join the conversation or respond by signing in or creating a profile and blogging.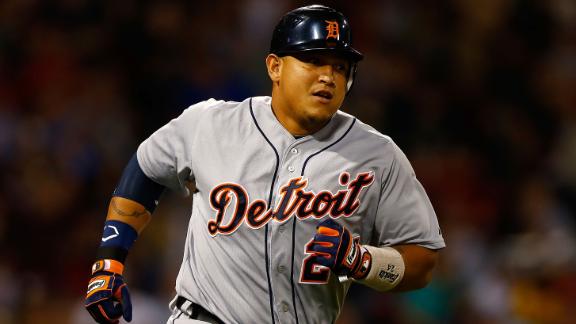 Mike Trout is only in his second year in MLB, but already he's making it seem like he's trying to be promoted to a league above the one he's currently in. Trout is rocking a 1.005 OPS, 20 homers, 36 stolen bases (against only three caught stealing, which is really, really good) , and he's playing a stellar center field. That's not enough for Jim Leyland, who thinks Miguel Cabrera (.967 OPS, 29 homers, plays a decent third base) is a better choice for AL MVP than Trout. Now, Leyland is expected to say that ('cause Cabrera is on his team and all), but is he really all that far off base?
The Yankees have no problem with Robinson Cano playing in the All-Star Game Tuesday night, but they wouldn't let him compete in Monday's Home Run Derby (ESPN, 8 p.m. ET). Kind of says something about which one is more intense, no?
The days of Pete Rose running over Ray Fosse in the All-Star Game are long gone, even with home-field advantage in the World Series on the line, but it's tough for players to dial down the effort in the hitting contest without incurring some nationally-televised embarrassment. From Mark McGwire bypassing the Green Monster to Bobby Abreu launching 41 home runs in the 2005 event and Josh Hamilton blasting 28 in a single round two years ago, Monday has arguably been the more memorable part of the All-Star festivities in recent years.
"

Sounds like a boring lineup. It will resemble the derby a few years ago in SF when Vladdie won it by only hitting like 8 home runs.

"

-- StanfordCardinal22007
"

Votto should be in it. He's leading the NL in HR's for crying out loud!

"

-- CBFOO
So much for a chance for Robinson Cano to boost his MVP candidacy with some free airtime (granted, it's not like people who play for the Yankees hurt for exposure). The Home Run Derby wanted Robinson Cano, and Cano wanted to take part in the Home Run Derby.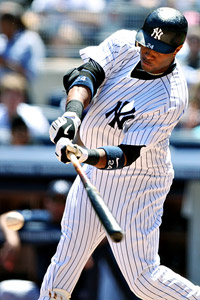 There was only one small problem. The team that pays Cano wasn't interested. Citing a back injury hampering their second baseman, the Bronx Bombers pulled Cano from the hitting contest. And at least one fan thinks that's a dive worthy of a yellow card.
"Joe Girardi better not manage the game, he might get hit with a foul ball and not be available to manage the Yankees for the second half. And Jeter better not play, he might pull his hamstring and be out for 2-4 weeks, too much risk. And A-Rod better not play, he might bounce a foul ball off his toe and we might not have him for the rest of July and part of August.

"In fact, we should just cancel the whole All-Star Game because there might be an earthqu -- wait, better yet -- a giant meteor MIGHT fall out of the sky and hit the stadium, crushing all players, coaches, officials, stadium workers, and fans!" -- SN commenter mfriedmeyer
Pete (San Francisco)
Who are your AL and NL MVP's at the half-way-point of the season? I know we still have half a season to play, but if you were forced to choose someone from each league to be an MVP at this point in the season, who would it be?
Joe Morgan
In the AL, I would pick Robinson Cano. His team has the best record in the league and he's their leader, their star player. He's been their most productive and consistent player on their team. The NL is a little toughter. I would have to give it to 2-3 guys: David Wright, Troy Glaus, Pujols. Then I'd have to give Scott Rolen and Joey Votto a nod. I don't think it's as clear cut in the NL as it is in the AL. Full transcript.
Dan (Detroit, mi)
Is Miguel Cabrera the best hitter in MLB today?
Jerry Crasnick
Dan, Even though Albert Pujols isn't having quite an Albert Pujols-type of year, it's hard to pick anybody over him. Still, Cabrera is having an amazing year. He's got to be right in the MVP mix in the AL. Full transcript.
Sure, Zack Greinke isn't going to get to 20 wins. But the guy made a late September game against the Red Sox meaningful -- for the Royals. That's downright superhuman. Greinke's six shutout innings earned him win No. 15. Only 23 percent of SportsNation thought he had the Cy Young wrapped up before that effort, but another 34 percent -- more than enough to push him over the top -- thought last night clinched it.
When it comes to MVP, Albert Pujols' grip on the award makes "Mad Men" envious, but the AL race still has some intrigue. Most people seem to think it's down to Joe Mauer and Derek Jeter, but SportsNation blogger brianRuberti -- a Yankees fan, no less -- has Jeter fifth, Mauer second and another time at the top of his ballot.
"If Miguel Cabrera wasn't in that lineup every night, do you thing that Minnesota would only be 2 games back? Try being 5 games up instead. He does it all in run production, and having a .994 fielding percentage doesn't hurt either." -- read the full post.
Darrell (Tennessee)
Please tell me that my Mariners King Felix will win the Cy Young. I'm tired of hearing about CC cause he plays in New York, this is a two horse race between Felix and Grienke.
Rob Neyer
You're not hearing about CC because he plays in New York. Well, maybe a little bit. But w/r/t to the Cy Young, you're hearing about him mostly because he's got a shot at winning 20 games; in fact he's the only pitcher who's got a shot at winning 20 games. Voters have always liked 20-game winners, and some of them still do. Full transcript
Nora (St. Louis)
Carpenter has given up 4 or more runs in a start only once. Lincecum has done that five times. I know Lincecum strikes everyone out, but Carp's only really had the one bad start. He's been so good so consistently.
Buster Olney

Nora: And Carpenter has made fewer starts, too, because of that early-season injury. But believe me, I'm not saying there is a clear-cut choice... If Carpenter throws well in his last couple of outings, and Lincecum has another stinker, I think Carpenter will win. If Lincecum and Carpenter labor the next two times out and Wainwright throws well and finishes with 20 wins, I think that'll really help Wainwright's chances. Total toss-up right now. Full transcript