SportsNation Blog Archives

Texas Rangers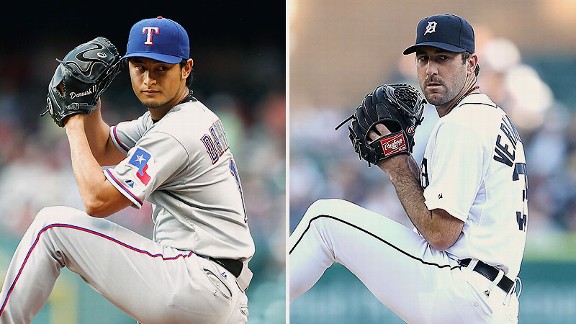 Getty Images
Yu Darvish vs. Justin Verlander
Yu Darvish and Justin Verlander will face off on Thursday as the Rangers host the Tigers. Both pitchers have excelled this season, with Verlander sporting a miniscule ERA and Darvish coming within one out of throwing a perfect game. Who will prevail when these two pitching titans face off? Could this matchup be a playoff preview?
Whew! That was a close one.

The New York Yankees -- wearers of pinstripes, owners of the most identifiable uniform in American sports, and so wealthy their sleeves should come with gold cuff links -- nearly went down to defeat at the hands of the budget-conscious Athletics, who gave baseball yellow and green uniforms.

Yes, it's true. The Yankees' famous NY logo was nearly beaten by the Athletics' elephant patch in a second-round matchup so close that Nate Silver could not have been able to call it. After a nip-and-tuck battle, the Yankees finally escaped with a slender 51-49 percent victory to advance to Wednesday's quarterfinals.

It was a tough day for Bay Area fans, who lost another squeaker when the Giants lost 51-49 to the Pirates. It seems the Bay Area needs to expand its population base just a bit.

The rest of the battles were won by fairly wide margins, including the battle of the Soxes (Boston beat Chicago). That sets up an interesting matchup with another battle in the never-ending Yankees-Red Sox rivalry. Good luck, guys, and remember: Bloody socks matter only if the voters can see them.

That isn't the only matchup of teams with old-school classic looks, though. The No. 1-seeded Tigers, who still are dressed roughly the way they were when Al Kaline was in right field, take on the Cinderellas of the bracket, the No. 13-seeded Orioles, who handily beat the Royals.

Over in the National League, the No. 1-seeded Cardinals will take on the Pirates, with the Dodgers and Cubs going head to head. This has not been a great season for either Los Angeles or Chicago, but at least one of those teams will win this round.

Who will advance to the Final Four? That's up to you. Polls are open until 9 a.m. ET Thursday morning.

--Jim Caple

Mobile users: To vote, click here.

Jim Caple bracket: American League

---

(1) Tigers vs. (13) Orioles

Will the Tigers eat the birds? Or will the Orioles fly away to victory?

---

(2) Yankees vs. (6) Red Sox

So we have yet another battle between these bitter rivals. The winner of this battle may be the uniform with the fewest blood stains.

Paul Lukas bracket: National League

---

(1) Cardinals vs. (4) Pirates

Fun fact: Cardinals team president Bill DeWitt III is heavily involved in the team's uniform decision-making. Gotta love that level of passion!

---

(2) Cubs vs. (6) Dodgers

The Cubbies may finally have a championship within their grasp, even if it's only in the uniform bracket.

Battle of the Uniforms seedings

As a wise man once said, "Vote early and often." And that's exactly what baseball fans did Monday, as the first-round balloting in the Battle of the Uniforms attracted an enthusiastic electorate and gave us some interesting results.

The Yankees' uniforms trouncing the Indians' look? No surprise there. Ditto for the Phillies over the Diamondbacks and the Giants over the Rockies, among others. Still, there were some mild upsets, such as the Twins beating the Angels and, in the biggest eyebrow raiser of the first round, the Nationals beating the Mets.

That Nats-Mets outcome was the closest race of the first round, with Washington prevailing by 55 percent to 45 percent. Most of the other contests were blowouts. Look at some of these numbers:

• Orioles over Astros, 79 percent to 21 percent.

• Red Sox over Mariners, 73 percent to 27 percent.

• Pirates over Marlins, 81 percent to 19 percent.

And so on. The biggest landslide? The Cubbies trounced the Padres by a whopping 86 percent to 14 percent, offering convincing proof that San Diego needs to go back to the drawing board and get some new uniforms (and giving beleaguered Cubs fans a little morsel of success to feel good about).

As for the second round, there are some intriguing matchups. In the American League, Boston faces off against Chicago -- a battle of the Sox! And in the National League, the Pirates and Giants will be reminding people that they were wearing black long before it became a trendy color.

The most interesting pairing in this round, though, finds the Yankees, the ultimate example of old-fashioned aesthetic tradition, facing the A's, whose green-and-gold look ushered in baseball's Technicolor era. It's old-school versus new-school. Too bad George Steinbrenner and Charlie Finley aren't around to witness it -- they'd likely be voting along with the rest of us.

--Paul Lukas

Note: Second-round polls close at 9 a.m. ET Wednesday, and the next round begins shortly thereafter.

Mobile users: To vote, click here.

Jim Caple bracket: American League

---

(1) Tigers vs. (9) Twins

Can one D beat a T and a C (plus an occasional M)? It can if it's old English.

---

(2) Yankees vs. (10) Athletics

It cost roughly $200 million to dress the Yankees in their pinstripes. The Athletics went to a thrift shop but still look @#&% awesome.

---

(3) White Sox vs. (6) Red Sox

Sigh. If only these two teams wore their pant legs high enough that we would actually see the socks that are the entire basis for their names.

---

(5) Royals vs. (13) Orioles

Great battle between Royals blue and the Orioles' vibrant orange. And you know Buck Showalter will make sure their caps are on straight.

Paul Lukas bracket: National League

---

(1) Cardinals vs. (8) Braves

Which jersey prop is stronger: the tomahawk or the bat?

---

(2) Cubs vs. (10) Nationals

An established veteran against an up-and-comer. The smart money's on the veteran.

---

(3) Phillies vs. (6) Dodgers

Two classic looks here. A pity that one of them will have to lose.

---

(4) Pirates vs. (5) Giants

Interesting pairing here: black and orange versus black and gold.

Battle of the Uniforms seedings

Jerry Seinfeld famously said that because of the way players constantly change teams and teams occasionally change cities, sports fans are actually rooting for clothes.

"You are standing and cheering and yelling for your clothes to beat the clothes from another city," he said. "Fans will be so in love with a player, but if he goes to another team, they boo him. This is the same human being in a different shirt, but they hate him now. 'Booo!!! It's a different shirt! Booo!!!!'"

Well, he's right about that. We do root for clothes. And against clothes. As well we should. If Yankees pinstripes or red socks or Dodger blue or, worst of all, those powder blue alternate Royals tops don't get your blood boiling, then you're not a true fan.

Which is why we're holding our Battle of the Uniforms. As Seinfeld said, what is most important is not the player but what the player is wearing. And no, we're not just talking about Kevin Youkilis, but that's a good example.

It's the uniform that is most important. After all, your team may stink. It may not have had a winning record in 20 years. It may not have reached the postseason in your lifetime. It may not have reached the World Series in your grandparents' lifetimes. But chances are your closet is still overflowing with your team's replica jerseys that you proudly wear to the ballpark, the office or the nightclub.

We can look at the standings and know which teams are on top, but which teams have the best uniforms? Which designs have stood the test of time, and which are as dated as the grunge look? Do you prefer the classic look of Detroit's old English "D" on the chest and the Yankees pinstripes? Or do you appreciate the South Beach neon look of the Marlins' jerseys? Should the bill of a cap be as profoundly curved as Christina Hendricks or as flat as the Marlins' offense? Should socks be visible to midcalf, to the knee, or tucked under baggy pants legs?

All this is for you to decide. We've seeded all 30 teams based on their standard home and road uniforms and placed them in a bracket. Throughout the week, you'll have new matchups to vote on each day until only one uniform is left standing. We'll announce the winner next Monday.

Until then, we'll also provide stories and lists about such things as what caused the god-awful '70s look, the rules for when and how to wear replica jerseys, and the good, the bad and the ugly of uniforms throughout the decades.

So check out the bracket. Read our style analysis. Vote for your favorite uniforms. Vote against the ones you hate. And keep checking back each day to see which teams advance and who ultimately tops your best-dressed list.

One request: We know people can get pretty passionate about uniforms, but please keep things civil. If the fashion police can't maintain order, we may have to call in the security in those Padres camouflage jerseys.

--Jim Caple

Note: Detroit Tigers and St. Louis Cardinals have first-round byes; first-round polls close at
9 a.m. Tuesday, and the next round begins shortly thereafter.

Mobile users: To vote, click here.

Jim Caple bracket: American League

---

(2) Yankees vs. (15) Indians

With one of sports' greatest logos (the Tiffany-designed NY) pitted against one of the worst (Chief Wahoo), this battle should be as lopsided as the trade that sent Graig Nettles from Cleveland to New York.

---

(3) White Sox vs. (14) Rangers

With that great SOX design across the chest, this should be a much more favorable matchup for Robin Ventura against Texas than when he charged Nolan Ryan.

---

(4) Astros vs. (13) Orioles

The Orioles would stand a much better chance if this were the late 1970s and early '80s when their white-front cap style was in fashion and the Astros were wearing rainbows.

---

(5) Royals vs. (12) Rays

K.C. should win this matchup … unless the Royals wear their powder blue alternate tops or Joe Maddon comes up with another great road-inspired costume theme for his players to wear.

---

(6) Red Sox vs. (11) Mariners

Have to favor the old classic Red Sox look in this matchup, unless Seattle's King Felix shows up wearing his crown and velvet robe.

---

(7) Blue Jays vs. (10) Athletics

The Jays should win this matchup. Then again, the Jays should look a lot better in their uniforms this year than they have so far. But never underestimate the power of an elephant.

---

(8) Twins vs. (9) Angels

In the logo battle between TC and the haloed A, the Twin Cities of Minnesota get a slight edge over the Los Angeles Angels of Anaheim.

Paul Lukas bracket: National League

---

(2) Cubs vs. (15) Padres

A gorgeous, time-tested look versus a generic slate of blandness. Feels like a mismatch, right? But hey, upsets are always possible.

---

(3) Phillies vs. (14) Diamondbacks

Old-school versus new-school: The Phillies have had only two different uni templates since 1950; the Diamondbacks had two different uni templates within their first decade of existence.

---

(4) Pirates vs. (13) Marlins

Let's say you're a baseball player, and you can be drafted by the Pirates or the Marlins. Either way, you're gonna lose a lot of games. But wouldn't you rather lose them in that nice Pirates uni?

---

(5) Giants vs. (12) Rockies

Fun fact: The Rockies are the only MLB team that currently wears purple. But it may take more than that to defeat the classic look of the defending World Series champs.

---

(6) Dodgers vs. (11) Brewers

Say this much for the Brewers: They sure have a lot of uniforms (home, road, home alternate, road alternate, throwback, Spanish, Polish, Negro League, etc.). But does quantity equal quality?

---

(7) Mets vs. (10) Nationals

Granted, any uniform looks better when Stephen Strasburg or Bryce Harper is wearing it. But the Mets' look still feels more natural, while the Nats' feels forced.

---

(8) Braves vs. (9) Reds

Subtlest uni change of this season: The Braves changed the belt tunnel piping on their alternate road pants from red to blue. Will that garner any additional votes?

Battle of the Uniforms seedings

Last season wasn't a happy one for Josh Hamilton or the Rangers -- fans derided him for his effort late in the season, and though Hamilton hit 43 home runs, the team had an early playoff exit. Hamilton makes an early return to Texas tonight, this time as a member of the rival Los Angeles Angels. There were some good times for Hamilton in Texas, but do those outweigh his later falling-out?

juan9179: "Im grateful for what he did here but when you leave a team for they're most hated rival you will never be seen the same by the people you left...sorry josh I hope your a BUST!"
TheRangerDude1.2: "It's natural to boo a former player that went to your rival in FA. Even Napoli got booed in Anaheim and they TRADED him and he was TRADED to the Rangers. I recall them booing Vlad as well."
sidetrack14: "If you didn't boo him while he was here: get over it. "
Larry129003: "Not enough fans are out there that are grateful for his years as a Ranger. While he did have his issues on and off the field in the last few years, what he did when he was healthy is something nobody can deny. I can't blame him for moving on, he knew that he would be viewed as a quitter after his final three weeks, and in all honesty, who would deny a 5 year, $125 million contract while you are 32 years old and is in decline. "
ken b good: "My biggest problems with Josh were his on the field lapses especially his nonchalant AB's late last season along with some of his lame excuses. This should be a good early measuring stick for both teams even though it will be a looong season. "
bbolton15: "if you boo hamilton you might give him more motivation. We don't need to give him any extra motivation to pull out of this slump.."

Join the conversation or respond by signing in or creating a profile and blogging.

The Rangers appear content to let Josh Hamilton walk away, if a report that the team will offer the All-Star outfielder no more than a three-year deal is true. Are the Rangers setting limitations for themselves that they'll later regret? Or are they being wise, considering how players signed to long-term deals have fared of late?

---

Wanted man?

Josh Hamilton has remarkable talent and can light up the scoreboard with his bat. But he's also been prone to injuries, and his off-field troubles remain a concern.

• Dunkachino85: "Solid stance by Daniels. Hamilton is an amazing talent, but all things considered, do you really want him past age 34? I like his style. Keep the team young and don't tie up large amounts of money on one player for an extended period of time. Very different from the ownership who signed Arod for 10 years $252 million!"
cnichols18: "People tend to forget the Rangers are not Hamiltons first family, his wife and kids are. If he can sign a 5-6 year deal for over 100 million he can basically assure his family a great life. As a ranger fan I still love Hamilton, but I wouldn't judge him for watching out for his family and taking the biggest contract."
CapitalK1977: "Basically, they're saying they don't intend to bring Hamilton back. I not suggesting that he should be getting Prince Fielder or Albert Pujols money, but he's going to do a lot better than THAT. Really, I find their offer to be more of a slap in the face than if they didn't offer him at all."
RollOnYouBears83: "it's smart on the Rangers part, but it's obvious another team will always add on 2 or 3 more years. It's the the only way less desirable markets can attract stars -- overpay big time."
rickochet24: "If the Rangers let Hamilton go, they'll fall off immediately. Even in his 0-5 games, he instills fear in opposing teams and makes everybody around him better. He can be on an 0-30 streak, but the pitcher always knows that with him, it can turn into an unprecedented hot streak at ANY given moment. He's the heart and soul of that team."
CardinalNationSTL: "This has got me thinking. How much are Mike Trout and Bryce Harper gonna get when they enter freenagency in 5 or so years?"



Join the conversation or respond by signing in or creating a profile and blogging.

The Rangers are allowing Josh Hamilton to test free agency before making him a contract offer. That runs the risk that the All-Star outfielder won't be back in Texas next season. But it also allows the Rangers to see whether Hamilton will be offered a long-term deal that they might not want to match, given his durability and health issues over the past few seasons. Would you want Hamilton on your favorite team?

gahook:"Anything over 4 years for this guy would be silly. I didn't realize he's already 31."
Steveiscool68:"Love Hamilton's massive talent, but there is so much baggage with him, I just don't see him getting near the $ 20 to 25 million a year contract."
jhaimes:"Be careful what you ask for Ranger fans!! Yes he was awful down the stretch but so were several key players. Did anyone boo Holland? He was terrible for a while and showed no sign of righting the ship. Where do you get Josh's numbers from? Ian in the outfiled? So he can pop up in a new position? More errors in a new position? Ian was terrible this year! Elvis is going into his last year and we need him! We need Josh too! At a lower price, of course but we do need him!"
gig_em02:"He will not be back. No way the Rangers put all their eggs in one basket. They will sign 2 or 3 other younger, hungrier, cheaper players instead. Don't they also get a draft pick or two if he goes to another team? Good luck Josh! We loved having you in Texas and now it is time to cash . No one blames you for that."
TheManTheMyth:"4 years 75-80 million should be the max any team should go. But some owner out there will overpay and give him too many years and regret it after probably 3 years. 20 mil per seems almost too much after the way he finished up this year."
poker4espn:"Best of Luck Josh. I will be rooting for you where ever you play. its obvious that rangers doesnt want you here and dont appreciate your contributions. Its disappointing to see the fans behavior towards you at the end."
tevaroo:"Guy hits .285 with 43 bombs and 129 RBI and he's not worth it? I personally don't think any one human is worth that money for playing ball, but Texas will miss him when he's gone."



Join the conversation or respond by signing in or creating a profile and blogging.