SportsNation Blog Archives

Chris Johnson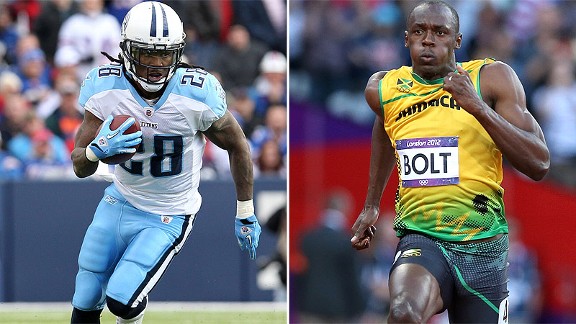 Chris Johnson thinks he might have to train a bit for it, but is confident that he could beat Usain Bolt in a 40-yard dash. Bolt's one weakness in his 100m races is the time it takes him to get up to speed, but would he still blow Johnson away?
Rusty Shackleford: "In Bolt's world record 9.58 run he completed the first 40 yards in 4.11 sec. (taking into account reaction time). Obviously 4.11 is better than 4.24, but you also have to take into account that Bolt was wearing spikes on a track and used a starting block."
ur2cy: "40yds is like 35 meters or a third of Bolt 100m race. Who cares CJ. Bolt may start "slow" to you guys but he is sub 4 seconds even at that distance and start. CJ needs to focus on being the best back again not racing Bolt."
dabulls129531: "In his prime, Barry Sanders would have been a challenge to Bolt"
SpainWinzBballGold: "It could be close because Bolt starts slow. "
HuckleberryJohnnyRingo: "On an average Bolt day, with CJ at his FASTEST, it would be close for 40 yards ONLY!"



Join the conversation or respond by signing in or creating a profile and blogging.
---
Didn't you used to be good?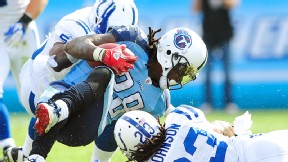 It was just two years ago that Chris Johnson rushed for 2,006 yards. But after another dismal week, he's totaled 302 yards on 2.8 yards per carry this season.

---
Second-best back in Tennessee?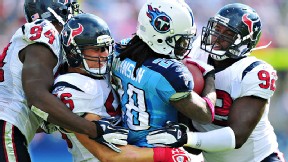 The debate used to be Johnson vs. Adrian Peterson. Now it's Johnson vs. Javon Ringer. Nominally Tennessee's No. 2, Ringer nearly doubled Johnson's yardage against the Colts.

---
Andre Johnson or Chris Johnson?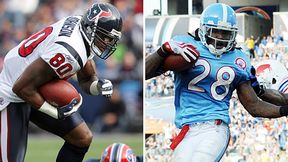 Chris Johnson is healthy, as far as we know, and not producing. Andre Johnson is injured and not producing. Which AFC South contender most needs its star at peak form?

---
Ramifications beyond Tennessee?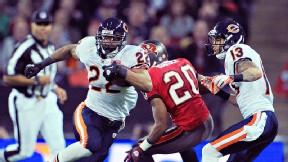 After a protracted holdout, the Titans gave Johnson a new deal worth $30 million guaranteed. Should the Bears take note of the results thus far as Matt Forte looks for his own deal?

Chris Johnson might not be fond of fake Titans fans, but he's looking at some very real money coming his way from the team after agreeing on an extension reportedly worth $30 million guaranteed (and $53 million total). Not bad for a guy who trails Tyrone Wheatley and Napoleon Kaufman on the all-time rushing list. But will he still be running strong when the extended deal runs out after 2016?
"I'm glad the Titans finally got off of some cash to keep the face of the franchise. Very uncharacteristic. Too much money? Maybe, but he is the Titans. Who else on the roster gets any press whatsoever?" -- SN commenter countryquarterback
"Just another reason the Titans will continue to be losers. He had two years left on a contract and was refusing to play. Don't think other players on that team will take notice? Yeah, right." -- SN commenter steelerfuin
---
The best back for the money?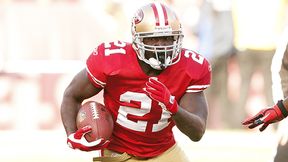 Most fans would say Chris Johnson is a better running back than Frank Gore (above) or DeAngelo Williams, but how much better when dollars are factored in?

---
Chris Johnson or Larry Fitzgerald?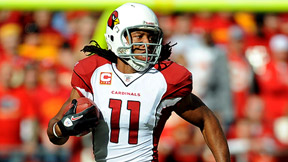 Johnson made it clear he wanted to be paid like one of the league's top playmakers, a market Larry Fitzgerald's (above) recent contract seemed to set.

---
Will Johnson get to 2016?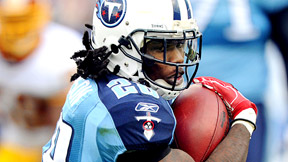 Johnson would be in his ninth season in 2016. Emmitt Smith rushed for 1,332 yards in his ninth season. On the other hand, Shaun Alexander rushed for 24 and then vanished from the scene.

---
The deal the Titans had to make?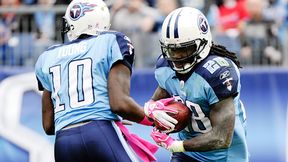 Vince Young? Gone. Albert Haynesworth? Gone. Jake Locker? Young. Did the Titans have to make this deal to keep a face of their franchise?

With even an average season by his standards, Chris Johnson could crack the top 75 in all-time NFL rushing yards by the end of the season. This tells you that Johnson is very good. It also tells you something about the shelf life of NFL running backs. So is it any wonder he's holding out for a big payday, even as the Titans say they will make him the league's highest-paid running back?
"I'm all for players getting what they deserve, and let's be honest ... neither players nor owners "honor" their contracts. But CJ and his agent opted for an original five-year deal and wouldn't take a standard four-year deal (rookie contract). So they went for more guaranteed money and kind of lost that gamble when CJ hit it big." -- SN commenter chrisroe77
"He SHOULD honor [his contract]. But he has all right not to. It's sports, but it's also a business. If he knows his services are EXTREMELY valuable and he's getting paid peanuts, then he should withhold his services." -- SN commenter packtosh
---
Is there a debt ceiling invovled?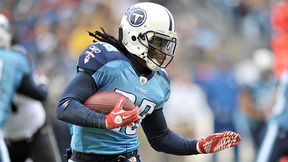 Johnson has two years remaining on his current deal, but he wants a new deal in place before he reports to camp. The Titans want him to show up, even if he doesn't practice, before a deal is struck.

---
Are runners allowed to be selfish?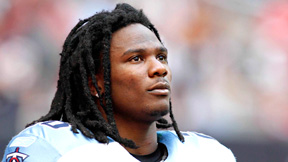 Johnson carried the ball 925 times in his first three seasons -- 257 more carries than Ray Rice in his first three seasons. So is getting paid before the wear starts to show an understandable gambit?

---
Does season depend on Johnson?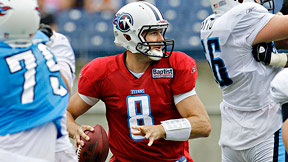 The Titans finished 6-10 last season, although they outscored opponents overall. Add a new quarterback, Matt Hasselbeck, and are the playoffs within reach?

Madden ratings are often the most contentious topics in sports video games. Should Tom Brady be the best QB in the league? Which linebacker gets top marks for tackling? Is my team's WR more sure-handed than your team's? All week long, SportsNation is ranking the players with the top marks at each position. Today, we're taking a look at the best RBs in "Madden NFL 12." Adrian Peterson has the highest rating at 97, but do you agree that he should get the top spot? Cast your vote now!
"I just don't really believe the hype about MJD. Whenever I catch him on tv he's bumming it up. I guess the stats don't lie. " -- SN commenter Jason06475
"Steven Jackson should at least be 90 speed. Come on, Donny" -- SN commenter Brandon05581