SportsNation Blog Archives

Joe Flacco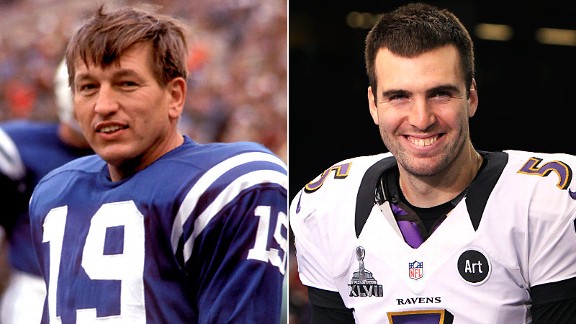 It's been a good past few months for Joe Flacco -- he won a Super Bowl, silenced legions of detractors, and signed a humongous contract. Now, he'll be portraying NFL legend Johnny Unitas for part of a movie about Unitas' life. Not everyone is happy with that casting choice, however -- Unitas' oldest son called Flacco a ''goofball'' and said the movie (which is being co-produced by Unitas' son from his second marriage) should have gone with Peyton Manning. We're not sure about Flacco's acting ability, but we're positive that it's better when the actor portraying an athlete possesses at least a modicum of athletic ability.
juan9179: "I don't get the reasoning for this choice? Is there a physical resemblance? or is it just because he currently plays for Baltimore? It makes no sense why Flacco would be considered...especially with all the other 'real' actors available. And is he a member of the SAG? That could cause union issues as well...just wondering."
numbah1110: "I don't get the big deal. Flacco is essentially a stunt double."
bumeri: "Keanu Reeves should take the role. He played an awesome QB."
Some Heads Are Gonna Roll: "He may very well get an Oscar. He convinced the Ravens he was a competent QB."
CraigThomas76: "Oh my God, we only got the sixth best quarterback in the league to play him! The outrage!"
liquidlightening101: "It's no big deal. With CG they can just generate a ball that looks like its on target."
Join the conversation or respond by signing in or creating a profile and blogging.
NFL free agency is starting soon, and some big names might be on the market. The experts at Pro Football Focus have identified the top 50 free agents of 2013; now it's your turn to rank the best of the best. Just click on the images to set your rankings.


Top NFL Free Agents

Michael Bennett

Michael Bennett
Defensive end
2012 team: Tampa Bay Buccaneers
Dwayne Bowe

Dwayne Bowe
Wide receiver
2012 team: Kansas City Chiefs
Jairus Byrd

Jairus Byrd
Safety
2012 team: Buffalo Bills

Ryan Clady

Ryan Clady
Offensive tackle
2012 team: Denver Broncos
Joe Flacco

Joe Flacco
Quarterback
2012 team: Baltimore Ravens
Tony Gonzalez

Tony Gonzalez
Tight end
2012 team: Atlanta Falcons
Greg Jennings

Greg Jennings
Wide receiver
2012 team: Green Bay Packers
Jake Long

Jake Long
Offensive tackle
2012 team: Miami Dolphins
Henry Melton

Henry Melton
Defensive tackle
2012 team: Chicago Bears
Wes Welker

Wes Welker
Wide receiver
2012 team: New England Patriots
Your Rankings
1.

2.

3.

4.

5.

6.

7.

8.

9.

10.

Joe Flacco made a case for a new contract with his postseason performance, culminating in a Super Bowl win and MVP honors. Now the Ravens decide how much money they should pay their quarterback. Is he worth as much as Tom Brady, Drew Brees and the Manning brothers? Will the Ravens be able to pay Flacco elite QB money and maintain a championship-level roster under the salary cap?
Worth elite QB money:

KING7804: "Everyone talking about Flacco being average in the regular season and great in the playoffs is irrelevant. Take Peyton Manning, one of the Best regular season QBs in the history of the NFL.....one ring. Flacco deserves the money for making it to the playoffs when he does and then making the best out of the opportunity when he does."
picklecbm: "Correct me if I'm wrong. Flacco has made the playoffs every year. Has won a playoff game every year. Now has a Super Bowl win. Why are people debating his worth? How long did it take Peyton or Brees???"
cheezehead38: "Hey he should get paid as much as Drew Brees being that he has just as many Super Bowl appearences and wins and he is 5 years younger."
IAmTheNFLSource: "Vick - $15.5M; Palmer $13M; Rivers & Stafford - $12M each; Romo - $11.5M. If those guys can get that much, I expect Flacco to get $14-17M."
bcbunley89: "It doesnt matter how Flacco looks before the playoffs, the point is that he always gets to the playoffs, and thats where he shines the brightest. Pay that man his money!!!"

Not worth elite QB money:

Heelsn07: "All the credit in the world goes to flacco for a great postseason but paying him that kind of money will handicap the ravens into being a middle-of-the-road team for the next decade. cant give that much money to one player. especially the 7th or 8th best QB in the game. tough call for ravens ownership. guess they should be happy he got them one super bowl."
drpeppersonz: "Ozzie Newsome aint no fool. He might give him a big signing bonus, but you best believe the cap number for his contract wont kill the Ravens. Those fans buying tickets this year know what they saw."
jd4me: "Until Flacco can throw for about 30 TD's in a season and CARRY the team to the playoffs, then he's worth not much more then the 10-12m dollar range."
GruDeN_GrinDeR: "Flacco is in the top 10 of QB's, but he's far from the top 3 elite in the league. He shouldn't see anywhere near of Brees' contract regardless of this great playoff run."
Cam Newtons Suggestion Box: "Brady's base salary is pretty low for a guy with 3 rings. Flacco should take note that getting $15M is still pretty damn good even if you are worth $20M. He should ask for one year at $20M and the other 4-5 be in the 14-16 range."
schult34: "Flacco helped his team get to the playoffs, and then had an amazing playoff series, but in no way is he at brady's or the peyton's level (yet). If they make 20 a year, he is that 14.6 or 15 a year guy."
Join the conversation or respond by signing in or creating a profile and blogging.
Joe Flacco threw for 287 yards and three touchdowns in Super Bowl XLVII, earning not only Super Bowl MVP honors but likely a big paycheck in the offseason. Should the Ravens' QB now be considered among the top signal-callers in the league? And how much should Baltimore be prepared to dish out in financial compensation? Cast your votes!
---
Most Valuable Player
Flacco's three TDs got him the MVP trophy, but was someone else on the Ravens more deserving?

---
One and done?
The Ravens went 12 years between Super Bowl titles. Will Flacco help them get back sooner?

---
Can't spell ELITE with JOE?
Flacco once said he thought he was the best quarterback in the NFL. He backed up his words on Sunday, but did it change your opinion of him?

How does SportsNation see Super Bowl XLVII playing out? As NFL experts everywhere attempt to forecast which players will deliver big performances on football's biggest stage, we're asking SportsNation to join in on the fun. Do you think Colin Kaepernick will score a rushing touchdown? How will Ray Rice fare against the 49ers' stout defense? Will Ray Lewis do his squirrel dance when the clock hits 00:00? Cast your votes!
---
Ray, running wild
So far this postseason, Ray Rice has rushed for 247 yards and two touchdowns, including a 131-yard effort against the Broncos.

---
Can't catch Kap!
Colin Kaepernick is fast ... really fast. In two postseason starts, he has burned teams for 202 yards and two rushing TDs.

---
Not your average Joe
Don't call him Fluke-O anymore. In this postseason, Joe Flacco has thrown eight touchdown passes and no interceptions.

---
Moss on the mike
Randy Moss made it clear that he considers himself the GOAT, but he's been an afterthought in the 49ers' offensive system this season with only 28 catches.

---
Lewis' last ride
Since his incredible return Jan. 6 from a torn triceps injury, Ray Lewis has averaged more than 14 tackles/assists per game.

Joe Flacco has his mind on this year's Super Bowl, but he couldn't help but speculate about the 2014 contest as well. Flacco used strong language to describe his opposition to playing a cold-weather Super Bowl, as the game will take place in domeless MetLife Stadium in early 2014. The temperature in that area of New Jersey come Super Bowl time varies between about 40 and 25 degrees -- certainly acceptable football weather, but maybe not the best idea for the league's biggest game.
Beyondthegrave1386: "I think it's an awesome idea to have the Super Bowl in MetLife. Finally a Super Bowl in proper football weather!"
Eddie Dominguez: "Why wouldn't you want the biggest game of the year to be played in the most ideal conditions? What he's saying makes perfect sense to me."
writingdude: "People go to the Superbowl for the week--not just the game. And during the game, we want it to be comfortable. I live in NY and I will not be going. But I did go to three SBs--all in warm weather vacation destinations. I hope there is a blizzard and the commissioner gets fired over this bonehead decision. "
XXREVISISLANDXX: "Who wouldn't want the Super Bowl in NY? I remember playing in the snow as a little kid and dreaming winning the big one in such a moment."
mahsw777: "The Super Bowl should be played in all football weather conditions, including cold and snow. The best teams can adapt - others cannot."
Join the conversation or respond by signing in or creating a profile and blogging.
---
Frozen tundra?
We're not saying that it always snows in MetLife Stadium, but here's what the field looked like during a contest in October 2011.

The Super Bowl XLVII matchup is set with the Ravens and 49ers squaring off in New Orleans on Feb. 3. Ray Lewis will be there for the final game of his storied 17-year career with the Ravens, as will Colin Kaepernick making just his 10th career start at quarterback for the 49ers. Throw in some top-notch wide receivers (Anquan Boldin, Michael Crabtree), tight ends (Vernon Davis, Dennis Pitta) and running backs (Frank Gore, Ray Rice) and we've got a pretty even matchup, with SportsNation giving the slight edge to the Niners. How do the best players in the Super Bowl stack up? Click the images to cast your votes.


Super Bowl XLVII players
Anquan Boldin

Michael Crabtree

Vernon Davis

Joe Flacco

Frank Gore

Colin Kaepernick

Ray Lewis

Dennis Pitta

Ray Rice

Aldon Smith


Torrey Smith

Patrick Willis

Your Rankings
1.

2.

3.

4.

5.

6.

7.

8.

9.

10.

11.

12.

Super Bowl XLVII is set. The 49ers beat the Falcons to earn their sixth Super Bowl appearance -- but first since the 1994 season -- while the Ravens took care of the Patriots to reach the big game for the second time. It'll be the first Super Bowl that features a sideline match-up of coaching brothers, and one quarterback will leave New Orleans with his first Lombardi Trophy. Which team will win? Cast your vote!
More: Which team are you rooting for in Super Bowl XLVII?
---
From backup to Super Bowl
Super Bowl XLVII will be just the 10th start for Colin Kaepernick, who's in his second year in the NFL.

---
Moving on up?
Joe Flacco once said he believed he was the best quarterback in the NFL. A Super Bowl win would go a long way toward backing up that claim.

---
Brother vs. Brother
John Harbaugh is 62-30 (incl. playoffs) as coach of the Ravens, while little brother Jim is 27-8-1 in two seasons with the 49ers.

We may not have the Tom Brady vs. Peyton Manning matchup in the AFC Championship Game much of SportsNation wanted to see, but both championship games are loaded with talent. Ravens linebacker Ray Lewis and Falcons tight end Tony Gonzalez are hoping to end their careers on top, 49ers quarterback Colin Kaepernick is two games away from winning a Super Bowl in his 10th career start, and Falcons quarterback Matt Ryan's 0-for-3 record in the playoffs is history after a thrilling 30-28 victory over the Seahawks. How do the best players remaining in the NFL playoffs stack up? Click the images to vote.


Super Bowl XLVII players
John Abraham

Anquan Boldin

Tom Brady

Michael Crabtree

Vernon Davis

Joe Flacco

Tony Gonzalez

Frank Gore


Julio Jones

Colin Kaepernick

Ray Lewis

Brandon Lloyd

Jerod Mayo

Dennis Pitta

Ray Rice


Stevan Ridley

Matt Ryan

Aldon Smith


Torrey Smith

Michael Turner

Wes Welker

Roddy White

Patrick Willis

Danny Woodhead

Danny Woodhead
Patriots RB
Your Rankings
1.

2.

3.

4.

5.

6.

7.

8.

9.

10.

11.

12.

13.

14.

15.

16.

17.

18.

19.

20.

21.

22.

23.

24.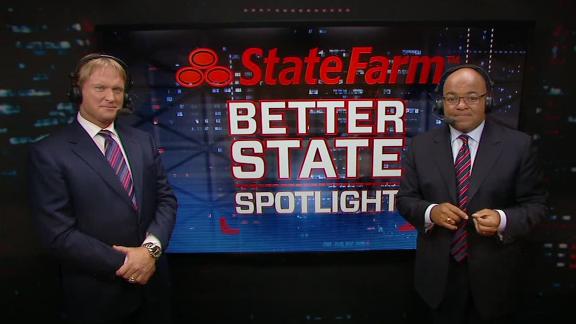 Ravens quarterback Joe Flacco was sharp in Baltimore's 44-13 win over Cincinnati on "Monday Night Football." He guided the Ravens' no-huddle offense with efficiency, completing 21 of 29 passes for 299 yards, two touchdowns and no interceptions. And he showed more accuracy throwing the deep ball, connecting on 7 of 10 passes of 15 yards or more. It was just one game, but the question is worth asking: Has Flacco emerged as an elite quarterback? Do the Ravens now have an offense to go with their formidable defense?
born2rock1:"They finally cut Flacco loose and let him have more control with the offense by going with a no huddle which allows Joe to call more audibles. What took so long? Oh, we didn't have Jim Caldwell. The guy that worked with Peyton Manning and his no huddle offense. Not that Joe is going to turn in to a Peyton Manning, but it does mean that the Ravens are going to have a different, and a better look, on offense. I seen this coming in pre-season. If the Ravens are consistent with this offense, there are going to be a lot of W's for the Ravens this year."
Brad_The_Stud:"Simmer down. The Bengals are not a team to be impressed with. Flacco still is very average."
CagedWisdomChangedMyLife:"I don't wanna hate on Flacco because he looked really good last night. I've always looked at him as a "just outside the top 10" QB in this league. But when you bring up names like Brady and Manning, you're talking about guys that made receivers we never heard of look like stars. I think Caldwell is going to help Flacco get to that next level, but lets not jump the gun. Right now he's good, not great."
RexysMidnightRunners:"TA good win for the Ravens and well done to them. But one win against an average Bengals side does not mean they are ready to walk into Foxborough in the snow in January and knock off Brady and the Pats. Perspective is important."


Join the conversation or respond by signing in or creating a profile and blogging.