SportsNation Blog Archives

Tim Wakefield
Much like the journey his pitches take to the plate, it took some time for Tim Wakefield to pick up his 200th career win, but the 45-year-old knuckleballer finally got there when the Red Sox needed it most in the heat of the playoff race. It sometimes seems like Wakefield could pitch for another decade, but will the age of the knuckleball go with him when he exits? More: Rank the greatest Red Sox pitchers | Rank the greatest knuckleballers
"Leader, professional, teammate. No matter how you describe Tim Wakefield, his performance, sacrifice and demeanor is exactly what I, when I coached Little League, was trying to impart to my young charges. Tim won't find the Hall, but Tim already has more character than many who did." -- SN commenter deyank
---
Is Tim Wakefield the last of his kind?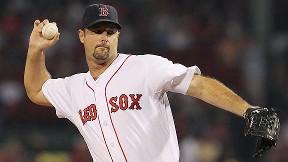 When it comes to the knuckleball, we've got Wakefield, 36-year-old Mets pitcher R.A. Dickey and ... well, that's about it. Is the pitch in danger of vanishing?

---
Will he reach No. 1 for the Red Sox?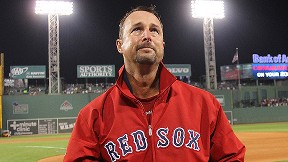 Talk about good company. Wakefield's 186 wins in a Red Sox uniform rank him just six behind Roger Clemens and Cy Young for the franchise lead.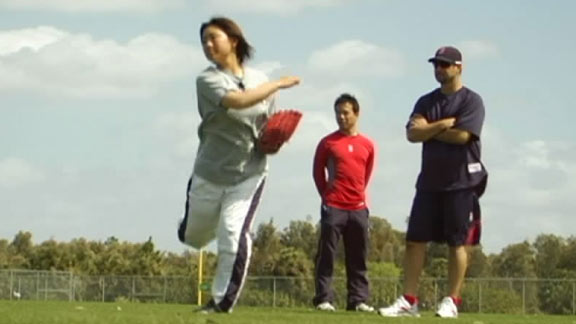 Stephen King had the right idea, just the wrong pitcher. King's "The Girl Who Loved Tom Gordon" focused on the former Boston reliever with the big curve, but the real-life version includes Tim Wakefield and Japanese teenage knuckleball sensation Eri Yoshida.
As this story explains, Yoshida fell for the knuckleball while growing up in Japan and taught herself the pitch by watching video of Wakefield. She was drafted by a team in a Japanese independent league and met Wakefield this week while in the Unites States to pitch in the independent Arizona Winter League.
It's a long way from throwing a few innings in independent leagues to pitching in Fenway Park, but Yoshida is just the latest female athlete crossing gender lines. Maybe David Stern is optimistic in suggesting a woman could play in the NBA within a decade, but what's the most significant story that's already unfolding with women competing with men?
Scott (NYC)
(June 2, 2009) Tim Wakefield has already hit 9 batters this season. 1st place on the all-time list could come as early as next year!
Rob Neyer

Interesting ... Here's a question for you ... Has Wakefield thrown more knuckleballs than anyone else, ever? I suspect that his only competition is Phil Niekro, but I think Niekro threw his secondary pitches more often than Wakefield, especially early in his career.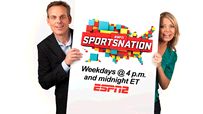 "SportsNation" TV plans to use every pitcher on the staff today, including All-Star hosts Michelle Beadle and Colin Cowherd.
Share your pitches, swing at the knuckleball ideas, vote on the biggest stories of the day and chat during the show on ESPN2 at 4 p.m. ET.

With the proper training, could Shaq beat Brock Lesnar?
We're not asking whether Shaq would survive 30 seconds, like 26 percent of you said you could do yesterday. Could the big guy actually beat the UFC champ?

What do you think about the broadcast of President Obama's first pitch?
It didn't make the pitch look any faster or higher off the ground, but the odd angle did cause some watching the All-Star Game to cry conspiracy.

Would you play in Greece if you could make twice as much money?
Knicks guard Nate Robinson reportedly has a two-year offer from Olympiakos, the team that lured Josh Childress to Athens.

Does seeing your team's players having fun with rivals bother you?
Fans demonstrate daily how much they hate rival teams and fans. And then come the All-Star games, during which the guys are buddy-buddy.
Is Randy Moss responsible for Matt Cassel's success?
The Chiefs are going to pay their new quarterback more than $60 million over six years, expecting him to be more than a one-season wonder.

And our final question …
An 11-3 record wasn't enough to get the 42-year-old knuckleballer into the game, even though his first All-Star appearance might also be his last. Should he have gotten a chance?
What is "SportsNation" TV and how do you make your voice heard on the broadcast? Read about the new ESPN show that features fan opinions with calls, tweets, polls, rankers and more.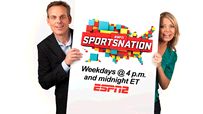 Fan Prizzle23 calls Colin Cowherd his favorite ESPN personality. Many of you commenting about the show express similar sentiment for co-host Michelle Beadle.
Share the love and your thoughts on the biggest stories of the day with "SportsNation" TV.
Scan the show topics below, cast your votes and watch on ESPN2 at 4 p.m. ET!.

Should Nike release the tapes of LeBron getting dunked on?
One fan suggests the footage will magically reappear on the scoreboard when LeBron's shooting free throws at Boston and Orlando this season.

Have the fans at the new Yankee Stadium gone soft?
The new Yankee Stadium only looks small because we used a tiny picture. But Kevin Millar says the volume of fan invective has definitely decreased.

Do you wish someone had taught you to throw a knuckleball growing up?
Tim Wakefield is an All-Star pitcher with 11 wins at age 42. His secret? The knuckleball, a pitch not emphasized in developmental stages of baseball.

Should "SportsNation" show more UFC?
The sport's as violent as the argument between MMA fans and boxing. Does it deserve a more time on the show? We're asking you, not Brock Lesnar.

Another sign of dysfunction by the Cowboys?
It's not as touching as the Brian Piccolo-Gayle Sayers story, but Greg Ellis says DeMarcus Ware helped him get playing time in Dallas by hiding from the coaches.

And our final question ...
The addition of Vince Carter gives the Magic a pair of high-flying dunkers. Does Vinsanity need to add a cape to top teammate Dwight Howard?
What is "SportsNation" TV and how do you make your voice heard on the broadcast? Read about the new ESPN show that features fan opinions with calls, tweets, polls, rankers and more.
In Tim Wakefield's first season in the big leagues, the Red Sox and Yankees both finished with losing records (soak that in for a few blissful seconds). And the Brewers finished a close second in the American League East, four games behind the Blue Jays.
Yeah, Wakefield's not young. He wasn't then, debuting with the Pirates in 1992 at 25 years old, and he's not now. But he is going to the All-Star Game for the first time, weeks after passing Roger Clemens for the most starts in Red Sox history.
Before he beat the A's on Wednesday for win No. 11 this season, SportsNation wasn't entirely sure he belonged in St. Louis. And despite some well-placed lobbying (listen to Tim Kurkjian on "Mike and Mike," left) voters aren't buying him as the American League starter.
But despite becoming one of the oldest pitchers to win 11 games this early, he has at least two more good seasons, as the 'Nation sees it.
"

Chris Tillman pitched 6 shutout innings [Wednesday]. He has pitches 13 consecutive shutout innings now. We are going to see this guy very soon. I can feel it. Tillman is going to get the call up and Matusz will be promoted to AAA. Patience O's fans. They are coming.

"

-- nebula25r
"

major league pitchers dont just stumble by accident on 11 wins at this point in the season. I watched Wakefield pitch against the Tigers in Detroit last season, sat near behind the plate and watching this guys pitches come toward the batter was just silly, the ball did look weak and lifeless but it moved so oddly that its gotta throw off big league hitters timing, obviously to the point of 11 wins at that!

"

-- KaneBowman
"

Since Matsui has gotten on track, things are backed up again but, as I've been saying all along, I would like to see Cervelli/Molina doing the MAJORITY of the catching... Posada is weak defensively AND he seems to have gotten worse at calling games... He's already just a DH that they keep telling to play catcher...

"

-- KapteinStoertebeker
"

Considering the way we've been playing we're lucky to be 5.5 games back. So, lets's get some home cooking W's this week and close that gap a little before the AllStar break. Go Rays!

"

-- 23witness
"

The Jays are on the verge of becoming less relevant than the Montreal Expos in Canada if don't they start showing a, and with apologies to Al Davis, "commitment to excellence" and not a "commitment to mediocrity".

"

-- RapsJaysBucs