SportsNation Blog Archives

Jason Kidd
Jason Kidd retired earlier this month after racking up the second-most assists in NBA history. And although it's rare for a player to become a head coach so quickly, the new Brooklyn Nets navigator is hardly the first expert passer to get the top job with an NBA team. Counting Kidd, 11 of the NBA's 25 all-time assist leaders have gone on to become head coaches in the league. Can you name the other 10?
More games from ESPN Arcade »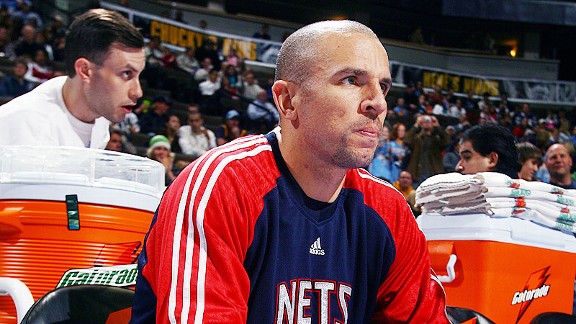 Garrett W. Ellwood/NBAE/Getty Images
Jason Kidd lands Nets coaching job
Shortly after announcing his retirement as a player, Jason Kidd will become <a href="http://espn.go.com/new-york/nba/story/_/id/9378352/brooklyn-nets-hire-jason-kidd-sources">the next coach of the Nets</a>. Lots of ex-players have become coaches, but most have done so after first working as an assistant or media analyst. Would Kidd be a good fit in Brooklyn? How will the Nets fare with him at the helm? Vote below!
Let's see, how can we best sum up the way the Knicks have been playing in these past few games against the Pacers? Should we just link up the recap of their 93-82 loss on Tuesday night? What about an article where J.R. Smith takes responsibility for his dreadful shooting performance? Should we ask you to imagine the noise a sad trombone makes? Wait, we think we know: Just look at Carmelo Anthony's expression in the video above, and you'll get a sense of how bad the Knicks have been shooting.

---

Carmelo's time to shine

Carmelo Anthony has been shooting about 40 percent from the field in this series -- not terrible, for sure, but a little more than 4 percent worse than his season average.

---

Smith's struggles

The Sixth Man of the Year has been so ice cold in the playoffs that some wag created @DidJRSmithMiss on Twitter. Sample tweet: "I mean, what do you think?"

---

Kidd scoreless

Jason Kidd's not a huge part of the Knicks' plans, but he's played 177 minutes in the past eight games and has scored zero points.

Jason Kidd is headed to New York. The veteran point guard reportedly agreed to a three-year deal worth $9 million to join the Knicks, according to sources. Was acquiring the 39-year-old Kidd a wise choice for the Knickerbockers?

The Million Dollar Man Ted Debiase: "Jason Kidd is still a great floor general. Not athletic anymore, but still solid for about 30min a game."
Lavinwood: "This is actually a move that can help the Knicks. Kidd new how to keep an offense running with Dirk. Hopefully, he can run it with Carmelo."
abermen: "So I guess this means the Knicks are going to pony up the 35 million and resign Lin. What a horrible contract that could turn out to be."
theMAESTROmaster: "Knicks still won't be better than a 6 seed. Melo and A'mare don't match and with those contracts you can't do much to move them."
Cahelim: "This would be the best thing for knicks short Nash... Length of deal only shortfall but Kidd strong vet presence to help get this team playing right"
I have popcorn in my ears: "Wow. 6 points and 5 assists per game. Good luck with that Knicks!"



Join the conversation or respond by signing in or creating a profile and blogging.

Shaquille O'Neal might not mind spending a winter in Cleveland if it means playing with LeBron James, but perhaps the lure of trading financial security for a chance to wait and see if the same opportunity would present itself in New York a year from now didn't sound so enticing to Steve Nash. Or maybe the fan base in Arizona -- not to mention Grant Hill -- makes him feel all kinds of young.

With news that Nash will remain with the Suns for at least the next three seasons after signing a contract extension, SportsNation is sure the guard's championship window has closed. That might not have been the case had he followed a similar path after the 2003-04 season with the Mavericks , but two MVP awards aren't bad consolation prizes.

"

You often have to wonder, what is the price tag for giving up your dream. For Steve Nash we know it is now $11 million. (The Price to not pursue a NBA Ring). I don't fault Steve at all. I would take the money in a heartbeat and not think twice. But this is sad that such a great pg who had a fantastic 4 year stretch, will never get that 1 goal that all players seek.

"

-- Vikomnla

"

I love the suns and Nash but this was a ridiculous decision. The fans in PHX will love it but they are not even close to contenders for a ring. Hey, maybe they'll keep making money and keep the franchise afloat but 22 mill is alot for a 35 year old PG who doesn't play D and has had a bad back for 3 years.

"

-- xjrobx