SportsNation Blog Archives

Washington Wizards
We might have some new NBA playoffs bulletin-board material! At least, if the Cleveland Cavaliers and Washington Wizards meet in the Eastern Conference finals.
It comes from Game 4 between the Wizards and the Atlanta Hawks, in which Washington star John Wall sat out with a wrist injury, and wore this number: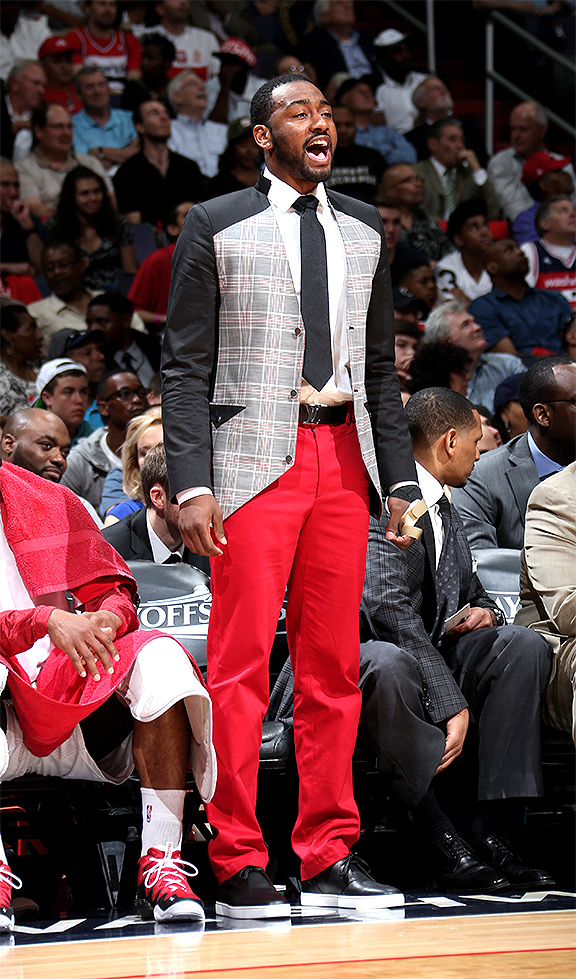 Ned Dishman/NBAE/Getty Images
Loud, yes. But hey, it's the NBA, where we've come to expect such a thing. Bold is beautiful, so live and let live -- oh wait.
#JWall your suit tho! #Turrrbile #WorstThenCrCharlesDraftSuit

— JR Smith (@TheRealJRSmith) May 11, 2015
What was he thinking? https://t.co/bu2jUwrrx9

— JR Smith (@TheRealJRSmith) May 11, 2015
Insert blushing, bulging-eyed emoji here.
Now, we're no fashion experts. So we're just going to leave this here and let you decide whether the Cavs sharpshooter has any room to speak.
Thanks ladies! RT @CavalierGirls: Congrats @TheRealJRSmith looking good sir! #AllStarAllStyle pic.twitter.com/WXJRPIZIm5

— JR Smith (@TheRealJRSmith) February 15, 2015
H/T For the Win
Joe Murphy/NBAE/Getty Images
2014-15 NBA schedule released
The 2014-15 NBA schedule is here, with some pretty sweet matchups highlighting the season's big days. The opening-night slate comprises Dallas Mavericks-San Antonio Spurs and Houston Rockets-Los Angeles Lakers. On Christmas, the Cleveland Cavaliers make their first trip to Miami since LeBron James left the Heat, while Western Conference titans Oklahoma City Thunder and San Antonio Spurs square off in Texas. It's all part of a regular season that promises to be compelling.
Getty Images

Favorites in NBA's East?

Less than a week into the NBA's official free agency, nearly all of the big names have made their decisions. And while the Western Conference saw little movement, the East saw some deals that will certainly shake things up.

LeBron James, in case you hadn't heard, left the Miami Heat for the Cleveland Cavaliers. The Heat, though, kept Chris Bosh and Dwyane Wade, and added Luol Deng in the process. The Chicago Bulls picked up Pau Gasol and brought over Montenegro-born Nikola Mirotic from Spain to team with a (presumably) healthy Derrick Rose. And the Indiana Pacers on Wednesday saw Lance Stephenson go to the new-look Charlotte Hornets. (Also, let's not forget about Carmelo Anthony staying with the New York Knicks and Jason Kidd leaving the Brooklyn Nets to coach the Milwaukee Bucks.) Naturally, there are a lot of questions ...

NBA Pick 'Em -- Pacers vs. Wizards

The Indiana Pacers have sputtered since soaring to the NBA's best record early in the season. The Washington Wizards came out of nowhere to win their first playoff series since 2005. Now they meet, and only one can move on. Which team has the advantage in the key position groups? Which will win their Eastern Conference semifinals series?

More: Heat-Nets | Spurs-Blazers | Thunder-Clippers

Getty Images

Your NBA playoff predictions?

The NBA playoffs are underway, and they're even more competitive than expected. Which teams will go on to win their first-round series? Cast your votes below!

More: Rank the playoff teams!