SportsNation Blog Archives

Michael Jordan
The "next Michael Jordan" debate/discussion will never stop raging. Los Angeles Clippers guard Jamal Crawford, though, thinks the case has been closed for a long time.
Speaking to the crowd at the Seattle Basketball Pro Am, the Emerald City native introduced Kobe Bryant as "this generation's Michael Jordan." Check it out, as captured by davidverts on Instagram:
Bryant certainly has something of a claim, using his prodigious shot-creating ability to win five championships with the Los Angeles Lakers. Others, though, believe LeBron James deserves the title, while many surely believe there will never be a "next Michael."
What do you think?
In the June 26 issue of ESPN The Magazine, the discussion surrounded comebacks. How do the comebacks of some of the biggest names in sports stack up? Let's take a look.
Which comeback was greater, Jordan's first or his second?
1995-98
8.0 APG
Whatever your metric of choice, it's clear: Early Jordan (1984-93) trumped Middle Jordan (1995-98). Early MJ got to the line more (.385 FT rate vs. .346), was a more efficient scorer and had more steals and blocks. Counter to the notion that he came to trust his teammates as he aged, Early MJ even had more assists (a career-high 8.0/game came in 1988-89) than Middle MJ did. Which is all to say: MJ was slightly worse during his first comeback than the greatest player of all time. -- Kevin Pelton, ESPN Insider

2001-03
+3.0
Jordan's second comeback, in 2001, was unprecedented. No perimeter player in NBA history has scored more points at ages 38 and 39 than MJ. (And not for nothing, only Kevin Durant played more minutes this season than the 39-year-old Jordan did in 2002-03.) The Wizards had just 19 wins in 2000-01, before His Airness arrived; they had 37 victories in each of his two seasons. But don't trust us -- trust metrics: The Wiz were three points better per 100 possessions with Jordan creaking and crawling down the floor. -- Bradford Doolittle, ESPN Insider
USA TODAY Sports
Kobe vs. Jordan one-on-one?
Shocking revelations from Phil Jackson: It turns out that Kobe Bryant is really confident. In an interview with Fox Sports Live, Jackson said that he asked Michael Jordan to talk to Kobe Bryant shortly after Jordan's second retirement in 1999. One might expect a young player to be a bit star-struck when meeting a legend like Jordan, but this is Kobe Bryant we're talking about here. Jackson said the first thing that Kobe said to MJ upon meeting him was ''I could kick your ass one-on-one.'' This is, of course, the perfect Kobe Bryant response -- we'd imagine Kobe says some version of that to most everyone he meets, whether or not they're even professional basketball players.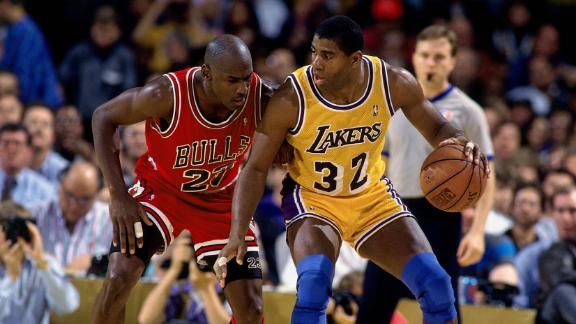 Picking an all-time starting five for a pickup game is something of a habit for NBA fans and players alike, and some of the game's finest have recently gotten in on the fun. Kobe Bryant, Michael Jordan and Hakeem Olajuwon have all made their picks, and their teams have some interesting differences. Kobe chose two all-time great Celtics (Larry Bird and Bill Russell) in addition to Lakers stars Magic Johnson and Kareem Abdul-Jabbar. Hakeem was the only of the three to put LeBron James on his team, in addition to John Stockton, Moses Malone and Shaquille O'Neal. MJ had teammate Scottie Pippen join Magic, James Worthy and Olajuwon. The only thing every team had in common? All of them picked Jordan.
LeBron James has been compared to Michael Jordan many times in his career, but he still has a long way to go before he overtakes Jordan in the championships department -- or, if you believe Jordan, in a game of one-on-one. In an interview promoting the NBA 2K14 game, Jordan said that if he were in his prime, he wouldn't lose to LeBron in a solo matchup. LeBron (6-foot-8, 250 pounds) would have a significant size advantage over Jordan (6-6, 216), but MJ would have the edge in pure shooting. Honestly, given his legendary competitiveness, we're not sure we'd bet against Jordan, even if it were later on in his career.
Here's a sampling of what readers had to say in our Facebook conversation on the story:
Peter Kica: "why is MJ stating an obvious? we know he would beat lebron 1on1. but when it comes to overall skill level there is no doubt that lebron is right up there with him if not higher. Lebron is a better passer, rebounder, he is way stronger and he has been developing a midrange to 3pt game. He has improved his post game and he has come up clutch in the FINALS! "
Ernest McCaleb: "Lebron James is a playmaker. He's more magic thane MJ. Who cares that MJ thinks he can beat Lebron in 1 on 1. Lebron is MUCH more than a 1 on 1 player - he's a facilitator. "
Aaron Weiner: "It would have been close, but Jordan had the more creative offensive game, which lends itself to 1-1. LeBron would have been able to shoot over him, though, and since he's an improved shooter I think it would have been close."
Matt McLeod: "If Lebron wanted to post him every time it would be a hell of a hard time for Jordan to beat him. Even with Jordan in his prime, Lebron has 40+ lbs on Michael and 2 inches while being faster and more explosive than Michael. Give Jordan the ball first and maybe cause he could shoot, but if Lebron got the ball first and decided he simply wanted to WIN and post Michael up evey time theres absolutely NOTHING Michael could do about that. Not CLOSE to the strength and size of Lebron. Not close."
Joe Schnipke: "MJ would beat LeBron but it would be closer than people think. People who say MJ would kill LeBron are just hating."
What do you think? Leave your comments below.