SportsNation Blog Archives

Cleveland Cavaliers
Magic Johnson knows a thing or two about coming up big in the NBA Finals, winning five championships with the Los Angeles Lakers and, in 2012, ranking sixth all time on ESPN Insider's list of best Finals performances for his showing in 1987.
Which leads us to this tweet from Wednesday:
If LeBron keeps playing the way he's playing & the Cavs win the title, this will be the single greatest performance we've seen in the Finals

— Earvin Magic Johnson (@MagicJohnson) June 10, 2015
This isn't crazy. Through three games, James is averaging 41.0 points, 12.0 rebounds and 8.3 assists in 47.3 minutes. He's shooting only 40.2 percent from the field, but with Kyrie Irving and Kevin Love out it's hard to fault James for taking a lot of shots even as the Golden State Warriors' defense keys on him (oh, and the Cleveland Cavaliers lead the series 2-1).
In other words, if he keeps this up, he could challenge Michael Jordan's 1998 (No. 2 on our list), MJ's 1997 (No. 4) and former Miami Heat teammate Dwyane Wade's 2006 (No. 1).
Magic didn't let that tweet stand alone; he continued to talk up LeBron, and directly referenced James' field goal attempts (35.7 per game in the series).
After the first 3 games LeBron James should be on everybody's Mt. Rushmore...including mine!

— Earvin Magic Johnson (@MagicJohnson) June 10, 2015
LeBron, don't listen to anybody, keep shooting as many times as you have to for your team to win!

— Earvin Magic Johnson (@MagicJohnson) June 10, 2015
Magic also gave a shoutout to the breakout star of the NBA Finals, and to Cleveland's overall team effort ...
In the NBA Finals there's always going to be unsung heroes and Matthew Dellavedova is playing that role for the Cavs.

— Earvin Magic Johnson (@MagicJohnson) June 10, 2015
The Cavaliers defense has been awesome and they have been physically & mentally tougher than the Warriors.

— Earvin Magic Johnson (@MagicJohnson) June 10, 2015
... but he was not so kind to the Warriors, particularly NBA MVP Stephen Curry and defensive anchor Draymond Green:
I love Steph Curry & Draymond Green, but they both need to stop complaining to the referees and play basketball.

— Earvin Magic Johnson (@MagicJohnson) June 10, 2015
One thing that's inarguable, and that no one is complaining about: the level of drama in this series.
H/T Sporting News
When LeBron James left the Cleveland Cavaliers for the Miami Heat, Dan Gilbert wrote a nasty letter in response.
Well, now that James has returned, and returned the Cavs to the NBA Finals, Gilbert has changed his tune. The proof? This totally real (note: totally not real) updated version of that infamous screed, which we at SportsNation recently "found."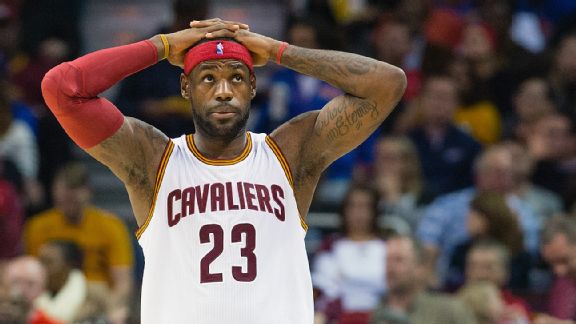 Jason Miller/Getty Images
LeBron James might have led the Miami Heat to two titles and a string of four straight NBA Finals appearances, but that doesn't mean the Sunshine State is entirely in the King's corner.
We asked two questions recently to SportsNation regarding LeBron, and while some states -- particularly the home of his Cleveland Cavaliers -- voted in his favor, Florida went the other direction on both (results as of 7:30 p.m. ET on Tuesday).
First, after Bill Russell beat out LeBron on a graphic as the "best player to wear No. 6" ...
SportsNation
Then, after Shaquille O'Neal said he would choose Kobe Bryant over LeBron in their primes ...
SportsNation
It must be said that the South Florida region accounts for less than one-third of the state's population, according to 2014 estimates. So a county-by-county breakdown might see LeBron carry Miami-Dade, Broward and Palm Beach but lose significantly elsewhere. Also, those are significantly small samples -- perhaps a few thousand more votes would change things.
Still, those are significant margins in both Russell's and Kobe's favor.
In other words: That's unseasonably cold, Florida.
Who are the best NBA players ever to wear each jersey number?
Apparel company Mitchell & Ness took this question and figuratively ran with it, creating a graphic that lists the best player to wear every number that's ever graced the front and back of an NBA uniform.
Mitchell & Ness
Some notes:
• There are a few incontrovertible choices: No. 23 for Michael Jordan (unless you're Kendrick Perkins or Bill Laimbeer), No. 45 for MJ (even if he wore it for just a few weeks in 1995), No. 00 for Robert Parish, No. 1 for Oscar Robertson, and a few others.
• There are heated debates for other numbers, particularly the overloaded No. 33, where Kareem Abdul-Jabbar edged Larry Bird, Patrick Ewing, Alonzo Mourning, Scottie Pippen and others. (This writer's opinion: Kareem was the absolute right choice).
• Late-career changes helped squeeze excellent players onto the list in numbers they're not always best known for. Karl Malone (No. 32 with the Utah Jazz) gets on for his one year as No. 11 with the Los Angeles Lakers, since he was never going to overtake Magic Johnson. Shaquille O'Neal wore 32 (Magic), 33 (Kareem) and 34 (Hakeem Olajuwon) at points in his career, but gets on the list with his Boston Celtics No. 36. And Kevin Garnett, who probably wouldn't have edged Tim Duncan out for No. 21, thankfully had the No. 5 spot all to himself for his post-Minnesota Timberwolves stint with the Celtics.
• The end of this list is absolutely wonderful, with Scot Pollard, Jason Kapono, Shawn Bradley, Vladimir Radmanovic and DeShawn Stevenson bringing back so many memories. But it also contains some great significance: Jason Collins, the NBA's first openly gay player, wore No. 98 as a tribute to Matthew Shepard.
• The Panda's Friend? More like The Oddball Jersey Number's Friend! Yes, Ron Artest, aka Metta World Peace, shows up a list-topping four times here, for Nos. 37, 51, 93 and 96, edging out equally eccentric talent Dennis Rodman (three: 70, 73, 91).
• Biggest omission from the list? LeBron James. Sure, he's not going to overtake Jordan (see above) for No. 23. But No. 6? That spot was given to Bill Russell, who wore his signature number for the Celtics while winning 11 championships. But some -- maybe even this writer (bring out the haters!) -- believe James, who wore No. 6 during his four-year stint with the Miami Heat, is/was the better player.
Appearing Wednesday on The Dan Le Batard Show, rapper and creator of the "cooking dance" Lil B (aka The Based God) discussed his gripe with James Harden, the origin of the cooking dance and why LeBron James might be the next NBA star to face his wrath.
Before heading to Oakland (where he sat behind the Houston Rockets' bench and watched James Harden fall to Steph Curry and the Golden State Warriors) on Wednesday night, the rapper aired his grievances with Harden, while emphasizing the importance of authenticity:
"People want original paintings. There are a lot of artists that might recreate Picasso's painting. So the gullible buyers, they might buy the off-brand Picasso painting. But for the real artist and the real people, they want that Picasso painting, which is Lil B."
It doesn't get much realer than calling someone fraudulent through a Pablo Picasso analogy. If only Harden had squadded up with Lil B when he had the chance.
In other news, J.R. Smith posted an Instagram video of himself, LeBron James, Kyrie Irving, Iman Shumpert and Kendrick Perkins getting hyphy to Chedda Da Connect's "Flicka Da Wrist" after clinching the Eastern Conference title.
Needless to say, Lil B noticed and was NOT pleased. This is because all dances that involve any cooking motion or wrist-flicking originate from Lil B's cooking dance. Therefore, the players -- specifically LeBron James -- must give credit to The Based God immediately or they are going to land themselves a classic case of "The Based God's Curse":
"That is what LeBron James, J.R. Smith, Kyrie Irving ... that is the celebration they all were doing ... but they called it something else. I think they are a bit misled."
Lil B went on to single out LeBron as the culprit behind this offense. He also questioned the leadership ability of the four-time MVP:
"Now the thing is, if LeBron James continues to be arrogant and with all his leadership, the supposed leader that LeBron James is, if he's doing dances and celebrations where he doesn't know the source, that shows a little bit about LeBron James' personality. If LeBron James is doing things where he doesn't really know the source, LeBron James might be the person who buys a fake Picasso painting too. He might do that."
Luckily one of King James' teammates, Iman Shumpert, isn't chancing letting a Based God's Curse get in the way of the Cavs winning an NBA title.
. @LILBTHEBASEDGOD Preciate the swag killa =L<þ. I cooks I chef <À all love

— Iman Shumpert I (@I_Am_Iman) May 27, 2015
And just like that, Shump appeased The Based God! "Major respect to the Cavaliers organization and for them having a great, stand-up, honorable player like Iman Shumpert to come out and say he is doing the Lil B cooking dance and he's been doing that," Lil B said.
LeBron: It might not be a bad idea to take his lead lest you risk ending up like Kevin Durant and James Harden. Just saying.
.@LILBTHEBASEDGOD reminds the crowd who owns the cooking dance. http://t.co/EtJqVLk42c

— NBA on ESPN (@ESPNNBA) May 28, 2015