SportsNation Blog Archives

Cleveland Cavaliers
---
Is LeBron being serious?
LeBron James' decision to leave the Cavaliers for the Heat has been the defining moment of his career, and one of the defining moments for a city that he left. LeBron doesn't seem to think that means he's done with Cleveland, however, as he speculated about a possible return to the Cavaliers in a recent interview.

---
Do you like LeBron?
LeBron became one of the most polarizing athletes in sports after his nationally-aired Decision, but emotions seem to have cooled since then. Heck, look at him hanging out with current Cavalier and former teammate Anderson Varejao. No hard feelings, right?

---
What would Cavs fans think?
Assuming LeBron was still an elite player by the date of a theoretical return to the Cavaliers, fans in Cleveland would have a dilemma on their hands. It's never a bad idea to add a player who could help your team win a championship, but what if that player represents a lot of hurt feelings for your city?

We can understand if you don't want to take the time to grade your tech-support help on the other end of the telephone, but when we're talking about the dollars and emotion you've invested in sports, we think it's worth the effort. It's time for ESPN The Magazine's Ultimate Standings, in which SportsNation grades organizations on everything from ticket prices and stadium experience to the talent on the field, court or rink. Which team will end up on top this year? It depends on what you say.
Take part in the 2011 MLB survey
2010 MLB Ultimate Standings
1. Los Angeles Angels (Overall: No. 3)
2. Tampa Bay Rays (Overall: No. 6)
3. Colorado Rockies (Overall: No. 13)
4. Minnesota Twins (Overall: No. 14)
5. Atlanta Braves (Overall: No. 15)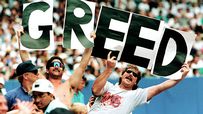 Take part in the 2011 NFL survey
2010 NFL Ultimate Standings
1. New Orleans Saints (Overall: No. 1)
2. Indianapolis Colts (Overall: No. 4)
3. Green Bay Packers (Overall: No. 9)
4. Arizona Cardinals (Overall: No. 19)
5. Baltimore Ravens (Overall: No. 20)
Take part in the 2011 NBA survey
2010 NBA Ultimate Standings
1. Orlando Magic (Overall: No. 2)
2. San Antonio Spurs (Overall: No. 7)
3. Cleveland Cavaliers (Overall: No. 10)
4. Dallas Mavericks (Overall: No. 24)
5. Oklahoma City Thunder (Overall: No. 25)
Take part in the 2011 NHL survey
2010 NHL Ultimate Standings
1. Pittsburgh Penguins (Overall: No. 5)
2. Detroit Red Wings (Overall: No. 8)
3. Washington Capitals (Overall: No. 11)
4. San Jose Sharks (Overall: No. 12)
5. Chicago Blackhawks (Overall: No. 16)
Say what you want about the city of Cleveland -- we've actually never been, but we hear parts of it are quite nice -- but they sure know how to be passionate about their sports.
The question tonight is whether or not LeBron James will bear the brunt of that passion. Much of it will manifest in booing -- if our polling is any indication, said booing will be long and sustained. Extra security has been hired for the whole event, the Heat are keeping their travel itinerary a secret, and the whole affair has the appearance of a public meeting between two powerful world leaders. What it actually is is an early-season meeting of two teams whose combined record is .500, but we understand where the hype comes from. The prodigal son doesn't always return home to cheers.
Rob (Los Angeles)
Who wins tonight? I say the Cavs blowout the Heat. They are going to be playing like this is the NBA Finals game 7.
Chad Ford
I agree that you'll probably see the Cavs play the game of their lives and you could very well see LeBron stiffen up from the pressure. But there is a massive talent disparity between those two teams. Tough one. Doubt it's a blowout, but I probably favor the Cavs in the game. Full transcript
3. To throw the powder or not to throw the powder?
You wouldn't wave a red cape in front of a bull, right? Ooh, sorry, we forgot -- Bulls are a bit of a sore subject in Cleveland, too. Anyway, when LeBron James makes his return to Cleveland on Thursday, would he be wise to shelve his pregame routine of throwing powder into the air at the scorer's table? LeBron's return PollCenter
"This is the only NBA game I'm watching this year. I want to see the raw hate flow from the Cleveland fans. I hope it's Artest's First Game Back in Detroit or Kobe in Denver times 100." -- SN commenter Fred_Fenster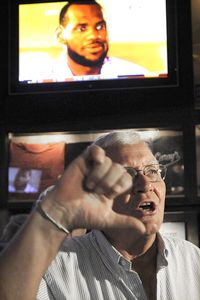 Everyone has been there. You end up the aggrieved (i.e. dumped) party in a rough breakup. You go out on a couple of all-night benders and make a fool of yourself, curl up in the fetal position on the couch with comfort food or, you know, burn jerseys in the streets and wear out the caps-lock key. Whatever makes you feel better. Your friends and family look the other way and let you get it out of your system. But at some point, well, you just get creepy.
How long until angry fans in Cleveland hit that stage?
A fan wearing a LeBron James Miami Heat jersey had to be escorted out of Progressive Field in Cleveland during Wednesday's game against the Yankees after drawing the sustained ire of ticked off Clevelanders. Now, wearing that jersey in that situation might raise some questions about the fan in question (wearing any jersey in public might do that, if you ask us), but does Cleveland need to get over the whole LeBron thing?
"

It is a free country, fans have the right to root for anybody they want. I hope the guy got his money back.

"

-- pac7196033
"

Wow, way to go all you brand new Cavs haters who had nothing to cheer about before the arrival of King LBJ. You've brought a new low to sports. Having a man heckled and escorted out so you can voice your displeasure with another who owes you absolutely nothing. Way to go.

"

-- Mr_Stuff
"

The guy knew what was going to happen. He went to that game knowing it was going to make Cleveland fans angry and he got the reaction he wanted. He knew nothing was going to happen because of security and cameras and what not. Bet he wouldn't walk into a local Cleveland bar with that jersey.

"

-- tommy2tone614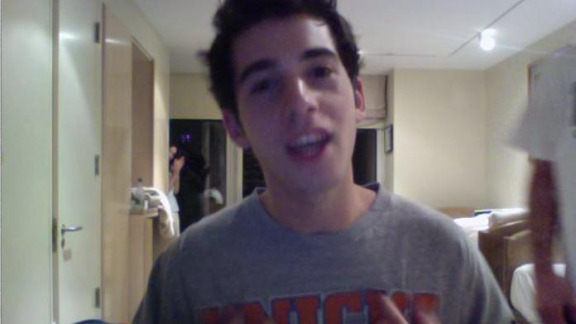 How much is at stake for LeBron James when he reveals his future plans live on ESPN at 9 ET tonight? Sure, there's the roughly $30 million he would leave on the table if he elects to leave the Cavaliers for the Heat, as reports suggest. But that may be chump change compared to the toll a move would take on LeBron's legacy.
We've always thought of LeBron as a pretty popular guy, with only an undercurrent of grumbling about overexposure and a lack of championships. But check out SportsNation's current feelings about five of the NBA's biggest superstars.
How much worse could things get if he breaks up with his hometown in front of a few million people? SportsNation blogger JoeJoeTTM, a Bulls fan no less, believes there is only one choice for LeBron, unless he wants to be known as the player who stole a city's soul on live television.
"I really believe he is going back to Cleveland only becuase of the one-hour special. If not then Lebron will quickly become one of the most hated players in NBA history." -- Read JoeJoeTTM's full post.
"

If LeBron uses this variety show to announce that he's leaving, thus punking his hometown, it will be one of the most classless acts in the history of sports.

"

-- krab72
"

I imagine he's going to the Heat. He's really sticking it to Cleveland here and I can't blame any CLE fan for disliking him after this, myself included.

"

-- dewangski1
Forget wanting to be a millionaire. It may be a one-night-only special, but the new reality-television phenomenon is all about where a potential billionaire wants to be.
LeBron James will announce his free-agent plans Thursday night on live television (9 p.m. ET, ESPN) in a spectacle that SportsNation expects to be only slightly less watched in the United States than the World Cup final -- and more popular than either the MLB All-Star Game or the Home Run Derby. For our part, we just wish there was a reunion show after the special to hear the inside dirt. Danny Ferry would have a lot to say.
And with news that Chris Bosh will reportedly join Dwyane Wade in Miami, there is really only one major question left, as SportsNation blogger mphaigh poses below.
"Will LeBron's decision at 9 p.m. Thursday night on the one-hour ESPN special be to say he's joining them ... or staying in Cleveland ? Honestly, I can't see LeBron now going to New York, New Jersey or the LA Clippers. I could see a move to the Windy City of Chicago, but my gut feeling tells me he's going to remain with the only team he's known, and stay in his hometown and play with the Cleveland Cavaliers." -- Read mphaigh's full post.
"

no way Lebron beats Wade and Bosh next year..... mark down another failure year for the Lord of NO RINGS

"

-- Super_Eman
"

Boston and Orlando are still the best TEAMS in the East get over it little kids.

"

-- Masta McNasty_28.0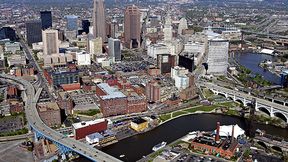 For Cavaliers fans, the first stage will be denial. As NBA free agency begins and suitors from Chicago, Miami and New York officially come calling on LeBron James with offers of very-told riches and rosters that don't include Mo Williams, Delonte West or the ghost of Shaquille O'Neal, fans in Cleveland will convince themselves there is a plan to keep the city's greatest treasure. SportsNation blogger unklerob lays it out.
"So what are the Cavs to do but lay back -- maybe they DO know what they are doin', maybe Bron and Melo have it worked out that in '11 Melo links up with Bron in Cleveland. I mean if Karl leaves what are Melo's ties to the Nuggs? Chauncey is gettin' old K.Mart is beat up JR Smith ain't seen a shot outside the building he doesn't like and won't take. Maybe Melo sees the easeiest road to a title is from east to west instead of banging his head against the western wall." -- Read unklerob's full post.
But should the day come that LeBron parts company with his not-quite-hometown, anger will surely be ushered in as the second stage of grief -- anger at both star and team.
"The closer we get to July 1st the more of a joke I think the Cavs organization is. They have had ample time to put a plan together for keeping Lebron and seem to be far from doing so. It is almost as though they haven't put any thought into helping Bron on the court and have put all their eggs into the basket that Bron wants to stay in Cleveland more than anything and wants to win in Cleveland." -- Read greg_g74_pt.2's full post.
As for bargaining, depression and acceptance, well, Cleveland fans have some experience with these things. Just ask Art Modell, John Elway, Earnest Byner and Michael Jordan.
What about the rest of SportsNation? If the day LeBron signs elsewhere shapes up as the worst day in Cleveland sports history, what's the worst day in your city's sports history?
If we're talking luxury cars, we'll take ours brand-new, thanks. No need to let someone else enjoy that new-car smell or doom the transmission. But if we're talking about coaching NBA superstars, we'd be inclined to take the same approach as with the iPad. That is, let someone else suffer through the inevitable problems with the first release and then swoop in to enjoy the refined versions.
In other words, would you rather be Pat Riley and Phil Jackson or Paul Westhead, Bill Fitch, Doug Collins, Del Harris and now Mike Brown?
Brown wasn't LeBron James' first NBA coach, but he seems destined to the same shelf as the guys who broke in Magic Johnson, Larry Bird, Michael Jordan and Kobe Bryant, respectively. Although one frequent SportsNation blogger thinks Brown sowed the seeds of his own demise, in part, by acquiescing to James more than guys like Fitch or Westhead did to their stars.
"Mike Brown had LeBron James for five years. The reason he is no longer the coach is because he leaned on LeBron James for five years. I give Danny Ferry and Dan Gilbert a pass because they have shown a willingness to improve the the team and the franchise as a whole. This had to be done. If the Cavs want to keep Lebron they had to get rid of Mike Brown. Brown had too much admiration for LeBron and not enough admonishment." -- Read ricodade's full post.
Ethan (Philly)
Are you a fan of the Doug Collins hire?
John Hollinger
I am. I think he's a better fit in Philly than he would have been in Chicago, which is why I was down on the Bulls' potentially hiring him two year ago. Collins to me is a poor man's Larry Brown -- you can't have him coaching young guys and in two years everyone will be sick of him, but in between he'll get everybody straightened out and max out the team's potential. Philly's 'young' guys are old enough now that they can deal with it, so as long as he doesn't crush Turner's confidence it should work. Full transcript
We're still a month and a half away from the start of NBA free agency, and we've already had the mayor of New York adding his two cents (then again, he's got a few billion of them) on why LeBron James should come to the Big Apple, not to mention the president of the United States suggesting James would be a perfect fit in the Windy City.
Cleveland needs its most powerful resident to step up to the plate, except that, well, that's probably James himself (no offense to Drew Carey).
For now, the LeBron buzz seems to center on coaches. John Calipari tweeted that he's staying at Kentucky, despite reports he and James are a package deal. Jeff Van Gundy suggested James might not be enough to make the Bulls the team to beat in the NBA. Might a veteran coach with experience in a big city might be the missing piece? But from candidates, real or speculative, who would get the most out of James?
"

I think what a lot of people forget is Cleveland has one of the biggest ( if not the biggest ) pay no expense to win owners. To quote him "it costs me more money to lose" Everyone is thinkin about Calipari, and if you don't think the Cavs have as good a chance to get him as anyone else you are crazzzzzzy. AND unlike the bulls everyone in the know, knows cleveland will spend. That is a great comfort for a coach to know. I think, Calipari is thinkin about Cleveland and Chicago, and I seriously think it can go either way.

"

-- Doug - Masters
"

Its not the coach he needs, but a strong supporting cast like Kobe has or Ray Allen has.

"

-- Go Yankz