SportsNation Blog Archives

Dallas Mavericks
Mark Cuban is known for his unconventional and even controversial ways -- sitting among fans during games and being outspoken on many topics, just to name a few cases. So his latest proposal, for Dallas to possibly draft Brittney Griner or invite her to try out for a spot on the team's summer league roster, isn't that mind-boggling. Is this something the Mavericks organization should consider?
antmanDFW: "Cuban is an entrepreneur. Can you imagine all the women that will make the Mavs their favorite team. He will make money! If i was him i would give her a try in a heartbeat."
northcyde: "Forget Griner . . . I want Skylar Diggins to take over the backup PG duties for the Hawks. Surely she could give us a solid 12 minutes per game off the bench."
obxmike59:"There is not a single women's college player that could even compete effectively in any open tryout for an NBA team. Even the top few women players would have difficulty competing against any men's college players."
Burghy77: "I like it.... doubt she can make it.... but give her a shot.... who knows maybe she can be a bench player"
Festivus2009: "Sorry, she is a great player but men her height in the NBA have to be fast and agile and smooth. She didn't really have to be those things in NCAA womans. Her height carried her. As gifted as she is, it wouldn't go too well."
Join the conversation or respond by signing in or creating a profile and blogging.
---
Worth a try?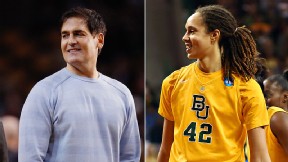 Mark Cuban is known for his smart investments, so investing in Brittney Griner would be a good thing, right?

---
Playing with the big boys?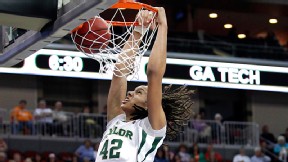 Brittney Griner was an three-time All-American, set the NCAA women's record for blocks in a season and holds the overall NCAA record for career blocks. Would that make her ready for the NBA?

---
Too far-fetched?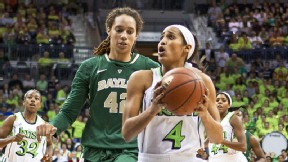 Nancy Lieberman played in the USBL in the 1980s, but no women have played in any of the major American men's leagues.

On Wednesday, "First Take" discussed Mark Cuban's comments about the Lakers' chemistry. Cuban said that all the new stars in Los Angeles might not want to be there, and that Los Angeles has tried a star-laden strategy before. Skip Bayless thinks Cuban might be on to something, but Stephen A. Smith thinks talent will eventually win out, although it might not be this season. What's your take?
O.J. Mayo has found a new home with the Dallas Mavericks. Should the Mavs rely on him to handle the starting shooting guard position?
Dolphinsandheatfan89: "Collison, Mayo, Marion, Dirk, Kaman, with Beaubois Carter Brand coming off the bench it's decent. 5th or 6th seed on a similar level to Memphis. Behind Lakers OKC Clippers and Spurs."
HacksawSlimDruggin: "'OJ Mayo has gotten a bad rap because he hasn't lived up to the expectations that have been bestowed upon him since he was in the 6th grade. I think this is a solid pick up, and Dallas is the perfect place for him to redeem himself. "
BigstaK: "Mavs are sneaky good and will be next year's dark horse team...Best moves made so far for a team not to land a max level guy."
phunky58: "finally mayo will get the playing time he deserves and pretty much the role he deserves and one of the go to guys on the floor, if not the guy. he will put up between 20-25 a game and have a huge year."
Rafael081296: "The Mavs are gonna have OJ play like the allstar he really is."



Join the conversation or respond by signing in or creating a profile and blogging.
Deron Williams has narrowed down his choice of teams to two: the Brooklyn Nets and Dallas Mavericks. Where will he end up?
Brock24115: "Playing for Mark Cuban is already a strong selling point. He will take care of you, both on and off the court."
Officer_Ten_Penny: "Brooklyn has young and good talent and they probably get D12 because they have a lot of money since Gerald Wallace left."
ferfj: "So...your two choices are the aging Mavericks or the hapless Nets? Well, at least his decision making on the court is better than his decision making off the court."
cyclingpine: "Start the party guys. If D-Will wanted to be a Net he would've already said that. There's no reason for him to draw this out unless he's headed to Dallas. "
UVA251982: "Deron knows what is on the table in Brooklyn. He is just waiting and if the Nets don't hit gold on draft night, (ie somehow getting Howard), Deron will go to Dallas."
T2kbebe: "He's heading to Dallas. Dirk is still productive and Cuban consistently puts teams together to contend. "



Join the conversation or respond by signing in or creating a profile and blogging.
Delonte West can be a bit strange at times -- like last night, when he gave Gordon Hayward a "wet willy" on-court. Is this more "ick" then "heh"?
midniterebels: "I heard next game he is going to give him a Purple Nurple"
BroncsAvsRocksNuggs: "I think it's funny.... I love how he talks about the competition level and going to war... he is a warrior... He was in an epic battle and got caught up in the moment and then.... tries a wet willy? "
JustJohn07: "Wet Willy? What is this, a Harlem Globetrotters game?"
HeelsBravesCowboys: "This classless clown should have been ejected for one,and be suspended a few games and fined a max amount.Things like this should not be tolerated."
rrrr734: "it wasnt even a proper wet willy."
lorax800032: "A "Wet Willy" This guy needs to grow up fast. He's on an NBA team, not in 3rd grade"



Join the conversation or respond by signing in or creating a profile and blogging.
Kobe Bryant will sit out of Sunday's game against the Mavericks, as he continues to recover from inflammation in his left shin that forced him to miss the past four games. How worried should Lake Show fans be about Bryant's injury? The Lakers are 3-0 against Dallas this season; will they make it a clean sweep?
DJ Mbenga Has More Rings Than Lebron: "Starting to get a bit concerned now, Kobe hates to miss big National TV games, especially against teams he hates,wondering if hes hiding anything, the Lakers need the 3rd seed to avoid Memphis and OKC till the conference finals, should be a good race and hope hes fine!"
jeterjones05: "this is simply Kobe resting up the knees, the legs, the shin and the wrist! and Kobe has the bball IQ to come back in and insert himself appropriately into the offense without disrupting the groove Metta/Barnes have sustained lately!"
AceVenturaMavsCoach: "Kobe may be more hurt than we thought. Either he's trying to pull a hero act in the playoffs or he's done and don't wanna admit it"
willis4mvp52: "This is a great boost of confidence for the role players while Kobe is down they are getting quality minutes and are playing very well if they keep up this strong play to end the season I think we have a strong chance to make a run to the finals"
thechloisa: "I'm really worried about what happens when Kobe comes back. Feels like the Knicks when Carmelo was out for a while. The team took on a very different personality and can't just turn straight back to the old Kobe leads all approach."
Texas Rangers Own the American League: "Now this definitely means the Mavs will blow out the Lakers"



Join the conversation or respond by signing in or creating a profile and blogging.
Charles Barkley is normally pro-player, but in the case of Lamar Odom's separation from the Mavericks, Barkley doesn't think Dallas should have to continue to pay him. Does he have a point?
DontHaveAGrandsonWithADogCollar: "Whether you love or hate Sir Charles, you have to agree that what he is saying is 100% truth. NBA shouldnt allow this to happen again."
Brian251978: "Ya know...it's sad that someone can quit on an NBA team and get paid, yet if I were to quit my job I don't get unemployment??!! That's how much of a joke sports are today."
big1dunny: "problem is unlike NFL in the NBA contracts are guaranteed so he's going to get his money regardless. But it doesn't change the fact that Odom has been completely unprofessional."
gambler1650: "It's a contract, so legally, Odom is justified in cashing the checks if Dallas doesn't want to waive him. I'd like to see Odom show a bit of conscience though and return the checks uncashed."
6thBoroTarheel: "no player should do what lamar did and be rewarded with a full paycheck. the mavs gambled on him, but that doesn't give lamar the right to simply not try."
doubleb253: "I don't necessarily disagree with what Charles is saying, but did Derrick Rose earn his money this season or did Greg Oden for the last 3 seasons? Is not as simple as he makes it sound."



Join the conversation or respond by signing in or creating a profile and blogging.
Lamar Odom's time as a Maverick never really had a grace period -- he didn't seem to want to be there, and the Mavericks couldn't find a way to use him effectively. It's kind of a moot point now, as Odom and the Mavericks are severing ties, although Odom still will be under the team's control. He'll be inactive for the rest of the season, and the team probably will try to trade him in the offseason. All in all, a strange ending for a player who seemed so happy in Los Angeles and so miserable in Dallas.
---
Who's at fault?
Lamar Odom did an awful lot of sitting on the bench during his time in Dallas. Whether that was his fault or the Mavericks' is your call.

---
Back to Los Angeles?
Odom would be a natural fit for the Lakers, but changes in the team's composition might preclude him from rejoining.

---
Fate of the Mavericks?
The Mavericks have a tenuous grasp on seventh place in the Western Conference -- a badly timed skid could leave them out in the cold.

---
Mavericks in trouble?
For the Mavericks, both of their losses have been painful -- a shellacking at the hands of the Heat which wasn't as close as the final score, and a simple beatdown from the Nuggets.

---
Lakers in trouble?
The Lakers' losses have been more painful -- a close match against the Bulls and a nine-point loss to the normally-hapless Kings.

We can understand if you don't want to take the time to grade your tech-support help on the other end of the telephone, but when we're talking about the dollars and emotion you've invested in sports, we think it's worth the effort. It's time for ESPN The Magazine's Ultimate Standings, in which SportsNation grades organizations on everything from ticket prices and stadium experience to the talent on the field, court or rink. Which team will end up on top this year? It depends on what you say.
Take part in the 2011 MLB survey
2010 MLB Ultimate Standings
1. Los Angeles Angels (Overall: No. 3)
2. Tampa Bay Rays (Overall: No. 6)
3. Colorado Rockies (Overall: No. 13)
4. Minnesota Twins (Overall: No. 14)
5. Atlanta Braves (Overall: No. 15)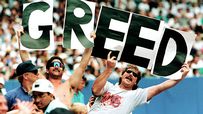 Take part in the 2011 NFL survey
2010 NFL Ultimate Standings
1. New Orleans Saints (Overall: No. 1)
2. Indianapolis Colts (Overall: No. 4)
3. Green Bay Packers (Overall: No. 9)
4. Arizona Cardinals (Overall: No. 19)
5. Baltimore Ravens (Overall: No. 20)
Take part in the 2011 NBA survey
2010 NBA Ultimate Standings
1. Orlando Magic (Overall: No. 2)
2. San Antonio Spurs (Overall: No. 7)
3. Cleveland Cavaliers (Overall: No. 10)
4. Dallas Mavericks (Overall: No. 24)
5. Oklahoma City Thunder (Overall: No. 25)
Take part in the 2011 NHL survey
2010 NHL Ultimate Standings
1. Pittsburgh Penguins (Overall: No. 5)
2. Detroit Red Wings (Overall: No. 8)
3. Washington Capitals (Overall: No. 11)
4. San Jose Sharks (Overall: No. 12)
5. Chicago Blackhawks (Overall: No. 16)