SportsNation Blog Archives

Utah Jazz
The Lakers' magic number is one: Either one win by Los Angeles or one loss by the Utah Jazz will lock up a playoff spot for them. That'd be great for them if there were, say, five games remaining, but both teams have only one game left. The Jazz are doing their part to make this an exciting race, declining to lose Monday night against the Timberwolves. They have one advantage in this whole mess -- they own a playoff tiebreaker against the Lakers -- but they'll face a serious challenge in their final game, taking on the Grizzlies on the road.
LakersRock2012: "Lakers to lose at home against lousy Rockets team? and for the playoffs? not in your wildest dream Utah fans...go play your music somewhere else cause the Lakers aren't losing that game.."
Calvin9299: "Last couple of weeks I've been saying the 8 is no LA lock. In recent days however, I've leaned in that direction, but the expectations for LA are higher than they are for Utah. In a sense, the Jazz are playing the final game tiebreaker in check, with house money I guess. One slip up either way..."
Kerr3773: "Anyone else have this feeling of foreboding that the Lakers are going to win against Houston? That it's not going to matter if the Jazz somehow win on the road in Memphis because the Lakers are going to run the table? It's their own dumb fault too because they lost sooo many games that they should have won, always playing to the level of their competition, and forgetting how to play basketball unless they were in the 84111."
Vincent Klorthau: "I am kind of hoping that the Jazz do not get in. I do not want to watch another Jazz sweep in the first round. I would rather watch the Lakers get swept by OKC in the first round then the Jazz can get a lottery pick.
basher316: "houston is no pushover, but memphis will be a problem for Utah"
GordonTrue: "Memphis is locked in at #5. Grizzlies will rest starters, Jazz will win. All comes down to the Lakers-Rockets."
Join the conversation or respond by signing in or creating a profile and blogging.
---
Thunder challengers?
The Thunder have locked up the top seed in the playoffs -- if either the Lakers or Jazz end up with the Western Conference's eighth seed, they'd face them in the first round.

We can understand if you don't want to take the time to grade your tech-support help on the other end of the telephone, but when we're talking about the dollars and emotion you've invested in sports, we think it's worth the effort. It's time for ESPN The Magazine's Ultimate Standings, in which SportsNation grades organizations on everything from ticket prices and stadium experience to the talent on the field, court or rink. Which team will end up on top this year? It depends on what you say.
Take part in the 2011 MLB survey
2010 MLB Ultimate Standings
1. Los Angeles Angels (Overall: No. 3)
2. Tampa Bay Rays (Overall: No. 6)
3. Colorado Rockies (Overall: No. 13)
4. Minnesota Twins (Overall: No. 14)
5. Atlanta Braves (Overall: No. 15)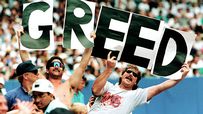 Take part in the 2011 NFL survey
2010 NFL Ultimate Standings
1. New Orleans Saints (Overall: No. 1)
2. Indianapolis Colts (Overall: No. 4)
3. Green Bay Packers (Overall: No. 9)
4. Arizona Cardinals (Overall: No. 19)
5. Baltimore Ravens (Overall: No. 20)
Take part in the 2011 NBA survey
2010 NBA Ultimate Standings
1. Orlando Magic (Overall: No. 2)
2. San Antonio Spurs (Overall: No. 7)
3. Cleveland Cavaliers (Overall: No. 10)
4. Dallas Mavericks (Overall: No. 24)
5. Oklahoma City Thunder (Overall: No. 25)
Take part in the 2011 NHL survey
2010 NHL Ultimate Standings
1. Pittsburgh Penguins (Overall: No. 5)
2. Detroit Red Wings (Overall: No. 8)
3. Washington Capitals (Overall: No. 11)
4. San Jose Sharks (Overall: No. 12)
5. Chicago Blackhawks (Overall: No. 16)
1. More impressive to rally from 22 down or score 54 in a quarter?
Who do you turn to for NBA excitement? Why, the Jazz and Pacers, of course. The Jazz handed the Heat their third loss of the season, and did it by coming from 22 points down to win in overtime. Meanwhile, the Pacers hit 20 of 21 shots en route to 54 points in a single quarter against the Nuggets. Which is more impressive?
"54 points in the 3rd quarter? Must've changed the difficulty from Hall of Fame to Rookie." -- SN commenter Soul Sector JF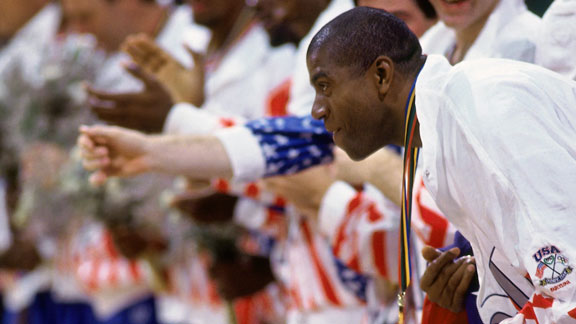 The Naismith Basketball Hall of Fame opens its doors to a new class of inductees tonight in Springfield, Mass. (which gave us basketball and Dr. Seuss within a 13-year span and has since taken the last 106 years pretty much off). And perhaps it's only fitting that all-time sidekick Scottie Pippen gets to share the night with one of only two players in NBA history to score more points than Michael Jordan (not to mention, the entire 1992 Dream Team).
Pippen spent his career ceding (sharing, if you're feeling charitable) the spotlight to Jordan, but is entering the Hall with the Mailman one legacy battle he can win? SportsNation blogger ricodade offers his own take on a "Robin" for the ages.
"Pippen's induction is overdue. He should have went in last year with MJ, but I understand why he didn't. Jordan's legacy is so much bigger than basketball. It would have been fitting for them to enter the Hall together, just as they won six titles together.

"Scottie's resume reads like so: 6-time NBA Champ. 7 time All-Star. 8 time All defensive first team(twice on the 2nd team). 3 time All NBA first team. His 2307 steals is still a record for steals for a forward.Dream Teamer/Olympic gold medalist.

"That's hardly the resume of a sidekick." -- Check out ricodade's blog
"

Congrats Pip!! Couldn't have done it without you. We all know that. As great as MJ is, you were definitely the most crucial/vital piece to his success and vice versa. The truest Batman/Robin duo of all-time! It's a great day to be a Bulls fan, watching your introductory into the Hall of fame!

"

-- Youmustbecrazy40
"

i hate the mailman but even i know he should be in the Hall. on the other hand Scottie Pippen should never go to the hall. his plaque should be of MJ's head not his. he owes his career to his airness.

"

-- rocketsandtitans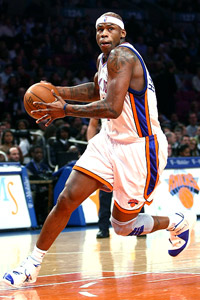 A consolidation of player power in Miami is the talk of the offseason, for obvious reasons. But when do we talk about a diffusion of power in the Western Conference?
Phoenix moves on without Amare Stoudemire but with Hedo Turkoglu. Utah has to hope Al Jefferson and Raja Bell equal the departed Carlos Boozer and Kyle Korver. Dallas kept Dirk Nowitzki, no minor feat, but it's hard to envision Tyson Chandler as the missing piece of the puzzle. Will impending free agency distract Carmelo Anthony? Will Yao Ming stay on his feet for an entire season? Should we just let the Lakers skip ahead to the NBA Finals?
In following Horace Greeley's advice, Al Harrington said he picked the Nuggets instead of the Mavericks based on each team's potential (the extra money inherent in suggestions that the Mavs were loathe to give him five years probably didn't hurt). We say if Harrington can judge Western Conference potential, he's a better man than us.
jay (uptown dallas)
are the mavs seeking ant other trade scenerios right now
ESPN Dallas' Jeff Caplan
Jay, Donnie Nelson says the team will be as active as ever. They'll continue to probe New Orleans about Chris Paul. the Hornets just fired GM Jeff Bowers, so things are in flux there and Paul is getting increasingly uneasy about the direction of the franchise. Otherwise, the Mavs will keep calling clubs for trades, kicking around Carmelo, as if that's going to happen, but yes, they will be looking for trades, particularly a blockbuster to land a star to pair with Dirk. I think the percentages are low. Full transcript
"

Great signing by Denver. Al Harrington was the only bright spot on a horrible Knicks team. He's young and from NJ so you know he has energy and toughness.

"

-- mcbrinkosu
If Buzz Aldrin is any indication, at least Deron Williams has "Dancing with the Stars" to look forward to in his future. Like Aldrin, who gained pop-culture relevance in recent years as much for viral videos of him punching a conspiracy theorist as for being the second man to walk on the moon, Williams appears doomed to live in the shadow of a guy he famously arrived on the scene with -- in his case, Chris Paul in the role of Neil Armstrong.
But fellow 2005 draftee Paul and the Hornets are sitting at home after the point guard sat out a good chunk of the regular season -- 37 games -- with a variety of injuries. And with Mehmet Okur out of action for the rest of the playoffs with a ruptured Achilles tendon, all Williams did was go for 33 points and 14 assists to lift the Jazz to a 114-111 win on the road in Game 2 against the Nuggets.
So is it really as clear as SportsNation has made it seem in the past which product of 2005 is the best bet for the future? Would you rather have Williams or Paul for the next decade?
"

all the jazz points in the 4 th quarter are credit to deron williams getting by his man, drawing help, and dishing. thats THE best point guard in the league, scoring when its there, but not looking to score. letting it come naturally.

"

-- rbmw263
"

Best part of this game: The crowd chanting "Utah sucks! Utah sucks!" as the Jazz go on to beat them on their home floor. All you nug fans on here can do is blame it on the refs.. Anything to take the credit away from the Jazz who basically dominated that game. P.S. If you want to talk about bad calls, watch Melo all night push off and hook everytime he went in

"

-- lurpinator
Sometimes you're the dog, and sometimes you're the hydrant. Or in the language of the NBA playoffs, sometimes you're Michael Jordan against anyone. And sometimes you're Charles Smith against the Bulls.
The postseason has arrived, and for the first time in his career, Kevin Durant gets a shot (or more likely, 20-plus shots per game) to forge his own primetime reputation on the big stage. You know it's the big stage because Phil Jackson is already taking subtle swipes at Durant and either getting in his head or poking the bear, depending on your perspective.
In all honesty, the No. 1 seed's first-round series is usually only slightly more interesting than Duke playing Arkansas-Pine Bluff in the first round of the NCAA tournament, but thanks to Durant's expected duel with Kobe Bryant, it appears all eyes this year will be on the Lakers and Thunder.
Not that every SportsNation blogger expects the series to be all that close.
"Okay, lets be realistic here. Everybody thank the Thunder for showing up, but Kobe will not allow the Lakers to get booted out of the first round. The only way Oklahoma City will sneak by and pull 1 game off is if Kevin Durant puts up 50. Even though the Lakers have been slumping as of late, they are a whole different beast when it comes to the playoffs." -- Read wwechamp69's full post.
Mikeyho (Taiwan)
Hey Chris. Just heard several analyst label the Cavs as "much better" than the Magic. This year's additions put them over the top. I feel like I'm watching last years comments. I'm not saying the Magic should even win. Just want to know if you think it'll be really competitive (around 50/50), or slightly competitve (Cavs's clear favorites)?
Chris Sheridan

Right now I would pick the Cavs in 7 in that series, but I would not label them heavy favorites. Both teams are so much different than they were a year ago (Jamison, Shaq, Vince, Barnes) that it makes comparisons between last year's series and this year's somewhat irrelevant. What's relevant is whether Shaq will be able to contain Dwight and whether the Magic will still find the individual matchup they can exploit. And Stan Van Gundy is good at that. Full transcript
It's just like the census, only this one is fun and doesn't come in the mail. And nobody from FOX News or MSNBC will yell at you about it. It's time for ESPN The Magazine's Ultimate Standings, in which SportsNation grades organizations on everything from ticket prices and stadium experience to the talent on the field, court or rink. Which team will end up on top this year? It depends on what you say.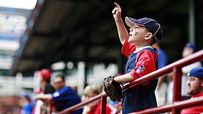 Take part in the 2010 MLB survey
2009 MLB Ultimate Standings
1. Los Angeles Angels (Overall: No. 1)
2. Milwaukee Brewers (Overall: No. 7)
3. Tampa Bay Rays (Overall: No. 16)
4. Minnesota Twins (Overall: No. 23)
5. Philadelphia Phillies (Overall: No. 24)
Take part in the 2010 NFL survey
2009 NFL Ultimate Standings
1. Pittsburgh Steelers (Overall: No. 3)
2. Green Bay Packers (Overall: No. 13)
3. Indianapolis Colts (Overall: No. 14)
4. Tennessee Titans (Overall: No. 15)
5. New England Patriots (Overall: No. 19)
Take part in the 2010 NBA survey
2009 NBA Ultimate Standings
1. Cleveland Cavaliers (Overall: No. 5)
2. San Antonio Spurs (Overall: No. 9)
3. New Orleans Hornets (Overall: No. 12)
4. Houston Rockets (Overall: No. 17)
5. Orlando Magic (Overall: No. 18)
Take part in the 2010 NHL survey
2009 NHL Ultimate Standings
1. Carolina Hurricanes (Overall: No. 2)
2. Detroit Red Wings (Overall: No. 4)
3. Washington Capitals (Overall: No. 6)
4. Pittsburgh Penguins (Overall: No. 8)
5. St. Louis Blues (Overall: No. 10)
The Eastern Conference will be at a disadvantage against the Western Conference in the All-Star Game as long as Allen Iverson and Kevin Garnett are starting and there aren't any DeLoreans involved. But did the East's best team just throw the West up for grabs?
Almost exactly a month ago, the talk was about the Lakers challenging Michael Jordan's Bulls record for most wins in a season. All right, actually we were talking about that; you were a little more realistic in saying the Lakers would win between 66-69 games. Then again, a month ago, Conan O'Brien still had a show. And after dropping a 93-87 decision against a Cavaliers team that didn't have Mo Williams, the Lakers would need to close 34-6 just to reach 66 wins.
So here we are. The Lakers still lead all challengers in the West by four games. But between Kobe's finger, Pau Gasol and Ron Artest's intermittent frailty and the sweep by the Cavaliers, are the Lakers vulnerable? Here's how SportsNation sized up their challengers.
mike (ca)
Loved you on the sports guys podcast, got to do it again, any moves by the lakers??
Chad Ford

I think there is one big move for the Lakers ... Bynum for Bosh. If they don't make that happen then I don't think they make a deal. Full transcript
Stephen (Glendora, CA)
what about the bosh for bynum (and others) trade - might not have any stock, but you guys think it would be worth doin for us in LA? Bosh can be pretty beastly.
ESPN Los Angeles' Andy Kamenetzky

Stephen,Were that deal was a true possibility (and I don't think it really is, for what that's worth), the Lakers would obviously have to consider it, because Bosh is too good a player not to. The key is how confident they are in Drew and Pau meshing. It's easy to forget the two haven't played together a lot because of injuries, and getting two seven-footers like that on the same page takes time. If they think it won't happen, you make the deal. If they think it will, you stand pat with what's still a frontcourt most teams would kill for. Full transcript
joe (toronto)
John...I keep hearing these Bosh for Bynum trade proposals, but wouldn't the Lakers want to make sure they can re-sign Bosh to a long term deal before giving up a promising young center?
John Hollinger

Yes, they would want to be sure, but I've heard that wouldn't be an impediment -- Bosh, like most players, would happily re-up with L.A. Full transcript
Lakers fans are understandably excited about the new season, and the defending champs are a popular choice to repeat among bloggers in the ESPN.com community.
"I've never been more excited for the opening of any season, any sport," blogs kurtnaphansen. "The combination of being on the heels of the Lakers winning the NBA championship, of all the trash talk from Cavs, Celtics, Magic, Spurs and even Blazers fans, and of a very new interesting development with the addition of Sheed to Boston, Shaq to Cleveland and Artest to LA."
Below are fan blogs and predictions about the season, which tipped off this week. Click through to respond. If you don't already have an ESPN profile, create one now and start blogging.
More fan blogs
Bulls preview
|
Cavaliers preview
|
Celtics-Cavaliers
|
Cuban best owner in sports
|
Eastern Conference predictions
|
Jordan among untouchables
|
Jordan memories
|
Letter to LeBron
|
Magic preview
|
NBA questions
|
No worries in Lakerland
|
Remember the Bulls?
|
Teams to watch
|
Traveling rule
|
Western Conference predictions
|
Wizards' issues
Fan pictures