SportsNation Blog Archives

Golden State Warriors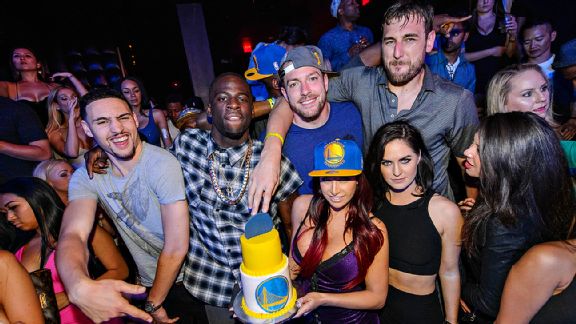 AP Photo/Al Powers
After their championship the Golden State Warriors, as you do, flew as a team to Las Vegas for a celebration.
They hit some big clubs, including Marquee (pictured above). "Chaperoned" by non-drinker Andre Iguodala, they had a good time, according to the NBA Finals MVP.
And, as revealed by coach Steve Kerr on Tuesday's The Lowe Post podcast, it was all courtesy of veteran David Lee.
"I thought it was great that the team went to Vegas together," Kerr said. "David Lee treated the whole team, by the way. He flew them out there. He put them up in hotels. It was an incredibly generous gesture by David."
Especially because Lee, an All-Star as recently as 2013, saw his minutes slashed drastically as the team he's been with since 2010-11 ascended to the top of the league. Lee played just 49 regular-season games, started four, and averaged 18.4 minutes, 7.9 points and 5.2 rebounds per game after posting 33.2, 18.2 and 9.3 a season ago. In the playoffs Lee sat out eight games, and averaged less than 10 minutes per in the four Finals contests he did appear in.
"That was sort of what David and I talked about throughout the season, when things were not going well," Kerr said. "And he kept telling me, 'I just want to win a championship. I've never done that. I want to win. This is frustrating but I want to be a part of it. And I thought he handled himself really well."
Lee reportedly might have played his last game for the Warriors. But that's not a bad way to go out.
Find The Lowe Post on the Grantland podcasts page.
Magic Johnson knows a thing or two about coming up big in the NBA Finals, winning five championships with the Los Angeles Lakers and, in 2012, ranking sixth all time on ESPN Insider's list of best Finals performances for his showing in 1987.
Which leads us to this tweet from Wednesday:
If LeBron keeps playing the way he's playing & the Cavs win the title, this will be the single greatest performance we've seen in the Finals

— Earvin Magic Johnson (@MagicJohnson) June 10, 2015
This isn't crazy. Through three games, James is averaging 41.0 points, 12.0 rebounds and 8.3 assists in 47.3 minutes. He's shooting only 40.2 percent from the field, but with Kyrie Irving and Kevin Love out it's hard to fault James for taking a lot of shots even as the Golden State Warriors' defense keys on him (oh, and the Cleveland Cavaliers lead the series 2-1).
In other words, if he keeps this up, he could challenge Michael Jordan's 1998 (No. 2 on our list), MJ's 1997 (No. 4) and former Miami Heat teammate Dwyane Wade's 2006 (No. 1).
Magic didn't let that tweet stand alone; he continued to talk up LeBron, and directly referenced James' field goal attempts (35.7 per game in the series).
After the first 3 games LeBron James should be on everybody's Mt. Rushmore...including mine!

— Earvin Magic Johnson (@MagicJohnson) June 10, 2015
LeBron, don't listen to anybody, keep shooting as many times as you have to for your team to win!

— Earvin Magic Johnson (@MagicJohnson) June 10, 2015
Magic also gave a shoutout to the breakout star of the NBA Finals, and to Cleveland's overall team effort ...
In the NBA Finals there's always going to be unsung heroes and Matthew Dellavedova is playing that role for the Cavs.

— Earvin Magic Johnson (@MagicJohnson) June 10, 2015
The Cavaliers defense has been awesome and they have been physically & mentally tougher than the Warriors.

— Earvin Magic Johnson (@MagicJohnson) June 10, 2015
... but he was not so kind to the Warriors, particularly NBA MVP Stephen Curry and defensive anchor Draymond Green:
I love Steph Curry & Draymond Green, but they both need to stop complaining to the referees and play basketball.

— Earvin Magic Johnson (@MagicJohnson) June 10, 2015
One thing that's inarguable, and that no one is complaining about: the level of drama in this series.
H/T Sporting News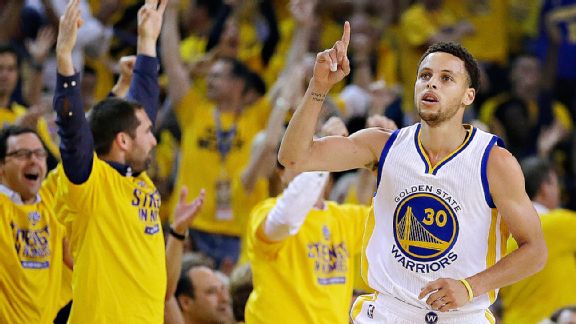 AP Photo/Ben Margot
Stephen Curry is the 2015 NBA MVP. He has favored to be an NBA champion. And yet, he's 6-foot-3, 190 pounds and plays a position that doesn't often dominate games.
What's behind his effectiveness? One of the reasons is his prodigious shooting ability. The son of great NBA marksman Dell Curry put up a 48.7 field-goal percentage/44.3 3-point percentage/91.4 free-throw percentage line this season, while attempting 17, eight and four per game, respectively.
All of this got Ric Bucher of Bleacher Report to ask five of the NBA's greatest shooters ever -- Steve Nash, Rick Barry, Kiki Vandeweghe, Chuck Person and Dana Barros -- where the man some call "Chef" ranks among the league's greatest long-range cooks.
According to Nash, Vandeweghe, Person and Barros: He's probably No. 1.
Barros: "You could make a case for him as the best ever. You'd have a harder time making the case against him."
Person: "I don't think there's ever been anybody better."
Vandeweghe, on Curry's 2014-15 season in particular: "Comparing year to year, people at their peak, I've never seen anyone better."
And Nash: "Truly, from the eye test, he's the greatest there's ever been."
They went into a lot more detail about what makes Curry truly special; check out the full piece here.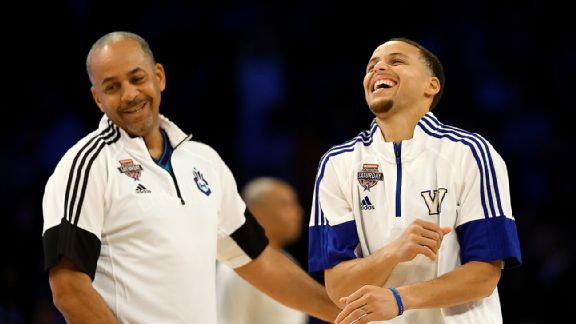 Elsa/Getty Images
The 2015 NBA MVP, Stephen Curry, is really good at basketball. Tell us something we don't know.
So it shouldn't come as a big surprise that he was a baller back in middle school as well. In Lee Jenkins' Sports Illustrated profile on the NBA superstar, Dell Curry (Stephen's father) reveals that he had to excuse himself from his son's eighth-grade basketball game in which he dropped 63 points. Why? Simply because Steph was making the other team look foolish:
"All these people were coming in to see what was going on, and there was so much commotion, it seemed like he was never going to stop," former NBA marksman Dell Curry recalls. "I had to get out of there. I felt bad for the other team. I couldn't watch what he was doing to those kids."
At least his eighth-grade foes can sleep easy knowing it wasn't them, it was Steph Curry.
Check out the full profile for more stories about the baby-faced assassin.
Rapper Lil B might not be a household name at the level of Jay Z or Kanye West, but the Bay Area-born man also known as The Based God carries much power in NBA circles.
Which is why the following tweet and subsequent comment to TMZ are big deals.
Go warriors @warriors and let James harden no he doing the Lil B cooking dance if he doing that flickin wrist or whipping he mark - Lil B

— Lil B From The Pack (@LILBTHEBASEDGOD) May 21, 2015
And, to TMZ: "If Harden doesn't tell what he is doing, which is the Lil B cooking dance, he will be cursed. He needs to stop stealing Lil B swag without showing love."
Lil B of course is referring to this dance from James Harden, which caught on late in the Houston Rockets' season, as well as the rapper's dance from his song "I Cook" (whose NSFW video we can't embed here):
But why is this a big deal? Because Lil B's curses work.
Just ask Kevin Durant.
Years ago the Oklahoma City Thunder star tweeted the following:
I tried to listen to Lil B and my mind wouldn't let me do it....can't believe this guy is relevant

— Kevin Durant (@KDTrey5) January 29, 2011
Lil B was not pleased.
KEVIN DURANT WILL NEVER WIN THE TITLE AFTER HE SAID "LIL B" IS A WACK RAPPER, "THE BASEDGODS CURSE" #THEBASEDGODSCURSE ON DURANT - Lil B

— Lil B From The Pack (@LILBTHEBASEDGOD) May 26, 2011
So far? One MVP, sure, but no titles, only one NBA Finals trip, and this season an injury that helped keep the Thunder almost incomprehensibly out of the playoffs.
See? PROOF.
Note: There's a LOT more to this story, including a diss track, a temporary lifting of the curse, a return of the curse, a proposed truce, taking credit for the injury, and much more. Grantland broke it down last year -- warning, much NSFW language -- and Lil B commented on the injury this season.
Now, TMZ says Lil B is giving Harden until after Game 3 of the Western Conference finals against the Golden State Warriors before the curse comes into effect ... although the consequences likely would have to be greater than losing to the Warriors, which is a probable outcome even without a curse.
(But that doesn't mean Lil B is wrong! Please don't curse us, Based God!)
UPDATE: It appears Lil B did not wait until Game 3 to make his presence felt.
Toward the end of Game 2, Harden had the chance to win, but mishandled the play.
And then:
People that steal from Lil B will pay now or later all you have to do is pay respect to the original and the leader blind ones will - Lil B

— Lil B From The Pack (@LILBTHEBASEDGOD) May 22, 2015
Lil B clarified that this is just a warning, but ... point taken.
UPDATE PART II: And apparently it's a point well-taken by at least one NBA franchise. The Atlanta Hawks, one of four teams left standing in the playoffs, aren't taking any chances.
On Friday afternoon, their social media team pleaded mercy to the Based God:
Dear @LILBTHEBASEDGOD: We're not like the others. Please show mercy and spare us #THEBASEDGODSCURSE. =O Sincerely, The Hawks

— Atlanta Hawks (@ATLHawks) May 22, 2015
@ATLHawks I got love for the Hawks and Jeff Teague is a beast!! Hawks deserve great things and the city of Atlanta!!! - Lil B

— Lil B From The Pack (@LILBTHEBASEDGOD) May 22, 2015
H/T TMZ