SportsNation Blog Archives

Golden State Warriors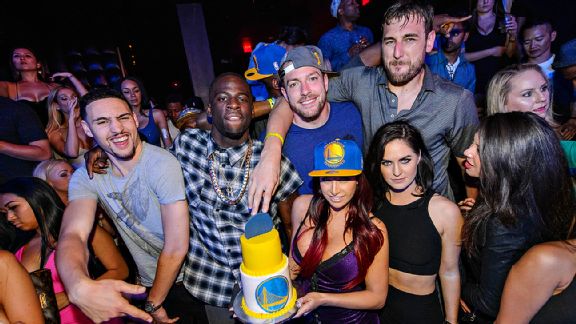 AP Photo/Al Powers
After their championship the Golden State Warriors, as you do, flew as a team to Las Vegas for a celebration.
They hit some big clubs, including Marquee (pictured above). "Chaperoned" by non-drinker Andre Iguodala, they had a good time, according to the NBA Finals MVP.
And, as revealed by coach Steve Kerr on Tuesday's The Lowe Post podcast, it was all courtesy of veteran David Lee.
"I thought it was great that the team went to Vegas together," Kerr said. "David Lee treated the whole team, by the way. He flew them out there. He put them up in hotels. It was an incredibly generous gesture by David."
Especially because Lee, an All-Star as recently as 2013, saw his minutes slashed drastically as the team he's been with since 2010-11 ascended to the top of the league. Lee played just 49 regular-season games, started four, and averaged 18.4 minutes, 7.9 points and 5.2 rebounds per game after posting 33.2, 18.2 and 9.3 a season ago. In the playoffs Lee sat out eight games, and averaged less than 10 minutes per in the four Finals contests he did appear in.
"That was sort of what David and I talked about throughout the season, when things were not going well," Kerr said. "And he kept telling me, 'I just want to win a championship. I've never done that. I want to win. This is frustrating but I want to be a part of it. And I thought he handled himself really well."
Lee reportedly might have played his last game for the Warriors. But that's not a bad way to go out.
Find The Lowe Post on the Grantland podcasts page.