SportsNation Blog Archives

Los Angeles Lakers
LaMarcus Aldridge, sources told ESPN, was not impressed with the Los Angeles Lakers' free-agent pitch late Tuesday night.
Specifically, one source told ESPN's Chris Broussard, Aldridge thought the presentation was too off-court focused, with the basketball portion underwhelming. According to the Los Angeles Times, the negative feelings about the basketball side had to do with the Lakers' lack of focus on analytics (a subject ESPN.com's Baxter Holmes tackled in February).
Kobe Bryant? A team official told the Times that the trouble wasn't his fault at all. According to ESPN's report, Bryant told Aldridge their dynamic in Los Angeles would be similar to Bryant's and Pau Gasol's during their two championship runs.
Still, speculation lingers that Aldridge has crossed the Lakers off of his list. After the reports surfaced, Kobe tweeted this:
Social Media reporting shouldn't diminish the quality of content #justsayin pic.twitter.com/bpAcJGJW9r

— Kobe Bryant (@kobebryant) July 1, 2015
We can't say for sure who he was referring to. (We're also not sure why he got the crop wrong on that meme.)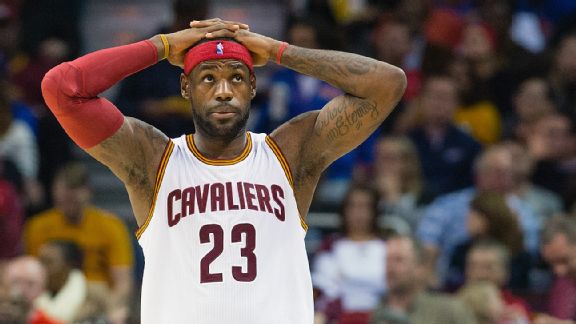 Jason Miller/Getty Images
LeBron James might have led the Miami Heat to two titles and a string of four straight NBA Finals appearances, but that doesn't mean the Sunshine State is entirely in the King's corner.
We asked two questions recently to SportsNation regarding LeBron, and while some states -- particularly the home of his Cleveland Cavaliers -- voted in his favor, Florida went the other direction on both (results as of 7:30 p.m. ET on Tuesday).
First, after Bill Russell beat out LeBron on a graphic as the "best player to wear No. 6" ...
SportsNation
Then, after Shaquille O'Neal said he would choose Kobe Bryant over LeBron in their primes ...
SportsNation
It must be said that the South Florida region accounts for less than one-third of the state's population, according to 2014 estimates. So a county-by-county breakdown might see LeBron carry Miami-Dade, Broward and Palm Beach but lose significantly elsewhere. Also, those are significantly small samples -- perhaps a few thousand more votes would change things.
Still, those are significant margins in both Russell's and Kobe's favor.
In other words: That's unseasonably cold, Florida.
What is Metta World Peace up to these days?
Done with his run in the NBA -- and subsequent stint as Key & Peele's main newsman -- the man formerly known as Ron Artest signed in March with Italian Serie A club Pallacanestro Cantu. The often-fiery 35-year-old even talked up his maturity.
"When you play angry you can't focus," he told the Associated Press. "I've got five more years to have a great time, so I will be playing with a lot of fire but not anger, just passion."
So much for that. In the decisive fifth game of their quarterfinal with Reyer Venezia Mestre, World Peace got involved in a skirmish (what a great series of seven words) and was booted in the fourth quarter with his team down eight. Here it is, from the Italian broadcast.
Espulso Metta!
Not only was Metta World Peace ejected, according to the play-by-play he was charged with five fouls in less than a minute (although not in a hack-a-DeAndre sense, as evidenced in the video).
Cantu went on to lose 88-73, while their opponents advanced to the semifinals. According to calcioweb.eu, World Peace will be suspended two games if he returns to Italy next season.
But not all was lost: The best item to emerge from this video was the fact that World Peace, as promised, wore a jersey that said "The Panda's Friend" on the back (even though he's still officially listed under World Peace).
Pallacanestro Cantu Basketball
Fiery, not fiery, mature or immature, The Panda's Friend will always be our friend.
H/T The Big Lead
Milwaukee Bucks veteran swingman Jared Dudley was at ESPN on Wednesday and, in the spirit of his #nextcareer claim, he did not hold back on his opinions.
When asked about the most overrated player during an appearance on The Herd with Colin Cowherd, Dudley quickly named Carmelo Anthony.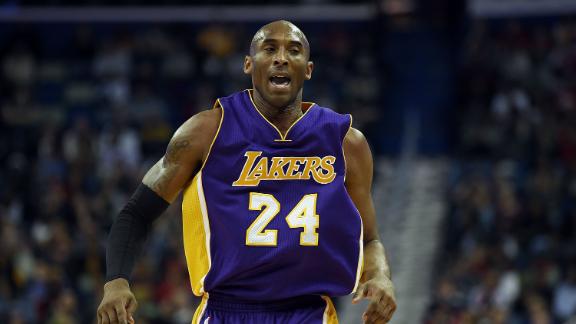 But perhaps Dudley's most eye-opening take was on Kobe Bryant, whose shoot-first (and second, and third) ways, Dudley said, are why "it'll [take] a while for the Lakers to get good, because no stars ... want to go there."
Naturally, there was some backlash -- a little about Melo, but mostly about Kobe. Dudley addressed it.
You gotta love the Lakers fan! You gotta understand its goin to take a very unique Star to come FA, KD and Russ. No hate just keep in it 100

— Jared Dudley (@JaredDudley619) May 27, 2015
When dealing with Superstars they have egos that have to be stroke! That's why you hear about Kevin love leaving. Role players don't care

— Jared Dudley (@JaredDudley619) May 27, 2015
RT @SteelzKitchen: @JaredDudley619 I've seen melo cook you bro .. ( he def has.. No one said melo not good.. )

— Jared Dudley (@JaredDudley619) May 27, 2015
RT @kingjazz24: U don't wanna play with Kobe cuz ur not a true winner! ( I would play with him! Most stars wouldn't taking less $ and shots)

— Jared Dudley (@JaredDudley619) May 27, 2015
Ok Kobe fans listen to the interview. I said Kobe one of the greats! I'm laughing about his shot attempts . Most people not taking less $

— Jared Dudley (@JaredDudley619) May 27, 2015
RT @Ugly_Anna: Apologize @JaredDudley619 ( im sorry!!!!! Lol )

— Jared Dudley (@JaredDudley619) May 27, 2015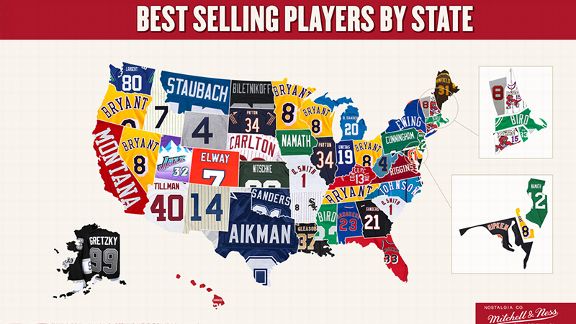 Courtesy Mitchell & Ness
Recently a vintage apparel company crunched its sales numbers for throwback pro sports jerseys, then created the fascinating map above (click here for a larger version).
Important note: These are numbers for specific jerseys (e.g. John Elway's 1994 authentic jersey), not all jerseys for a specific player. Now, some thoughts:
• The Kobe Bryant rookie-year No. 8 is the best-seller in seven states, and its popularity is the first thing that stands out ... especially when you note where it moves well (Oregon, Minnesota, Wisconsin and Ohio, which all have their share of successful retired pro athletes) and where it doesn't dominate (California, where Bryant's No. 24 is, shall we say, still a rather common sight).
• Another surprise: Michael Jordan did not win Illinois; instead, that honor goes to late and beloved former Chicago Bears running back Walter Payton, whose 1985 jersey outsold anything having to do with No. 23.
• Off-field factors clearly influenced Arizona and Louisiana. In the former, Pat Tillman, who left the Arizona Cardinals to join the U.S. Army and was later killed in Afghanistan, outsold Phoenix Suns legends such as Steve Nash and Charles Barkley. For the latter, Steve Gleason, the former New Orleans Saints safety/special-teamer who is battling ALS and raising awareness for the disease, beat out other ex-Saints and LSU/New Orleans Jazz star Pete Maravich.
• Our favorites: The seemingly random picks from states without major pro sports teams, such as Oklahoma-native New York Yankees legend Mickey Mantle in Idaho, New Yorker through-and-through Lou Gehrig in Wyoming, Pennsylvania native and Florida State/Oakland Raiders-tied Fred Biletnikoff in North Dakota, Pittsburgh-to-Tuscaloosa-to-New York-to-Los Angeles Super Bowl star Joe Namath in Iowa, and Minnesota native Dave Winfield's San Diego Padres jersey in Maine -- which is about as far from San Diego as you can get in the continental U.S. Perhaps there's a small-sample situation here?
Check out the map and full jersey breakdown on Mitchell & Ness' website.
H/T For The Win