SportsNation Blog Archives

Kobe Bryant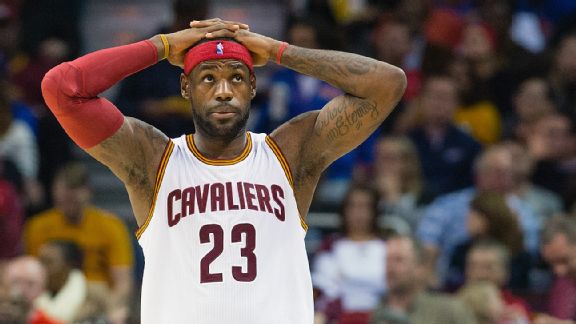 Jason Miller/Getty Images
LeBron James might have led the Miami Heat to two titles and a string of four straight NBA Finals appearances, but that doesn't mean the Sunshine State is entirely in the King's corner.
We asked two questions recently to SportsNation regarding LeBron, and while some states -- particularly the home of his Cleveland Cavaliers -- voted in his favor, Florida went the other direction on both (results as of 7:30 p.m. ET on Tuesday).
First, after Bill Russell beat out LeBron on a graphic as the "best player to wear No. 6" ...
SportsNation
Then, after Shaquille O'Neal said he would choose Kobe Bryant over LeBron in their primes ...
SportsNation
It must be said that the South Florida region accounts for less than one-third of the state's population, according to 2014 estimates. So a county-by-county breakdown might see LeBron carry Miami-Dade, Broward and Palm Beach but lose significantly elsewhere. Also, those are significantly small samples -- perhaps a few thousand more votes would change things.
Still, those are significant margins in both Russell's and Kobe's favor.
In other words: That's unseasonably cold, Florida.
Milwaukee Bucks veteran swingman Jared Dudley was at ESPN on Wednesday and, in the spirit of his #nextcareer claim, he did not hold back on his opinions.
When asked about the most overrated player during an appearance on The Herd with Colin Cowherd, Dudley quickly named Carmelo Anthony.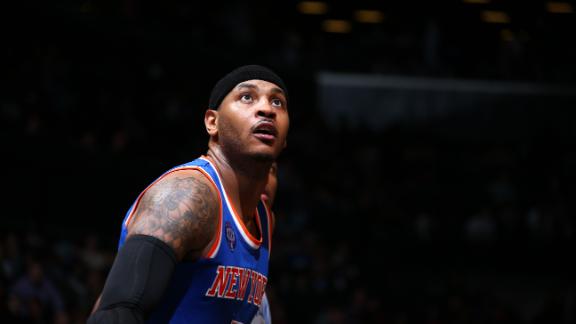 But perhaps Dudley's most eye-opening take was on Kobe Bryant, whose shoot-first (and second, and third) ways, Dudley said, are why "it'll [take] a while for the Lakers to get good, because no stars ... want to go there."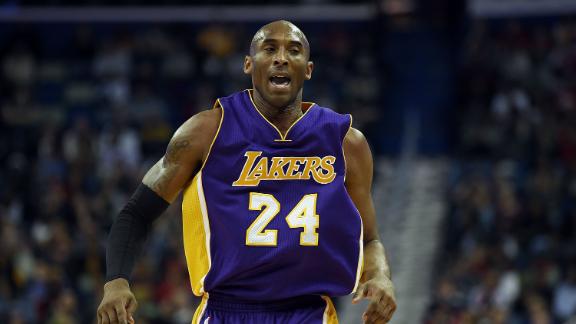 Naturally, there was some backlash -- a little about Melo, but mostly about Kobe. Dudley addressed it.
You gotta love the Lakers fan! You gotta understand its goin to take a very unique Star to come FA, KD and Russ. No hate just keep in it 100

— Jared Dudley (@JaredDudley619) May 27, 2015
When dealing with Superstars they have egos that have to be stroke! That's why you hear about Kevin love leaving. Role players don't care

— Jared Dudley (@JaredDudley619) May 27, 2015
RT @SteelzKitchen: @JaredDudley619 I've seen melo cook you bro .. ( he def has.. No one said melo not good.. )

— Jared Dudley (@JaredDudley619) May 27, 2015
RT @kingjazz24: U don't wanna play with Kobe cuz ur not a true winner! ( I would play with him! Most stars wouldn't taking less $ and shots)

— Jared Dudley (@JaredDudley619) May 27, 2015
Ok Kobe fans listen to the interview. I said Kobe one of the greats! I'm laughing about his shot attempts . Most people not taking less $

— Jared Dudley (@JaredDudley619) May 27, 2015
RT @Ugly_Anna: Apologize @JaredDudley619 ( im sorry!!!!! Lol )

— Jared Dudley (@JaredDudley619) May 27, 2015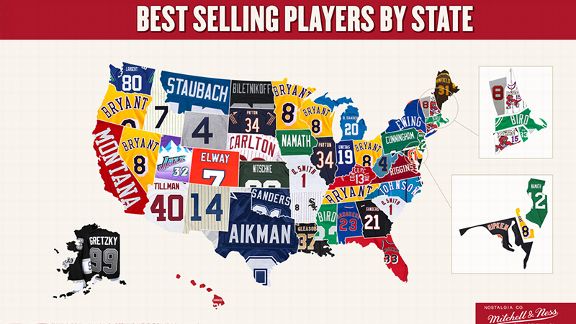 Courtesy Mitchell & Ness
Recently a vintage apparel company crunched its sales numbers for throwback pro sports jerseys, then created the fascinating map above (click here for a larger version).
Important note: These are numbers for specific jerseys (e.g. John Elway's 1994 authentic jersey), not all jerseys for a specific player. Now, some thoughts:
• The Kobe Bryant rookie-year No. 8 is the best-seller in seven states, and its popularity is the first thing that stands out ... especially when you note where it moves well (Oregon, Minnesota, Wisconsin and Ohio, which all have their share of successful retired pro athletes) and where it doesn't dominate (California, where Bryant's No. 24 is, shall we say, still a rather common sight).
• Another surprise: Michael Jordan did not win Illinois; instead, that honor goes to late and beloved former Chicago Bears running back Walter Payton, whose 1985 jersey outsold anything having to do with No. 23.
• Off-field factors clearly influenced Arizona and Louisiana. In the former, Pat Tillman, who left the Arizona Cardinals to join the U.S. Army and was later killed in Afghanistan, outsold Phoenix Suns legends such as Steve Nash and Charles Barkley. For the latter, Steve Gleason, the former New Orleans Saints safety/special-teamer who is battling ALS and raising awareness for the disease, beat out other ex-Saints and LSU/New Orleans Jazz star Pete Maravich.
• Our favorites: The seemingly random picks from states without major pro sports teams, such as Oklahoma-native New York Yankees legend Mickey Mantle in Idaho, New Yorker through-and-through Lou Gehrig in Wyoming, Pennsylvania native and Florida State/Oakland Raiders-tied Fred Biletnikoff in North Dakota, Pittsburgh-to-Tuscaloosa-to-New York-to-Los Angeles Super Bowl star Joe Namath in Iowa, and Minnesota native Dave Winfield's San Diego Padres jersey in Maine -- which is about as far from San Diego as you can get in the continental U.S. Perhaps there's a small-sample situation here?
Check out the map and full jersey breakdown on Mitchell & Ness' website.
H/T For The Win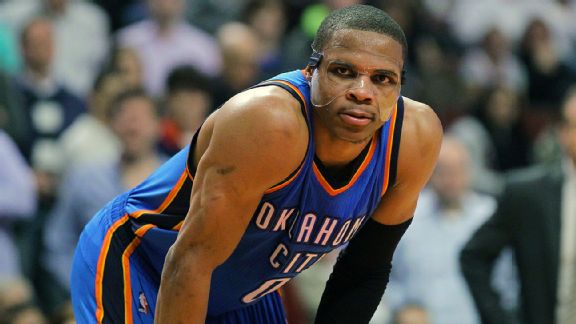 Dennis Wierzbicki/USA TODAY SportsRussell Westbrook is averaging 27.4 points, 8.3 assists and 7.1 rebounds per game this season.
Oklahoma City guard Russell Westbrook has been on a tear this season. Even after he fractured his cheekbone after taking an inadvertent knee to the face, Westbrook returned to the court a few days later unfazed -- and with some new face gear.
It got us thinking about other notable NBA players who have worn masks at some point in their careers:
LeBron James
In 2014, LeBron's black carbon-fiber mask was a hit among fans, but the NBA requested he wear a clear mask to protect his then-broken nose. Even so, LeBron managed to be LeBron, scoring 31 points on 13-of-19 shooting in a game Feb. 27 against the New York Knicks.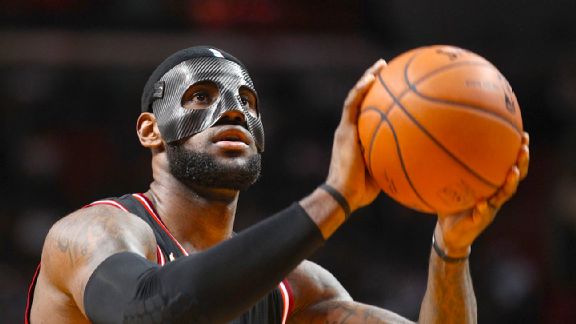 Marc Serota/Getty Images
Kobe Bryant
Mask or no mask, Kobe is going to score. But with the mask, he put up 38 points and eight rebounds in a game against the Sacramento Kings on March 2, 2012.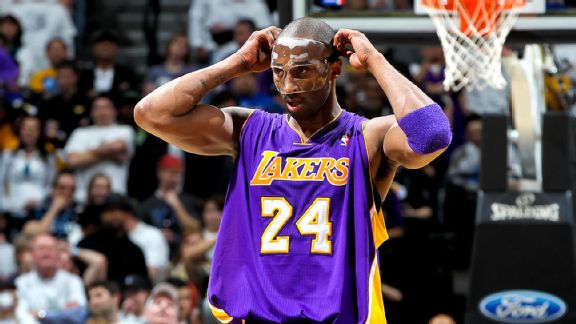 David Sherman/NBAE/Getty Images
Chris Paul
After being elbowed in the nose by San Antonio Spurs guard Danny Green in a game on March 9, 2012, Paul wore a mask for several weeks to protect his face.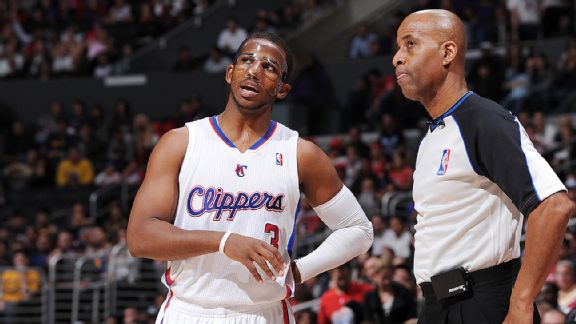 Noah Graham/Getty Image
Richard Hamilton
Hamilton made the mask a thing of his own. Despite breaking his nose during the 2003-2004 NBA season, Hamilton led the Detroit Pistons' championship team in scoring with 17.6 points per game. Hamilton went on to wear the mask the rest of his career.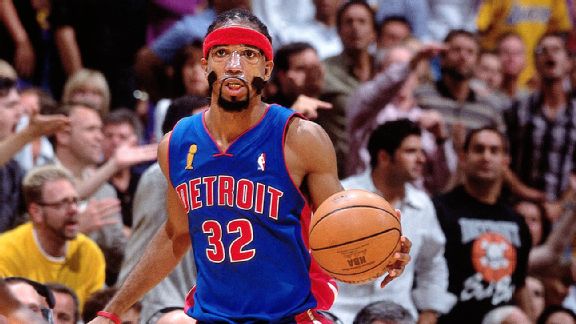 Andrew D. Bernstein/NBAE/Getty Images
Kyrie Irving
After his jaw was broken, the mask affected Irving in a good way. The Cavaliers' point guard had what was at the time a career-high 41 points, plus five rebounds and five assists against the Knicks on Dec. 15, 2012.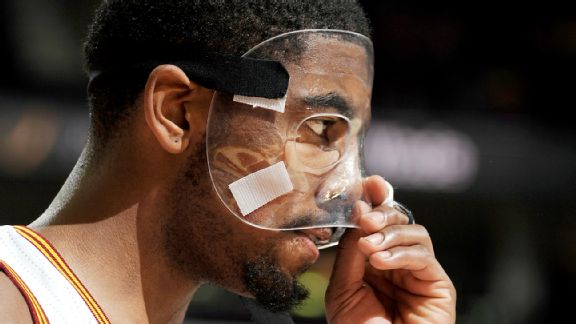 David Liam Kyle/Getty Images
Tracy McGrady
McGrady needed to wear a protective mask in 2006 when he played for the Houston Rockets after taking an accidental elbow to the nose from former NBA player Jake Voskuhl.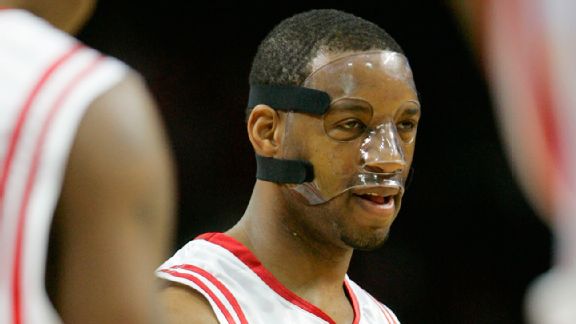 AP Photo/David J. Phillip
Alonzo Mourning
Although it was for a short amount of time, Mourning wore a mask in 1998 to protect his fractured cheekbone.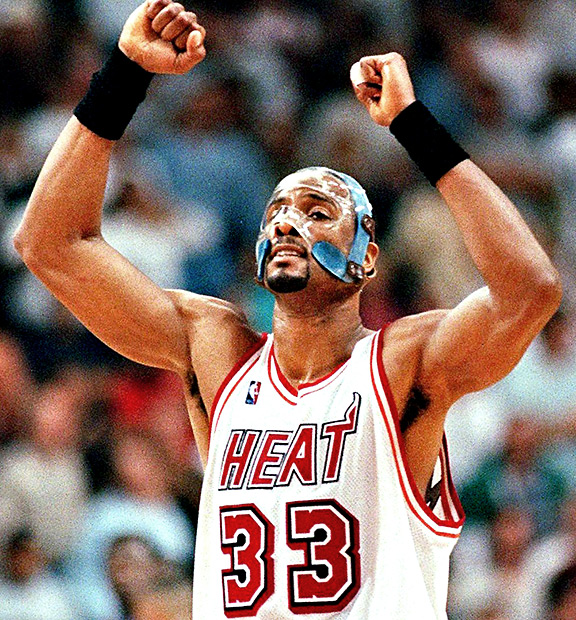 Rhona Wise/AFP/Getty Images
Bill Laimbeer
It is fitting that Laimbeer, one of the more physical players in the history of the NBA, needed to wear a mask during his career.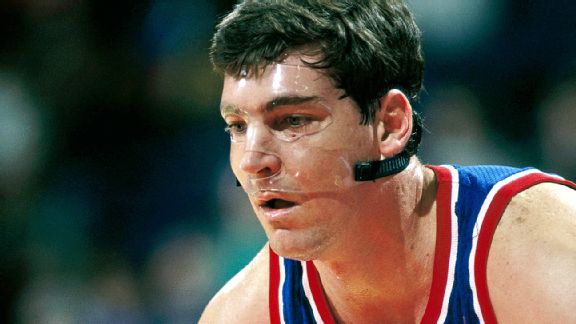 Getty Images
Jason Terry
When Jason Terry was a member of the Dallas Mavericks, he had to hop on the runway wearing a protective mask for a stretch of games during the 2009-2010 season.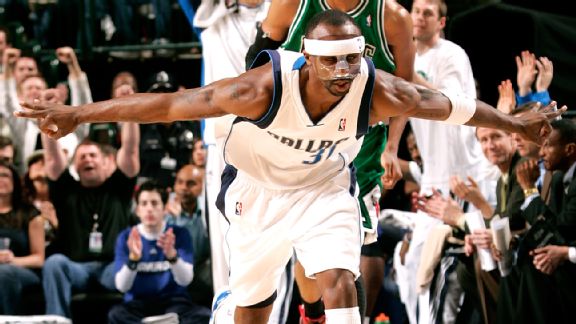 Glenn James/Getty Images
Joe Johnson
As a member of the Phoenix Suns, Johnson suffered an orbital fracture during a second-round playoff game against the Mavericks. He missed the rest of that series, but returned in Game 3 of the 2005 Western Conference finals against the eventual NBA champion Spurs.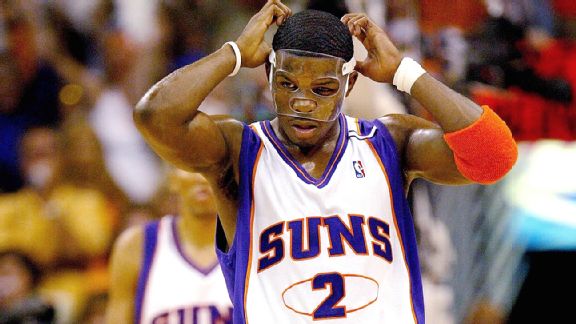 Ronald Martinez/Getty Images
Antonio McDyess
The Pistons had two masked men in 2008 when McDyess joined Hamilton as a result of a broken nose.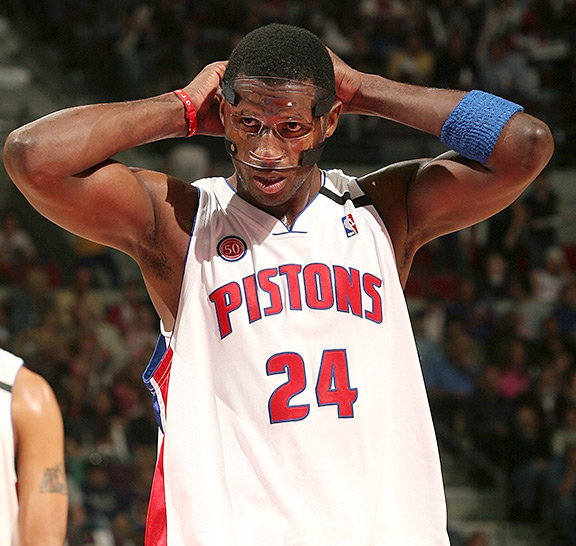 D. Lippitt/Getty Images
Kenyon Martin
When Martin was playing at an All-Star level in 2002, the forward broke his nose during a game against the Miami Heat, forcing him to protect his face.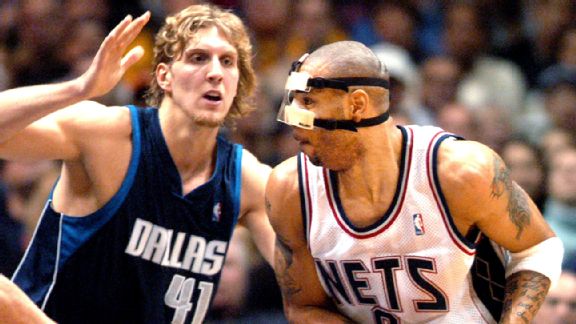 Henny Ray Abrams/AFP/Getty Images
Andrew Bogut
After former Philadelphia 76ers guard Allen Iverson's hand hit Bogut in the face during a game in 2005, Bogut rocked the protective mask for a stretch of games as a member of the Milwaukee Bucks.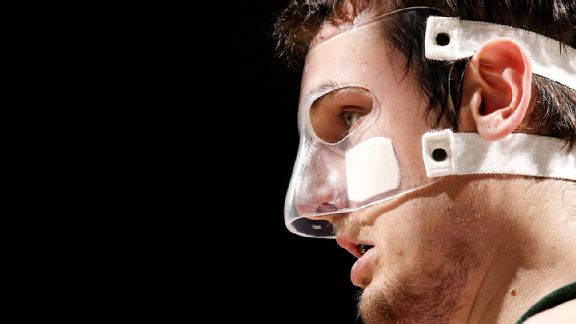 Jonathan Daniel/Getty Images
Wally Szczerbiak
Broken noses are a theme with protective masks. Szczerbiak wore his mask because of one during a 2009 game against the Knicks.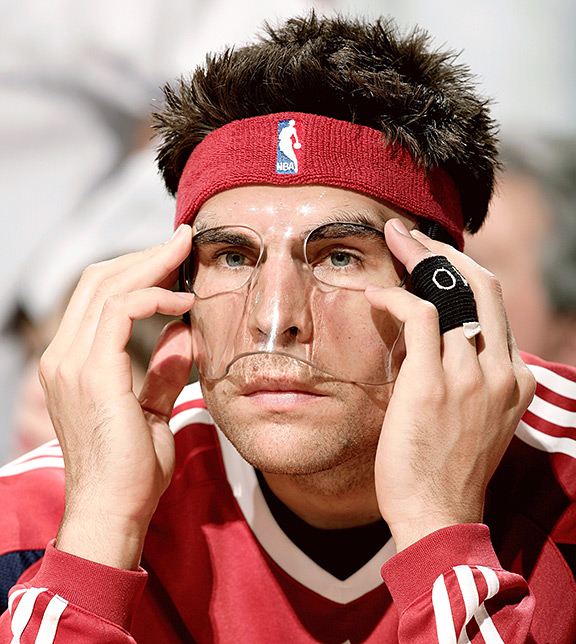 Joe Murphy/NBAE/Getty Images