SportsNation Blog Archives

Portland Trail Blazers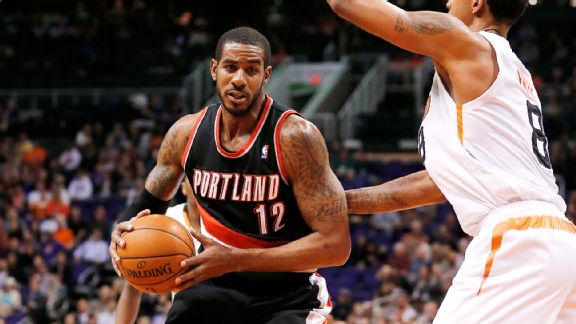 AP Photo/Matt York
Just how good are Trail Blazers?
While their neighbors to the north were making noise in the NFL, the Portland Trail Blazers stepped up themselves Monday night, beating the previously one-loss Indiana Pacers 106-102 -- on the second night of a back-to-back. For those not paying attention, that pushes Portland to 15-3, with two of those losses, strangely, coming against the 9-8 Phoenix Suns. Are these Pacific Northwesterners legit contenders in the Western Conference?
Sam Forencich/NBAE/Getty ImagesThe Portland Trail Blazers are thinking about a new uniform. Let's help them out!

In case you missed the word last week, the Portland Trail Blazers are working on a uniform redesign. The new uni would be slated for the 2015-16 season, but why wait that long? Let's have our own Blazers redesign contest.

The rules are as follows:

• Your entry must include a new primary logo and at least three uniform designs -- home, road, and alternate. (If you like, you can also include secondary logos and additional alternate uniforms, but those aren't required.)

• Your designs can be created in any digital or analog medium (Illustrator, Photoshop, crayon, whatever) and can be submitted in any standard digital format (JPG, PDF, tiff, etc.).

• Please include your name and email address somewhere on the image, like this. Also, your image file names should include your full name (example: Paul Lukas.jpg). If you're submitting multiple files, please either number them (Paul Lukas1.jpg, Paul Lukas2.jpg, etc.) or use some other designation (Paul Lukas-home.jpg, Paul Lukas-road.jpg, etc.).

• You can use the Blazers' current team colors or give them a new color scheme. But in keeping with long-standing Uni Watch chromatic policy, entries showing even a hint of the color purple will not be accepted.

• Email your entry to uniwatching@gmail.com. If you have more than one concept, feel free to enter as many times as you like.

• Deadline: Monday, Dec. 9, 7 p.m. ET.

For some inspiration, check out the winners of our Miami Dolphins redesign from March and Charlotte Hornets redesign in June.

The winning entries will be showcased in a Uni Watch column in December. Get crackin'!

What to make of Western Conf.?

A week after the now-infamous Matt Barnes-Serge Ibaka scuffle and aftermath, the Oklahoma City Thunder exacted revenge against the Los Angeles Clippers. Thanks to Kevin Durant's 28 points and Ibaka's 17 (on 8-of-10 shooting), OKC beat the Chris Paul-led Clippers 105-91. This leaves the Clippers (8-5) closer to the ninth spot in the Western Conference than the first, while keeping the Thunder (8-3) in third, two games back of the soaring San Antonio Spurs. In second? The surprising Portland Trail Blazers (10-2). What do we make of the early developments out West?

Sam Forencich/NBAE/Getty Images

NBA 5-on-5: Trail Blazers

They've got reigning NBA Rookie of the Year Damian Lillard. They've also got a potentially disgruntled LaMarcus Aldridge, and a supporting cast with as many questions as answers. Which makes one ponder: What exactly will we see from the Portland Trail Blazers this season? The NBA 5-on-5 guys had their say and now it's time for SportsNation to weigh in.