SportsNation Blog Archives

Track and Field
Complaining about money is generally a way for a famous athlete to bring down the ire of the internet on his or her head, but Lolo Jones' recent money complaint might mask a legitimate, larger point. Jones tweeted out a Vine video of a $741.84 paycheck she received for training for the U.S. bobsled team. That's not bad for a week's pay, but the check was for seven months, a fact that Jones mocked in her video. Some fellow bobsledders were not amused, calling the video insulting. Jones said her point was to make people appreciate how hard Olympic athletes work, but her delivery might have muddled her message.
Time to make the donuts bro: "She's right. You work seven months for $741. See how that works for you."
choate_sedition: "This is an insult not because she is complaining about $741 - she is right that is insulting. None of the other bobsledders there have her million dollar endorsement portfolio to fall back on, they are doing it for the love of the sport - something she clearly lacks - for her to complain in the face of it, that is insulting."
bsheff98: "Clearly she was kidding. People in the sport and critical fans need to chill. We don't have to start squawking every time someone famous says something that can be taken the wrong way."
abuja19: "Credit to Lolo for this. She's right. She (and others in here sport) may need to be better supported. I don't get all the foolish comments on here bashing her. It seems to me that people just want to be disrespectful than actually listen to what she's saying."
asentientcheeselog: "I think the point Jones was trying to make is entirely reasonable, and the way she did it really wasn't a problem."
What do you think? Leave your comments below.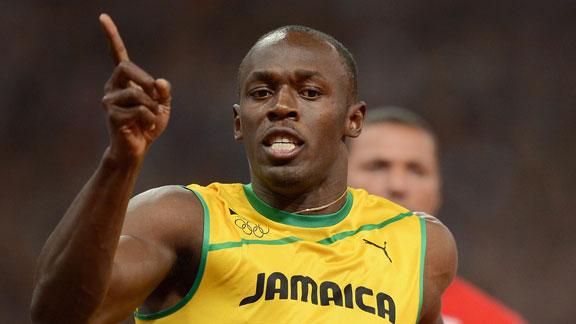 Usain Bolt is the fastest man in the world, but now he wants a tryout for one of the best soccer teams in the world. We're not sure Bolt could crack Manchester United's starting lineup, but could he make it in professional soccer?
SRider86: "His skill would translate much better for American football (WR) than soccer."
PatsCeltsSox111: "Imagine him as a sub in the 80th minute. The defense is tired and Man U sends in the fastest man in the world. If he has any skill this could work out great."
Seamus Dantes: "If he has any skill whatsoever ( meaning he can trap and accurately shoot a ball past a keeper) then he'd be a great substitution in soccer. There is no offside trap that can stop him because he can be level with a defender....and beat ANYONE...ESPECIALLY SLOW DEFENDERS....to the through ball...if he can beat keepers consistently, he'd be awesome."
natekogut: "i highly doubt he has the finesse or soft touch needed to consistently play well in the EPL... All he could really do is make long diagonal runs to open up space for the attack, or try to break through the defense on through balls. I don't see how he can worry this much about training to be the fastest man in the world for 2 olympics straight, and still have the skill needed with a ball to be successful."
GoldofCroesus: "It's funny when an athlete in one sports believes he can excel at another. There's so many qualities required for football (the world version as well as the American). Making quick cuts to avoid tackles. Dribbling, passing, or shooting the ball with any semblance of timing. Does he understand strategy and have an instinct for the game? How does he react the first time he gets knocked down or has his legs taken out? "



Join the conversation or respond by signing in or creating a profile and blogging.
Oscar Pistorius didn't make it to the men's 400-meter final, but his performance at the Olympics was a win in and of itself. Is Pistorius' performance just the beginning for athletes with artificial limbs?
Sebastian7468: "If Pistorious' legs were such a huge advantage, the other runners would have no qualms about refusing to compete and staging some kind of sit-in. So get over it people, it's not like he's on a pair of gas powered rollerblades! "
daweadilX: "those things are like springs and if used correctly can make you run at record breaking speeds!"
BMCanes: "This is a great story, but not sure if it should be allowed. Besides the fact that he doesn't have to worry about ankle of calf problems. Can you imagine 100 years from now the type of technology they could add to prosthetics. "
nolefan6363: "Fair or not fair, advantage or no advantage, this man has a lot courage. I'll be rooting for Oscar Pistorius."
lorisloan72: "He is like anyone else... sometimes you win, sometimes you don't. I'd love to see him come back in 2016 and win something and continue to inspire people with all sorts of physical differences that they too can still reach beyond what the previously thought possible."



Join the conversation or respond by signing in or creating a profile and blogging.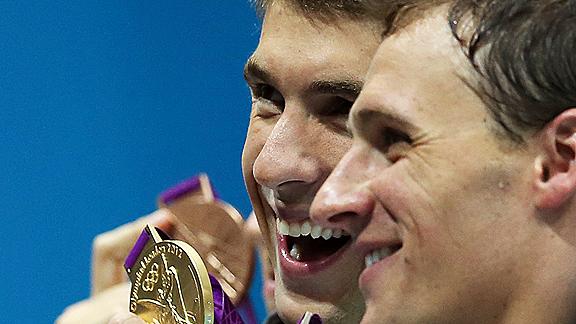 Are you the rubber-band archery champion at your office? Maybe you're celebrating the Olympics by throwing a party with fish and chips. How are you, SportsNation, getting into the Olympic spirit? Are you holding your own form of the Games at work? Are you testing yourself in the pool or during your run? Maybe you're just watching your favorite athletes and events on TV or on the Internet. Tell us how you're enjoying the London Games in the comment section below!
Would a U.S. sprinter really give up her spot on the Olympic team instead of accepting a winner-take-all runoff against the runner she just tied? Jeneba Tarmoh did just that on Monday, giving her place on the women's 100-meter squad to Allyson Felix after Tarmoh's apparent place on the team was erased. But is that any stranger than the Royals-Yankees "pine tar incident" game being reversed on protest and completed almost a month later? Or Roberto Duran, one of the most feared fighters of his day, quitting in the midst of an epic welterweight title fight against Sugar Ray Leonard? Which of these is the strangest ending to a sporting event?
jasonbaygiants: Shes scared, Simple as that. What kind of professional athlete just quits like that? Someone like that doesn't need to be representing the USA. There's no good excuse for why she doesn't want to run.
I Concede My Right to be Funny: I like how everyone calls her a quitter without knowing anything about she came to her decision.
Crobby22: This just tells me that Tarmoh didnt think she could beat Felix. Based on history and current results I have to agree. But anything can happen thats why you should run the damn race.
dire_poodle: I guess she has her reasons but later in life she will regret this decision and have to live with constant question of "What if...?"
toyguytn: You don't have to be the best to compete with honor. You just have to give everything you have and never quit. She might not have had a ghost of a chance in the Olympics. She may never have been able to beat Felix again in the run off. But she would have retained her honor by going out at least one more time and leaving it all out on the track.



Join the conversation or respond by signing in or creating a profile and blogging.