SportsNation Blog Archives

Badminton
Four Olympic badminton teams were expelled for intentionally trying to lose, but it's come out that they would have received, oddly enough, a more favorable draw in defeat. Do you have a problem with this?
capn_obvious: "Swimmers pull up in the qualifying rounds in order to save energy for the final. I don't see how this is that different."
Mizzle85: "There's obviously something wrong with the rules if it's smarter to lose on purpose"
NoMaam101: "So instead of blaming the teams for doing what gave them the best chance at a gold medal, shouldn't we look into why intentionally losing would help your team?"
Pete54dk: "the language used for punishing them was 'abusive' to the sport. you have to make it less obvious if you're concerned about seeding. This was giving the middle finger to the paying crowd, the officials and the sport."
GeddyMd85: "I've seen it happen in volleyball, purposely blowing the bulk of a set to save energy for the next one."



Join the conversation or respond by signing in or creating a profile and blogging.
Every four years, Olympic viewers get to see sports that otherwise don't draw much attention. Some seem like a lot of fun -- who doesn't love bouncing on a trampoline? Some, however, look like pure torture. Water polo players swim the entire match and do things that would get you kicked out of the Y. Open-water swimming comes with open-sea hazards (sharks, jellyfish, the Kraken). And what could be more cruel than a race in which you're disqualified for running? So we'll turn it to you: Which non-traditional Olympic sports would you like to try -- or avoid? And which do you enjoy watching? Vote below!
---
Rough water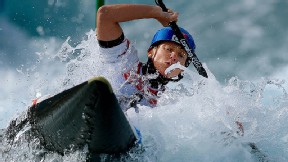 As Stepanka Hilgertova of the Czech Republic shows, it's a challenge just to stay on course when you're fighting the rapids. Is this a sport you'd like to try or one you'd rather avoid?

---
On target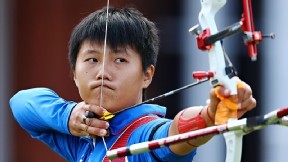 Chien-Ying Le of Chinese Taipei takes his sport seriously, as you'd expect at the Olympics. But they offer archery at summer camp, so it must be fun, right? Or would you prefer something more athletic, like springing tricks on a trampoline?

---
See for yourself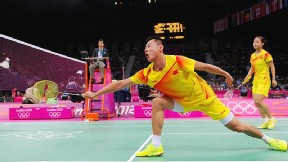 Chen Xu of China, left, with mixed doubles partner Jin Ma, shows how much speed and athleticism goes into Olympic badminton. Do you like watching the birdie? Or is fencing more your speed?

---
Go ahead ... admit it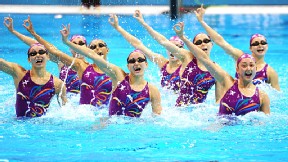 If you like "Glee," maybe you also enjoy synchronized swimming, which is like a musical in a swimming pool, as shown by Team China. Or maybe dressage is more your thing. Which sport is your Olympic guilty pleasure?