SportsNation Blog Archives

Basketball
LeBron James netted the first triple-double in Olympic history with 11 points, 14 rebounds and 11 assists in Team USA's 119-86 win over Australia. Some say LeBron is the best player on the U.S. men's basketball team, but is he the most vital part to their success?
Junior72624 : "LeBron- 1st Triple Double in Olympic history. Not Team USA history, not FIBA history but the freaking Olympics. Think about that for a second. The guy is a once in a generation-type player and if he stays healthy, he has a chance to be among the Top-5 greatest to ever lace up a pair of sneakers."
16justin123: "Lebron can literally control the outcome of a game by himself! no other player can do that in todays game"
Bobby_Rayburn2: "Kobe, lebron, durant, williams, love and carmelo had great games. Carmelo for his shooting, love for consistency, lebron for his passing, williams for pushing the ball and kobe because he finally deserves a little recognition"
RetroLakers: "Lebron is the best player in the game, still rather have Kobe when it counts."
jamesprime1986: "The way lebron controls a game on bother ends of the floor is unbelievable"



Join the conversation or respond by signing in or creating a profile and blogging.
Team USA started off slow but heated up in the second half as it defeated Argentina 126-97 in its final game of pool play. Led by Kevin Durant's 18.6 points per game and Carmelo Anthony's 17.4, the Americans have a perfect 5-0 record heading into the knockout stage. With a seemingly different leading scorer every game, who has been the MVP for Team USA thus far?
Junior72624: "Watching KD and LeBron on the floor at the same time is breath taking. Those guys could take over the game whenever they want so effortlessly. LeBron with his passing and bullying cats on the block and KD with his sweet handle and even sweeter J. It seems like whenever Team USA is in trouble, both guys step up to the plate and take over."
OrlandoMagicFanSince2003: "Without LeBron and Durant, this team probably would not win the gold medal."
Steven57928: "So this is becoming a LBJ vs. KD thing again for some it seems. Can't we agree that KD blew the game up with his shooting just like LeBron closed for the USA the other night."
sugrlndboy: "The rest of the worlds only hope is to have LeBron and Kevin getting into foul troubles...their only chance...bc...if either of them get it rolling...youll have what happened today...from a 1 point lead to 26...that is just sick..."
diddlypoop: "I hope the people who hate LeBron allow themselves to appreciate how gifted this young man is as a basketball player. We are watching an all-timer. He and KD will be all-timers when all is said and done."



Join the conversation or respond by signing in or creating a profile and blogging.
The U.S. men's basketball team set multiple team records in its 156-73 rout of Nigeria. Which record-breaking performance impressed you most?
EmK232: "This team is destroying all of the dream teams records against tougher competition. Just saying."
cometsuper: "Carmelo Anthony is the best scorer in the world."
Douglas937: "I don't care who this game was against 29 three's! WOW!!!!!!!!!!!!!"
iceweasel69: "2012 > 1992. And the 1992 team was playing against an international field that didn't even know the rules of basketball or what the sport of basketball included."
Big East Is The Best: "This is ridiculous. Can we just go back to college players so it can be a competition that is worth watching?"



Join the conversation or respond by signing in or creating a profile and blogging.
Coming off a close win against Argentina, Team USA will take on Spain on Tuesday (4:30 p.m. ET, ESPN2/ESPN3/WatchESPN.com). It won't be anything like an easy test for the American stars, as they'll be facing a Spanish team with mounds of NBA experience, not the least of which comes from players like Pau and Marc Gasol, Juan Carlos Navarro and Rudy Fernandez. Will Team USA be in another close fight today, or will it make it into a cakewalk?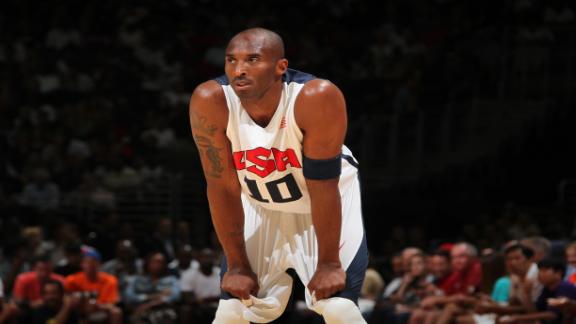 Kobe Bryant says David Stern's idea to limit Team USA's roster to players 23 and under is "stupid." SportsNation generally is adamantly opposed to limiting Team USA in any way, but would the squad still be the team to beat? You'd still be able to keep some of the NBA's better players, and might be able to dip more into the ranks of college athletes.
We know that playing in front of an important person can add a lot of pressure to a situation, but for a while, it looked like Team USA was going to wilt with President Obama in attendance. Fortunately for the POTUS, he won't be blamed for a Team USA exhibition loss, as LeBron James led his squad to an 80-69 win over Brazil. We know that America is practically already penciled in to win the gold, but do you see their slow start against Brazil as something to worry about?
---
Sign of concern?
LeBron James and the rest of Team USA eventually had the game under control, but not every team is going to roll over like Brazil did.

---
Any doubt?
Team USA is the prohibitive favorite, but it's no guarantee that the U.S. will take gold in the sport it invented.

---
Chances vs. Spain?
Spain is probably Team USA's top competitor at the Olympics, with players like Pau Gasol rounding out a solid squad.