SportsNation Blog Archives

DeAndre Jordan
With free agency period set to begin July 1, teams are taking a good look at their rosters and deciding which players should be kept and which should be dealt. The NBA 5-on-5 crew analyzed some of the most notable names on the market and debated who will be packing their bags this summer. What's your take? Vote below and join the conversation.
---
Trade or keep: Eric Bledsoe?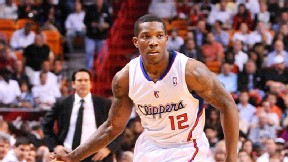 2012-13 stats: 8.5 PPG, 3.1 APG, 3.0 RPG

---
Trade or keep: Garnett and/or Pierce?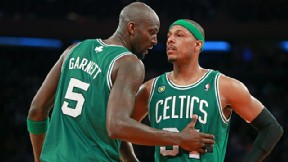 Garnett 2012-13 stats: 14.8 PPG, 7.8 RPG
Pierce 2012-13 stats: 18.6 PPG, 4.8 APG, 6.3 RPG

---
Trade or keep: Luol Deng?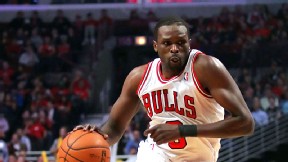 2012-13 stats: 16.5 PPG, 3.0 APG, 6.3 RPG

---
Trade or keep: DeAndre Jordan?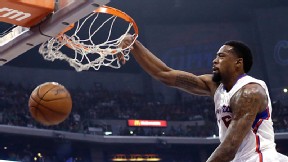 2012-13 stats: 8.8 PPG, 7.2 RPG, 1.4 BLKPG

---
Trade or keep: Rajon Rondo?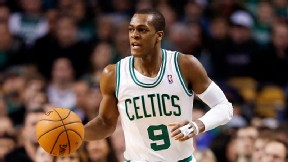 2012-13 stats: 13.7 PPG, 11.1 APG, 5.6 RPG

Doc Rivers headed to Clippers
The on-again, off-again talks between the Celtics and Clippers -- mostly related to Kevin Garnett, DeAndre Jordan, coach Doc Rivers and draft compensation -- have finally produced an outcome involving the last two. Rivers and his three-year, $21 million contract will cross the country in exchange for a first-round draft pick. Did the Celtics get enough in return for the seven-year coaching veteran with a championship and Coach of the Year award under his belt? Will Rivers finally get the Clippers to the NBA Finals?
Doc Rivers to the Clippers?

Doc Rivers has been the most successful Celtics coach in a long time, but he soon might be taking his talents to Los Angeles. The Clippers and the Celtics are discussing a move in which Boston would allow Rivers out of his three-year contract to sign with Los Angeles. Boston would send Kevin Garnett to the Clippers and receive DeAndre Jordan and a future first-round pick, although the Celtics are insisting that Eric Bledsoe be included in the trade as well. Would acquiring Rivers be worth two of the Clippers' young stars?

DeAndre Jordan redefined "Lob City" Sunday night with an incredible throwdown on the Pistons' Brandon Knight. Jordan entered the night with 135 dunks, the third-most in the NBA, but none were quite as impressive as this one. Even Jordan's fellow NBA players were impressed, taking to Twitter to react to the dunk heard 'round the league.

Deandre ......... Jordan.

— Derrick Williams (@RealDwill7) March 11, 2013

DeAndre Jordan!!!! Dayyyuummmm!! Dunk of the year #littletikeshoop

— LeBron James (@KingJames) March 11, 2013

Why jump B. Knight?!

— Harrison Barnes (@HBarnes) March 11, 2013

That dunk @deandrejordan had tonight was RIDICULOUS smh. #unfairathleticism

— Garrett Temple (@GTemp14) March 11, 2013

Why did he jump?????

— Shelvin Mack (@ShelvinMack) March 11, 2013

Damn somebody just got baptized...dunk of the year.

— Quincy Miller (@qmillertime) March 11, 2013

Brandon Knight #NoBro

— Brandon Rush (@BRush_4) March 11, 2013

@deandrejordan od'd on Brandon knight =3!!!!!!!

— tyshawn taylor (@tyshawntaylor) March 11, 2013

Best dunk of the year!!!!!!! Wow

— DJ White (@dj_white3) March 11, 2013

Join the conversation and follow us on Twitter @ESPN.

Kevin Garnett says he's going to "live and die green," which means he doesn't want to waive his no-trade clause before the deadline. The Celtics may be looking to deal Garnett, potentially to the Clippers for a combination of Eric Bledsoe and DeAndre Jordan. Since Boston likely isn't a championship team this season, would it be better for Garnett to try to bring a title to Los Angeles?

Dolph061: "Why did they give him a no trade deal? No you're in a fine pickle Danny; you're stuck with aging superstars just like Bird, Mchale and Parish. Get rid of them; you have no shot at a title. "
T.J. Hooker: "Not a huge fan of KG but loyalty is one thing you can't question with this dude."
mkword: "KG is the kind of player fans hope they get on their team ... and hate if he gets on another team. "
RhoddyRedsFan: "Clippers don't need KG slowing them down anyways. Let him retire as a washed up Celtic."
Celts34520: "this guy gets it. boston may be a .500 team and riddled with inuries but who wants to go play in the staples library? he knows boston is the greatest sports city in the country."
Horvy13: "Bad news for the haters. Celtics are coasting through the regular season just as they have many times before. Those who think Boston won't be a factor in the playoffs are kidding themselves."

Join the conversation or respond by signing in or creating a profile and blogging.