SportsNation Blog Archives

Russell Westbrook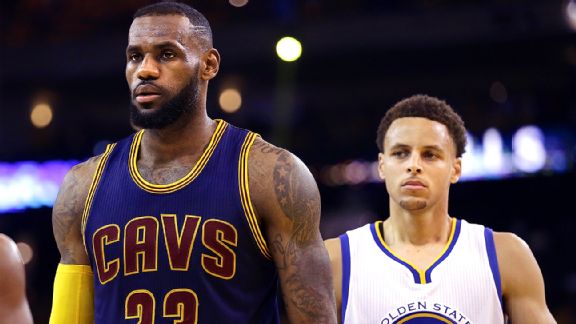 AP Photo/Ben Margot
Recently we brought you the top 10 players, as rated by the latest "NBA 2K" game.
The ratings for "NBA Live 16" also are here -- and they're quite a bit different.
Here's the top 10 (and ties):
1. LeBron James (97)
2. Kevin Durant (96)
T-3. Anthony Davis (95)
T-3. Marc Gasol (95)
T-3. Blake Griffin (95)
T-3. James Harden (95)
T-3. Chris Paul (95)
T-8. LaMarcus Aldridge (94)
T-8. DeMarcus Cousins (94)
T-8. Stephen Curry (94)
T-8. Russell Westbrook (94)
That's right: LeBron James (no surprise) is No. 1, 2014 NBA MVP Kevin Durant is No. 2, and a handful of talented stars across positions come in tied for third.
Meanwhile, the reigning NBA MVP is tied for eighth -- definitely an eye-opening number for a player many consider the best in the league. Then again, perhaps "NBA Live" is drawing upon more than just last season for its ratings; few before 2014-15 had Curry in that top-player-overall conversation.
September 23, 2015
Sep
23
The ratings for "NBA 2K16" are out, and -- unlike in "Madden" -- nobody in the league was given a 99.
In fact, the highest rating was a 94, given to a player whose name long has been synonymous with "best in the NBA."
The 10 overall ratings in #NBA2K16. What do you think? Let the debates begin. pic.twitter.com/qGyUIHajzA

— NBA 2K 2K16 (@NBA2K) September 22, 2015
That's right. Even Stephen Curry's MVP season -- which gave him a four-point jump over his score a year ago -- couldn't push him past LeBron James, although the latter dropped four points (partly due to, as Bleacher Report explains, a new way of calculating rankings).
James Harden's players' choice MVP campaign got him a four-point boost, as did the continued scary-goodness of Anthony Davis, but they still couldn't take down The King. Kevin Durant's injury, meanwhile, likely was the reason for his fall from second place and a 95 rating a year ago. (Interesting note: The three non-LeBron top-four players are on the cover.)
There were a couple of surprise inclusions on the list. Carmelo Anthony was 20th in player efficiency rating, 49th in real plus-minus and 81st in wins above replacement last season, yet checks in at No. 8. LaMarcus Aldridge (11th/25th/22nd) was also an eyebrow-raiser at tied for eighth/No. 10.
Not that either is bad, far from it, But still, no love for the best player on Aldridge's team?
OK, so you might believe what he wore.
Still, Russell Westbrook is known for his distinctive, rather unusual style of dress.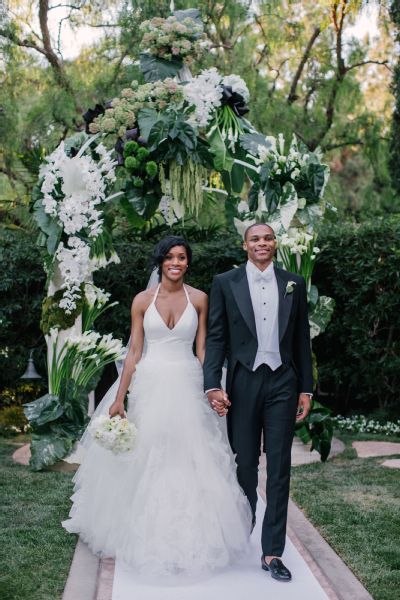 Amy & Stuart Photography/Getty Images
Which means it might come as a surprise that, for his wedding this weekend to longtime sweetheart Nina Earl, Westbrook went with a rather subdued look from, according to People, Tom Ford.
We're not criticizing by any means; it's your day, you do you, even if wedding "you" is a different than walking-through-the-event-level-before-a-game "you."
And Russ has plenty to be happy about. Westbrook and Earl have been together for years, meeting while both were playing basketball at UCLA.
They certainly didn't go the (perfectly acceptable, by the way) low-budget route with their wedding; it took place at the Beverly Hills Hotel, according to People, with Oklahoma City Thunder teammates Kevin Durant and Serge Ibaka -- as well as former UCLA teammate Kevin Love and ex-Thunder teammate James Harden -- in attendance and a performance by Miguel on the bill.
Yep, looks like the couple is pretty happy:
My Mrs. d 8.29.15 pic.twitter.com/oTFRCww2ty

— Russell Westbrook (@russwest44) August 30, 2015
Nothing says "Happy 26th Birthday" quite like a yacht, Kanye West and the Kardashian-Jenner clan ... right? Right.
After much speculation and persistent rumors that Houston Rockets star James Harden is dating Khloe Kardashian (who was formerly married to Lamar Odom), the two added further fuel to the claims by ringing in The Beard's birthday together.
Even Yeezy was on hand at the star-studded affair, although it looks like he didn't exactly bring the energy we have grown accustomed to from the rapper:
Rager!!!! <‰<ˆ<Š<' pic.twitter.com/cYpPz6S43S

— Kim Kardashian West (@KimKardashian) August 26, 2015
Kanye's wife, Kim Kardashian West, posted another picture where Harden was surrounded by all five of the sisters with the caption "Happy Birthday Jaaaaaaaames!!!!"
Happy Birthday Jaaaaaaaames!!!! pic.twitter.com/DDT5WvoadI

— Kim Kardashian West (@KimKardashian) August 26, 2015
It seems likely that a spin-off reality show entitled "Keeping Up With The Hardashians" is inevitable. Just kidding ... but not really.
Kendall Jenner (the second youngest of the Kardashian-Jenner clan) also took to social media to acknowledge the occasion. She posted a photo of the NBA MVP candidate being goofy with party-goers:
Yep, that is indeed a "Happy Birthday James/2015" watermark you see on that picture. From casual Chipotle dates in H-Town to watermarked photographs, things appear to be escalating quickly.
Contrary to popular belief, it turns out Russell Westbrook is human. Many fans had their doubts on several occasions last season, like that time he got his face dented by a teammate and kept playing -- the guy is a machine.
But sure enough, even Russ can't resist jamming out to some quality Taylor Swift. Exhibit A:
Pshh, and people think he's intense. Perhaps Mr. Westbrook is just misunderstood!
But that is neither here nor there. The point is that the Oklahoma City Thunder star has shown -- yet again -- that he has an appreciation for the musical stylings of America's sweetheart, T-Swizzle.
Back in May, he took to Instagram to let the world know that he was feeling Swift's new single "Bad Blood":
While some people might claim he is just attempting to avoid beef with the starlet -- yeah, we're looking at you, Katy Perry -- this seems genuine.
He even got super-hyped when Tay Tay shouted him out on Twitter:
WOW!!!! =@=@=@. I'm so hyped!!! lol RT @taylorswift13: So @russwest44 just made my night...... https://t.co/r3TAdccBac

— Russell Westbrook (@russwest44) May 23, 2015
Let's just hope Russ isn't singing either of those songs to Kevin Durant next summer.