SportsNation Blog Archives

Roy Hibbert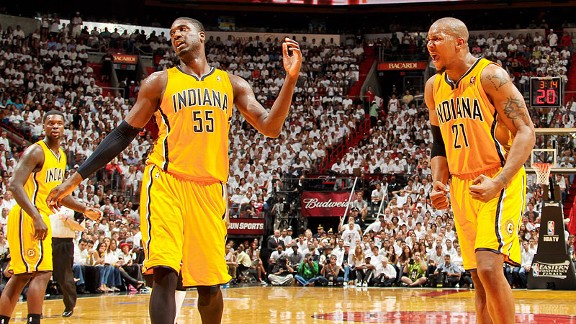 Issac Baldizon/NBAE/Getty Images
What's in store for the Pacers?
Taking the Miami Heat to seven games is nothing to be ashamed of, but there's a sense with the Pacers that they could have done more, especially considering their disastrous Game 7. That being said, the team is in good shape for next season, especially if they manage to retain David West and get back a healthy Danny Granger. Frank Vogel's squad showed it could hang with the NBA's elite teams -- this offseason, it'll have to prove that it can beat them.
Roy Hibbert's week has been ... well, not bad, exactly. Not great either. Strange? Eventful? He's already in the news for not being put in the game to guard LeBron James in the final seconds of Game 1, a decision which SportNation found to be pretty questionable. On Thursday night, Hibber took to his Twitter account to call out the Heat's Shane Battier for his alleged dirty play earlier in the game:

U can knee or kick me every time u drive 2the rim. Ill be there 2protect the rim. That wasn't inadvertent. Battier knew what he was doing

— Roy Hibbert (@Hoya2aPacer) May 23, 2013

Battier himself has not responded, although his own Twitter account has been dark since early April. Maybe if Hibbert had used "@ShaneBattier" in his message, we'd have a real Twitter fight on our hands; for now, it's disappointingly one-sided.

The Dynamic Uno: "shane battier is not a dirty player, but he had an uncharacteristic game."
OhioFan82: "If you watched the game, you saw MULTIPLE replays where Battier was engaged in dirty play. MULTIPLE! Don't oust Hibbert for saying what everyone saw."
SmallFry9211: "Elevating your knee on a lay up is proper form, ask any coach in the country. Don't know if he's dirty or not but that in and of itself is not a dirty play."
vpolite: "Usually stuff like that is self-regulating, but with all the cameras, you have to hope the refs do their job. Hibbert needs to concentrate on giving his team the best chance to win by doing his job while he's on the floor. Any time he's spending on Twitter is time wasted."
as-tw: "So what if Battier plays dirty? All it proves to me is the dude wants to win, if the Pacers wanted to win as badly they'd have put Battier on his back to protect their teammates. "
iOdime: "He should have gotten a flagrant for the knee. Everyone knows had that been a Pacer kneeing Lebron like that, it would easily be a flagrant."

What do you think? Leave your comments below.

LeBron James hits Game 1 winner

LeBron James did it again -- this time, putting up a triple-double before hitting a game-winning layup in overtime of Game 1. Strangely enough, Pacers coach Frank Vogel kept Roy Hibbert, his best defender, on the bench in the final seconds, leaving only an overmatched Paul George to guard LeBron. Would the outcome of this game have been different if Hibbert was left in?

Steve Spurrier might just be messing with Nick Saban, but his belief that Alabama potentially could beat some NFL teams is being taken somewhat seriously. After all, watching the Crimson Tide dismantle opponents week after week could lead one to believe that against say, the Jaguars or Chiefs, they'd have at least a fighting chance. If Alabama's stifling defense could do it (and we're not saying it could), what about Oregon's up-tempo offense? Would it be more of a realistic prospect in a battle between a college basketball team and the worst NBA team?

---

Alabama's chances?

Alabama is allowing 8.1 points per game this season, the best mark in all of college football ...

---

Oregon's chances?

... but Oregon is putting up 53.4 points per game, also the best in college football.

---

Indiana's chances?

The Hoosiers are on top of the preseason rankings, but could they hang with a team even as bad as last year's Hornets?

---

Which matchup would you watch?

Pete Carroll has seen both the college and pro games up close, and he thinks it wouldn't even be a contest. Still, it might be fun to watch.