SportsNation Blog Archives

Miami Marlins
South Florida weather, especially those late-afternoon storms, can be unpredictable -- even for meteorologists. For amateurs? Forget about it.
All of this brings us to Opening Day between the Atlanta Braves and host Miami Marlins, holding just their third season-opener game at Marlins Park. You know, the stadium with the retractable roof meant to stave off the rain delays that marred play at the Marlins' old home for so many years?
Well ...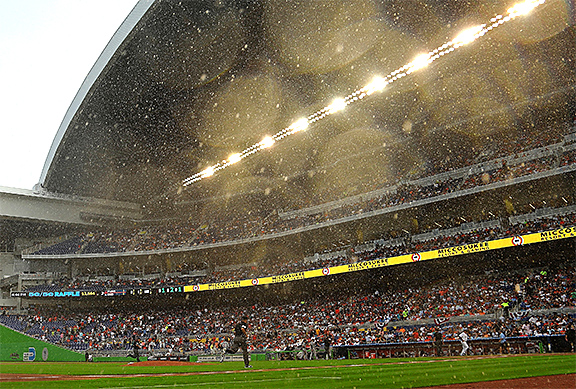 Mike Ehrmann/Getty Images
Yes, one of South Florida's signature downpours caught these residents off-guard, and the roof could not be closed in time to stop rain from soaking the field. And another thing:
Marlins don't have rain tarp because they didn't think they would need one with a roof, except that roof has to be closed for that to matter

— Jeff Schultz (@JeffSchultzAJC) April 6, 2015
Not great. Still, the roof on the $515 million (and quite controversial) stadium -- which takes 13 minutes to open and close -- eventually did its job, ending the ballpark's first-ever rain delay.
The roof is up at #Marlins Park, ending a 16-minute delay. #OpeningDay

— James Walker (@JamesWalkerNFL) April 6, 2015
April 6, 2015
Even better, though, is the explanation as to why the Marlins weren't able to foresee this weather. Via Barry Jackson of The Miami Herald, who was there as Marlins president David Samson talked to reporters (the "Loria" referenced is owner Jeffrey Loria; read more of Samson's explanation here):
Marlins president Samson said he has weather APPs on his phone. "I tried to predict cloud would go north and it went south on..stadium."

— Barry Jackson (@flasportsbuzz) April 6, 2015
Samson said when he told Loria there would be rain delay, Loria said: "I thought we have a roof." Samson:"I said that's a reasonable answer"

— Barry Jackson (@flasportsbuzz) April 6, 2015
Marlins don't have a meteorologist consultant. Instead, three team executives monitor weather forecasts on APPs.

— Barry Jackson (@flasportsbuzz) April 6, 2015
Apps, man. Great for productivity. Not so great for self-taught Doppler radar reading.
Yasiel Puig took MLB by storm in 2013 -- and wasn't even voted best rookie in his league. That honor went Monday to Jose Fernandez, the Miami Marlins ace who went 12-6 with a 2.19 ERA and 187 strikeouts, and received 26 of 30 first-place votes. The American League, strangely, saw its top votes more divided, with Tampa Bay Rays outfielder Wil Myers (.293/.354/.478, 13 HR in 88 games) taking 23 of 30 first-place votes to beat out fellow finalists Jose Iglesias and Chris Archer. What do you make of the picks? What does the future hold for these honorees and finalists?
---
Best in NL?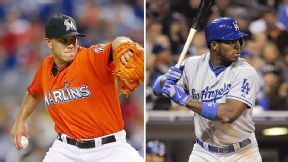 Puig posted a .319/.391/.534 line, but his performance tailed off late in the season.

---
Best in AL?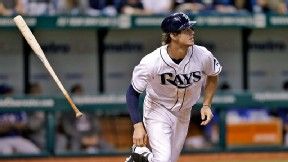 Myers went up against a defensive shortstop (Iglesias) and a starting pitcher (Archer).

---
Brightest future?
Myers and Puig are 22, while Fernandez is just 21. But pitchers aren't always durable ...