SportsNation Blog Archives

David Price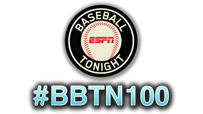 How do the top left-handed starters in Major League Baseball stack up? That question has been answered by our experts in the latest installment of the Baseball Tonight 100 (#BBTN100), a project to rank the top players across all 30 teams. We'll reveal a new position each day and unveil the overall 1-100 rankings March 27.
Do you agree with the experts' take on lefties? Simply click on the images of the top 10 below to submit your ballot.


Rank: #BBTN100 Top Left-Handers

Madison Bumgarner

Madison Bumgarner
San Francisco Giants
BBTN Rank: 5

Gio Gonzalez

Gio Gonzalez
Washington Nationals
BBTN Rank: 8

Cole Hamels

Cole Hamels
Philadelphia Phillies
BBTN Rank: 6

Clayton Kershaw

Clayton Kershaw
Los Angeles Dodgers
BBTN Rank: 1

Cliff Lee

Cliff Lee
Philadelphia Phillies
BBTN Rank: 4

Jon Lester

Jon Lester
Boston Red Sox
BBTN Rank: 7

Francisco Liriano

Francisco Liriano
Pittsburgh Pirates
BBTN Rank: 10

David Price

David Price
Tampa Bay Rays
BBTN Rank: 2

CC Sabathia

CC Sabathia
New York Yankees
BBTN Rank: 9

Chris Sale

Chris Sale
Chicago White Sox
BBTN Rank: 3
Your Rankings
1.

2.

3.

4.

5.

6.

7.

8.

9.

10.

Jared Wickerham/Getty Images
David Price's future in Tampa?
David Price has been the Rays' franchise starter for years, but given the team's habit of trading star players before they become unaffordable, he thinks he'll be wearing a different uniform in 2014. Price may make $13 million next season, and despite his Cy Young Award in 2012, the frugal Rays may think it prudent to start up another youth movement. Despite a rough start in the American League Division Series, Price is still one of the best pitchers in the league, but would it be worth keeping him in Tampa?
Max Scherzer has been near perfect through his first 20 starts, notching a 19-1 record and on the brink of becoming the first pitcher since Roger Clemons in 2001 to start the season 20-1. But does Scherzer's record mean he's a better pitcher than the MLB ERA leader Clayton Kershaw? Click the images below to set your rankings!

Baseball's best pitchers

Bartolo Colon

Bartolo Colon

Athletics
14-5, 2.97 ERA

Patrick Corbin

Patrick Corbin

Diamondbacks
13-4, 2.79 ERA

Yu Darvish

Yu Darvish

Rangers
12-5, 2.68 ERA

Jorge De La Rosa

Jorge De La Rosa

Rockies
14-6, 3.28 ERA

Jose Fernandez

Jose Fernandez

Marlins
10-5, 2.30 ERA

Zack Greinke

Zack Greinke

Dodgers
13-3, 2.86 ERA

Matt Harvey

Matt Harvey

Mets
9-5, 2.27 ERA

Felix Hernandez

Felix Hernandez

Mariners
12-8, 2.97 ERA

Clayton Kershaw

Clayton Kershaw

Dodgers
13-8, 1.72 ERA

Hiroki Kuroda

Hiroki Kuroda

Yankees
11-10, 2.89 ERA

Cliff Lee

Cliff Lee

Phillies
11-6, 3.07 ERA

Francisco Liriano

Francisco Liriano

Pirates
14-6, 2.74 ERA

Mike Minor

Mike Minor

Braves
13-5, 2.99 ERA

David Price

David Price

Rays
8-5, 3.28 ERA

Chris Sale

Chris Sale

White Sox
10-12, 2.99 ERA

Anibal Sanchez

Anibal Sanchez

Tigers
11-7, 2.61 ERA

Max Scherzer

Max Scherzer

Tigers
19-1, 2.73 ERA

Justin Verlander

Justin Verlander

Tigers
12-10, 3.73 ERA

Adam Wainwright

Adam Wainwright

Cardinals
15-8, 2.96 ERA

Jordan Zimmerman

Jordan Zimmerman

Nationals
15-7, 3.32 ERA

Your Rankings

1.

2.

3.

4.

5.

6.

7.

8.

9.

10.

11.

12.

13.

14.

15.

16.

17.

18.

19.

20.

Tags:

SportsNation Rank, MLB, MLB, Bartolo Colon, Patrick Corbin, Yu Darvish, Jorge De La Rosa, Jose Fernandez, Zack Greinke, Matt Harvey, Felix Hernandez, Clayton Kershaw, Hiroki Kuroda, Cliff Lee, Francisco Liriano, Mike Minor, David Price, Chris Sale, Anibal Sanchez, Max Scherzer, Justin Verlander, Adam Wainwright, Jordan Zimmermann