SportsNation Blog Archives

Freddie Freeman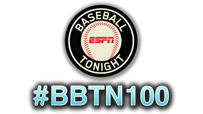 How do the top first basemen in Major League Baseball stack up? That question has been answered by our experts in the latest installment of the "Baseball Tonight" 100 (#BBTN100), a project to rank the top players across all 30 teams. We'll reveal a new position each day and unveil the overall 1-100 rankings March 27.
Do you agree with the experts' take on first basemen? Simply click on the images of the top 10 below to submit your ballot.


Rank: #BBTN100 First Basemen
Miguel Cabrera

Miguel Cabrera
Detroit Tigers
BBTN Rank: 1
Joey Votto

Joey Votto
Cincinnati Reds
BBTN Rank: 2
Paul Goldschmidt

Paul Goldschmidt
Arizona Diamondbacks
BBTN Rank: 3
Joe Mauer

Joe Mauer
Minnesota Twins
BBTN Rank: 4
Chris Davis

Chris Davis
Baltimore Orioles
BBTN Rank: 5
Freddie Freeman

Freddie Freeman
Atlanta Braves
BBTN Rank: 6
Prince Fielder

Prince Fielder
Texas Rangers
BBTN Rank: 7
Adrian Gonzalez

Adrian Gonzalez
Los Angeles Dodgers
BBTN Rank: 8
Edwin Encarnacion

Edwin Encarnacion
Toronto Blue Jays
BBTN Rank: 9
Allen Craig

Allen Craig
St. Louis Cardinals
BBTN Rank: 10
Your Rankings
1.

2.

3.

4.

5.

6.

7.

8.

9.

10.

Braves get a steal on Freeman?
The Atlanta Braves this week signed Freddie Freeman to a contract extension worth $135 million over eight years. The 24-year-old first baseman made his first All-Star team last season and hit .443 with runners in scoring position (second best in the majors). However, as Keith Law notes, he hit only .219 in those situations the year before. Is this a great deal? Is Freeman elite? Vote below!