SportsNation Blog Archives

Pittsburgh Penguins
How do you judge a Bruins team that found itself down three goals in the third period of a Game 7 only to win in overtime? That's just one of the challenges you face below. Click on the images of the eight teams remaining in the quest for Lord Stanley's Cup to set your power rankings heading into the next round.


Rank: NHL conference semifinalists
Blackhawks
Bruins
Kings
Penguins
Rangers
Red Wings
Senators
Sharks
Your Rankings
1.

2.

3.

4.

5.

6.

7.

8.

Sidney Crosby has been out since suffering a broken jaw on March 30 against the New York Islanders, and it looks like the Pittsburgh Penguins will be without their captain when they open the playoffs against that same Islanders team. Crosby has not been cleared by doctors to play and will miss at least Game 1 of the Penguins' opening-round playoff series. Pittsburgh earned the Eastern Conference's top seed despite not having Crosby for the last 12 games of the season. Do they need him to advance in the playoffs?
Damastes0714: " The Penguins need Crosby to win the Cup, but I don't think they need him to win this series. They'll take their time with him. If we see him in this series its because the Pens NEED him, but I wouldn't expect him until Round 2."
Jacob880711: " This is why shero went out and got players like Iginla, Murray, Morrow, and Jokinen. There's no need to have him rush back. The pens will be fine tonight."
Hoss3138: " Came over here to say that the Pens will win this series without Crosby … they're that good."
Whisky tango 333: " Man, if only the Penguins had guys like Evgeni Malkin, James Neal, Jerome Iginla, Jussi Jokinen, Brendan Morrow, Kris Letang, they wouldn't need a guy like Crosby for a weak first-round playoff matchup. Oh wait."
danthefan1004: " It's the playoffs. If Crosby was ready he'd be playing. They are not sitting him out because it's only the Islanders that they're playing. That is ridiculous."
Join the conversation or respond by signing in or creating a profile and blogging.
On the same night Jarome Iginla made his Penguins debut, the NHL's hottest team suffered a significant loss. No, it wasn't their win streak -- which is now at 15 games -- but their star player, Sidney Crosby. The league's leading scorer took a puck to the jaw and is out indefinitely after surgery. How much will his absence hurt the Penguins? And does it mean the end of their pursuit of the win streak record?
bigbounce4321: "the hockey world is at a loss when Sidney Crosby is not on the ice. I wish him nothing more then a speedy recovery AND NO CONCUSSIONS. I really hope he is ok."
Patrice9331: "I'm a huge Habs fan .. but I hate the idea of Crosby being injured. He is the best hockey player in the world and a true ambassador for the sport. If the Habs beat the Pens in the East Final, I want Crosby in the lineup!"
The Noonan: "Good thing the Pens also have the second best player in the league. Lead us home, Geno."
PPG Welder: "Haters go on and hate. Pens will likely beat your team without Crosby."
_UnholyLivingDead_: "Pens still loaded with talent and Crosby will be back by the playoffs."
Join the conversation or respond by signing in or creating a profile and blogging.
---
A Pyrrhic victory?
The Penguins picked up their 15th straight win Saturday but lost their star center indefinitely.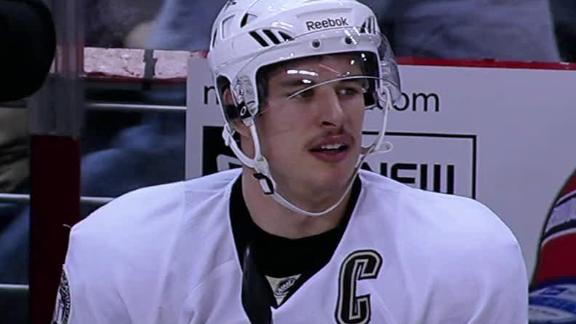 The Penguins and superstar center Sidney Crosby have agreed to a contract worth $104.4 million over 12 years. The front-loaded deal, which takes effect for 2013-14, will average $8.7 million per season. Crosby, widely regarded as the NHL's best player, already has a Stanley Cup and a Hart Trophy as the league's MVP to his credit. But he has also sustained multiple concussions that sidelined him for the bulk of two seasons. Is it risky for the Penguins to set aside that much money for a player with a serious concussion history?
Nondescript Observer: "Sid's talent is worth that kind of money. However, one more concussion and that contract will look like a monumental mistake."
Kyle Kanin: "as risky as this deal looks, the kid is still the most worldwide marketable player in hockey and number 2 is not close. he also has 1 cup already. if they hit on this, it'll return as much as any athlete can, especially in hockey"
cowboys7667: "Either way, Crosby just produced 1300 comments in an hour, he's doing something right. For everyone saying that he whines and is not any good, maybe you should go look at his stats. Plus athletes don't reach their prime til they are 27, sooo we still may have not even seen his best stuff. I am an Avs fan and am not a crosby fan at all. But, the stats don't lie, hard to argue his talent"
Steelergal00: "Nice that he's being locked up to 36, but you would have thought the owners would have learned their lesson about overpaying players from the last time the NHL got into a financial mess..."
sherrerd: "Does the contract come with an Ulf Samuelsson clone to protect him?"



Join the conversation or respond by signing in or creating a profile and blogging.
---
Good news for Sidney Crosby?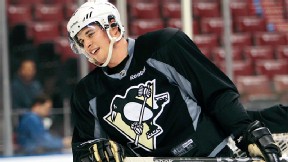 Still sidelined by concussion-like symptoms, Sidney Crosby may not be suffering from a concussion. A soft-tissue injury in his neck may be responsible and is "more treatable."

---
Will this all fade away eventually?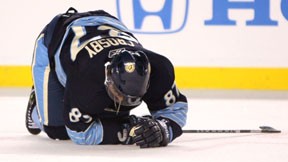 Crosby played at least 77 games in four of his first five seasons. Does the news about his injury make you think he may eventually regain that form?

---
Does his name match his game?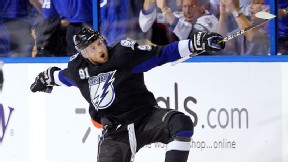 While Crosby sits, players like Steve Stamkos (above), Claude Giroux and even veterans like Pavel Datsyuk and Evgeni Malkin thrive. Where is Crosby in the NHL pecking order?

---
Already a Hall of Fame career?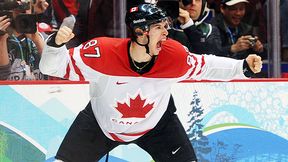 Thankfully, this sounds more and more like a purely hypothetical question. But with a Cup, a Hart Trophy, a gold medal and more, is Crosby already a hockey immortal?

---
If a tree falls in the forest ...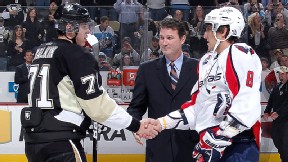 The Penguins and Capitals take the ice tonight, but with no Sidney Crosby and the teams ranked No. 8 and No. 10, respectively, in the East, do you care?

---
Are the Penguins in trouble?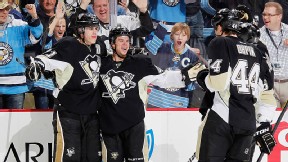 On the eve of the regular season, SN ranked the Penguins No. 4 in the NHL. They're currently eighth in the East, one point ahead of the Winnipeg Jets.

---
Are the Capitals in trouble?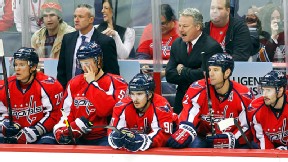 Of course, it could be worse. SN ranked the Capitals No. 3 overall in the preseason. If the playoffs started today, they wouldn't be included.

---
Alex Ovechkin or Sidney Crosby?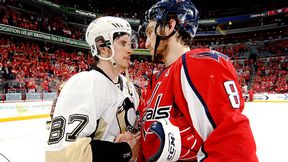 Alex Ovechkin showed some signs of life recently, but he's tied for 18th in goals a season after slipping from 50-plus goals to 32. Is he still a better bet than Crosby?

---
Will we see Crosby again this season?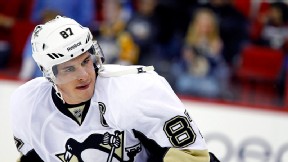 Crosby showed the skills we remember in a short return to the ice, but do you expect a second return after he was sidelined again by concussion-like symptoms?

---
Will the old Sidney Crosby return?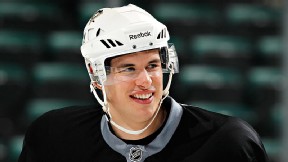 Sidney Crosby will be on the ice when the Penguins play the Islanders. But after missing nearly a year with concussion-like symptoms, will the old Crosby ever return?

---
What about short-term expectations?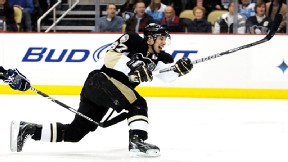 Crosby was averaging 1.6 points per game (32 goals, 34 assists in 41 games) when he left the lineup last season.

---
Are Penguins the team to beat?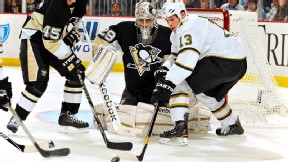 The Penguins enter Monday's game tied with the Flyers for the most points in the Eastern Conference. Does Crosby's return clinch favorite status? Submit your Power Rankings.

---
Has someone else claimed throne?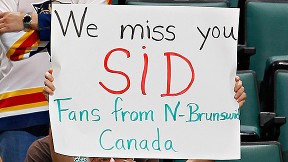 Crosby hasn't played since Jan. 5, but did anyone do enough in his absence to claim the unofficial title of NHL's best player?

Sidney Crosby wasn't on the ice, but Thursday's game between the Penguins and Captials sure felt like a rivalry when Arron Asham and Jay Beagle dropped the gloves. Penguins tough guy Asham took exception to Beagle's roughing penalty on Kris Letang. The ensuing fight left Beagle on the ice and Asham skating away making gestures suggesting he put his opponent to sleep. All fair by the code of hockey?
"Beagle wasn't the victim here. He took liberties against a Penguins star, so he was made to square up. He was never at a disadvantage. He threw the first five punches. Asham got free and gave him the two-hit quit and that was it. " -- SN commenter kevinbgoetz35
"Goonery is dumb. Players should either fight to defend themselves, or not fight. Having a goon or two per team is easily the dumbest thing to evolve from the expansion of hockey in the 70s. Why can't we have old-time hockey? And that does NOT mean goonery." -- SN commenter CoachGangler
---
Example or embarrassment?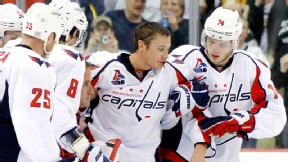 "Right there is what fighting is for. It was a message sent; there was a reason that fight happened. It wasn't just violence. It wasn't just two guys trying to put on a show." -- Barry Melrose

---
What about Asham's reaction?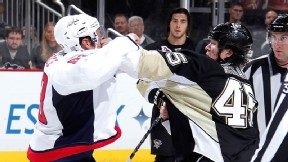 The fight may have been part of the hockey code, but what about Asham's gestures as he skated away and Beagle lay on the ice?

---
What is fighting's future?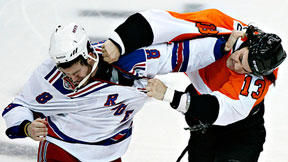 The NHL has cracked down on hits to the head during the course of play, but will fights like Thursday's ever be eliminated?

---
What about the Pens and Caps?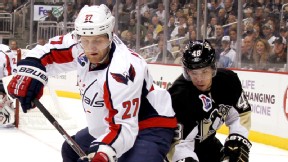 By the way, the Capitals beat the Penguins 3-2 in overtime to remain perfect and hand their otherwise unbeaten rivals a second overtime loss.

We saw what happened when the Colts lost their franchise player, but are the Penguins offering a counter to that lesson? The Penguins improved to 3-0-1 with Tuesday's win against the Panthers and did without Evgeni Malkin for a second consecutive game. Not bad considering they were already without Sidney Crosby, right? Rank 'Em: Your NHL Power Rankings?
"Same old, same old. No Kid, no Geno, and the Pens still win. At least this team has plenty of experience without their stars. Might as well let Sid and Geno sit out until after the All-Star break, so we know they're healthy, and have them running at full go come playoffs." -- SN commenter lm_pruitt
"The Penguins will be good, but will not win the Cup without Malkin and Crosby healthy. Period." -- SN commenter Busy Barz
---
Break up the Penguins?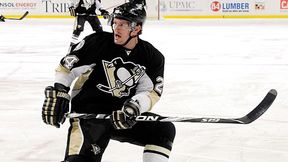 Without Crosby and with a limited Malkin, the Penguins have goals from 10 players through four games, including three from professional agitator Matt Cooke.

---
Still a championship foundation?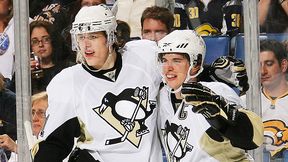 Crosby and Malkin guided the Pens to the Cup in 2009, but Malkin has missed a bunch of games in recent seasons and Crosby's post-concussion issues are well known.

---
Does Thursday's game still matter?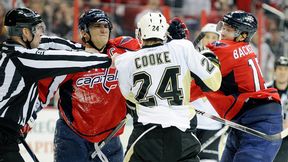 The Penguins and Capitals renew their rivalry Thursday, but if Crosby isn't on the ice to battle Alex Ovechkin, is it still a rivalry that matters?

We can understand if you don't want to take the time to grade your tech-support help on the other end of the telephone, but when we're talking about the dollars and emotion you've invested in sports, we think it's worth the effort. It's time for ESPN The Magazine's Ultimate Standings, in which SportsNation grades organizations on everything from ticket prices and stadium experience to the talent on the field, court or rink. Which team will end up on top this year? It depends on what you say.
Take part in the 2011 MLB survey
2010 MLB Ultimate Standings
1. Los Angeles Angels (Overall: No. 3)
2. Tampa Bay Rays (Overall: No. 6)
3. Colorado Rockies (Overall: No. 13)
4. Minnesota Twins (Overall: No. 14)
5. Atlanta Braves (Overall: No. 15)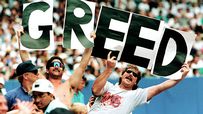 Take part in the 2011 NFL survey
2010 NFL Ultimate Standings
1. New Orleans Saints (Overall: No. 1)
2. Indianapolis Colts (Overall: No. 4)
3. Green Bay Packers (Overall: No. 9)
4. Arizona Cardinals (Overall: No. 19)
5. Baltimore Ravens (Overall: No. 20)
Take part in the 2011 NBA survey
2010 NBA Ultimate Standings
1. Orlando Magic (Overall: No. 2)
2. San Antonio Spurs (Overall: No. 7)
3. Cleveland Cavaliers (Overall: No. 10)
4. Dallas Mavericks (Overall: No. 24)
5. Oklahoma City Thunder (Overall: No. 25)
Take part in the 2011 NHL survey
2010 NHL Ultimate Standings
1. Pittsburgh Penguins (Overall: No. 5)
2. Detroit Red Wings (Overall: No. 8)
3. Washington Capitals (Overall: No. 11)
4. San Jose Sharks (Overall: No. 12)
5. Chicago Blackhawks (Overall: No. 16)