SportsNation Blog Archives

Chicago Blackhawks
The Kentucky Derby is on Saturday, and between the hats, the outfits, the mint juleps, and the mud, there will be an actual horse race going on. The Derby is perhaps the most prestigious race in all of sports, with winning horses achieving something close to legendary status. Can you name the past 10 horses to come in first place at the Derby? Take our quiz!
Check out more quizzes in our Quiz Archive!
Jared Wickerham/Getty Images
Your NHL playoff predictions?
Which team will win each second-round playoff series? Cast your votes below!
NHL playoff predictions?
The first round of the NHL playoffs is well underway, with some series over and others staying close to the end. What are your predictions?
Tags:

NHL, NHL, Boston Bruins, Detroit Red Wings, Tampa Bay Lightning, Montreal Canadiens, Pittsburgh Penguins, Columbus Blue Jackets, New York Rangers, Philadelphia Flyers, Anaheim Ducks, Dallas Stars, San Jose Sharks, Los Angeles Kings, Colorado Avalanche, Minnesota Wild, Chicago Blackhawks, St. Louis Blues
The Stanley Cup is probably the coolest trophy in sports, an iconic representation of a season's worth of struggle. Players dream of being able to hoist the Cup at the end of a season along with their teammates -- with a bonus of a full day with it to do whatever they want. There's been only one repeat champion out of the last 10, but can you name them all?
Check out more quizzes in our Quiz Archive!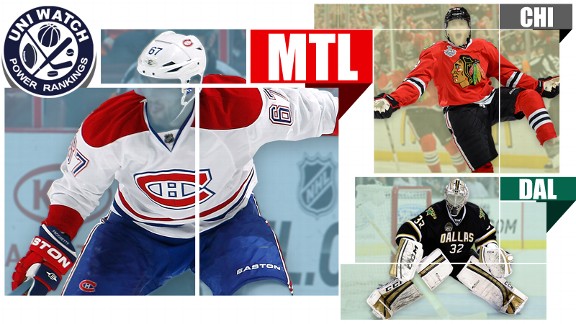 The Original Six still rule in the Uni Watch Power Rankings, with the Montreal Canadiens taking the top spot and four more members finding footing in the top six. Do you agree? Or should some newbies take the higher places? Click the logos to set your rankings!


NHL's best uniforms

Avalanche

Blackhawks

Blue Jackets

Blues

Bruins

Canadiens

Canucks

Capitals

Coyotes

Devils

Ducks

Flames

Flyers

Hurricanes

Islanders

Jets
Kings

Lightning

Maple Leafs

Oilers

Panthers

Penguins

Predators

Rangers

Red Wings

Sabres

Senators

Sharks

Stars

Wild
Your Rankings
1.

2.

3.

4.

5.

6.

7.

8.

9.

10.

11.

12.

13.

14.

15.

16.

17.

18.

19.

20.

21.

22.

23.

24.

25.

26.

27.

28.

29.

30.

Tags:
NHL, NHL, Vancouver Canucks, Calgary Flames, Colorado Avalanche, Edmonton Oilers, San Jose Sharks, Winnipeg Jets, Los Angeles Kings, Anaheim Ducks, Phoenix Coyotes, Dallas Stars, Nashville Predators, Chicago Blackhawks, Minnesota Wild, St. Louis Blues, Detroit Red Wings, Columbus Blue Jackets, Florida Panthers, Tampa Bay Lightning, Carolina Hurricanes, Washington Capitals, Philadelphia Flyers, Pittsburgh Penguins, New York Rangers, New York Islanders, New Jersey Devils, Boston Bruins, Montreal Canadiens, Ottawa Senators, Buffalo Sabres, Toronto Maple Leafs