SportsNation Blog Archives

Agnieszka Radwanska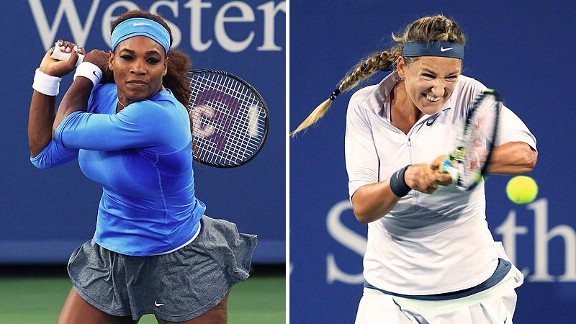 Serena Williams enters the 2013 US Open as the tournament's top seed with hopes of winning back-to-back titles at Flushing Meadows for the first time in her career. Standing in her way will be a host of talent including last year's runner-up and this year's No. 2 seed, Victoria Azarenka. Who will win the final Grand Slam of the season? Set your rankings!
More: Rank US Open men's contenders


U.S. Open women's contenders

Victoria Azarenka

Victoria Azarenka
WTA ranking: 2
U.S. Open seed: 2

Sara Errani

Sara Errani
WTA ranking: 5
U.S. Open seed: 4

Jelena Jankovic

Jelena Jankovic
WTA ranking: 11
U.S. Open seed: 9

Angelique Kerber

Angelique Kerber
WTA ranking: 10
U.S. Open seed: 8

Petra Kvitova

Petra Kvitova
WTA ranking: 9
U.S. Open seed: 7

Li Na

Li Na
WTA ranking: 6
U.S. Open seed: 5

Agnieszka Radwanska

Agnieszka Radwanska
WTA ranking: 4
U.S. Open seed: 3
Roberta Vinci

Roberta Vinci
WTA ranking: 12
U.S. Open seed: 10

Serena Williams

Serena Williams
WTA ranking: 1
U.S. Open seed: 1

Caroline Wozniacki

Caroline Wozniacki
WTA ranking: 8
U.S. Open seed: 6
Your Rankings
1.

2.

3.

4.

5.

6.

7.

8.

9.

10.

Who will win at Wimbledon?
A Wimbledon marked with early upsets did not go that way as the men's draw narrowed, with No. 1 seed Novak Djokovic outdueling Juan Martin del Potro to solidify his spot in the final, followed by No. 2 seed Andy Murray ousting Jerzy Janowicz to join Djokovic. On the women's side, however, double-digit seeds Marion Bartoli and Sabine Lisicki will both be looking for their first Grand Slam title in the Finals after Serena Williams and a host of other top seeds went down early. Who will be left standing at the end of the fortnight?
Wimbledon women's semifinals
Sabine Lisicki, who upset Serena Williams in the round of 16, continues her march at Wimbledon and will face No. 4 seed Agnieszka Radwanska, the highest remaining ranked woman, in the semifinals. Marion Bartoli knocked out the last remaining American, Sloane Stephens, and will play Kirsten Flipkens in the second semifinal.
marcelluswiley Marcellus Wiley
"@InTheCut218: Clownin with @marcelluswiley http://t.co/XKdyUOpDAI" Thanks for taking care of your boys!
about 3 hours ago

marcelluswiley Marcellus Wiley
Bumpin 'Ain't No Thang' right now....Been my favorite group since I heard them in 92! http://t.co/L5trHTRY5r
about 16 hours ago

marcelluswiley Marcellus Wiley
Thank God for Spotify!
about 16 hours ago

Max_Kellerman Max Kellerman
Turning back time: ageing reversed in mice - health - 19 December 2013 - New Scientist: http://t.co/RSYUUVefsO
about 17 hours ago

SportsNation SportsNation
Awesome! RT @ESPN_Numbers NNL Presents... The year in sports for 2013 "RAP-UP" http://t.co/AaMtiH8YNu
about 20 hours ago

Max_Kellerman Max Kellerman
RT @theScore: How Lou Gehrig used sabermetrics in the 1920s. http://t.co/tTMFzU7JwD
about 20 hours ago

marcelluswiley Marcellus Wiley
Back where it all started, Los Angeles already knows what it is....best in the world! #Slauson http://t.co/Ae9JR1clbj
about 21 hours ago

marcelluswiley Marcellus Wiley
Broadcasting 'Max & Marcellus' today at 3pm from "In the Cut" Barbershop on 220 E. Regent St. in Inglewood. Come win Lakers tickets!
about 22 hours ago

SportsNation SportsNation
Will Kobe ever be the same? We discuss. ESPN2 now!
about 23 hours ago

SportsNation SportsNation
Dr. J says he was a better dunker than MJ & LeBron. He also had more to say. - http://t.co/VypRlpdYOz
1 day ago

Max_Kellerman Max Kellerman
RT @MarkKriegel: The 6 Jews who changed the world: Jesus, Moses,Freud, Marx, Einstein and Al #Goldstein.
1 day ago

SportsNation SportsNation
Jerry West hasn't shot a basketball in years and he is still LIGHTS OUT at 75! - http://t.co/41MiPeDwbM
1 day ago

marcelluswiley Marcellus Wiley
RT @ProFootballDoc: @marcelluswiley is right. Related injury. Strong Achilles helps prevent knee hyperextension. May have contributed to @k…
1 day ago

SportsNation SportsNation
The North Sac Canes youth football team has some interesting jerseys (via @uniformswag) http://t.co/aeE1wAiW9Z
1 day ago

marcelluswiley Marcellus Wiley
Not a bad day when you can hang with Dr. J #sportsnation http://t.co/CBY5X5iqv7
1 day ago

marcelluswiley Marcellus Wiley
Hey Kickers, once you kick the ball & try to make a tackle, you are now a defender & I've never heard of a 'Defenseless Defender' #NoFineNFL
1 day ago

SportsNation SportsNation
All NBA fans reacting to Kobe's injury news http://t.co/NA4hXpA22f
1 day ago

kevinwildes Kevin Wildes
Bums me out. RT @ramonashelburne Lakers announce Kobe out 6 weeks with fractured tibia.
1 day ago

SportsNation SportsNation
We got Dr. J in the house!! ESPN2 now! http://t.co/0xztkX9kRr
1 day ago

SportsNation SportsNation
.@TheRealJRSmith shot his franchise record 17 3-point attempts last night like... http://t.co/pCsDKbUKy3
2 days ago