SportsNation Blog Archives

Andy Roddick
Has Andy Roddick's career lived up to expectations? And no bonus points for marrying up with Brooklyn Decker. We're talking tennis here, and Roddick is a bit of an enigma.
Roddick was bounced from Wimbledon Monday by unseeded Yen-Hsun Lu. He'll turn 28 during the U.S. Open in August and won his only Grand Slam in 2003. That's not exactly the stuff of an all-time great. Then again, to borrow Kareem Abdul-Jabbar's memorable "Airplane" rant, you tell your old man to try dragging Roger Federer and Rafael Nadal around the court for a decade and see how he likes it.
If measured on its own merits, and not as the guy who followed Pete Sampras as America's hope, has Roddick's career been a success? SportsNation is of at least two minds.
"Gosh, I hate it for this guy. He deserves another slam. At least one more slam. But, you know, even if he doesn't get one, I think the better tennis histories will remember him for the player he obviously is. Gosh. I hate it for him though." -- SN commenter mcmiljr
"Roddick should just be happy he's got a Slam. If Nalbandian doesn't totally choke that semifinal match away at the 2003 U.s. Open (or take out Federer for that matter)...Roddick is still answering the question 'When are you going to win a Slam?'" -- SN commenter Stellcat007
Jason "the Forehand" (B'ham, AL)
When are we going to see the next wave of American talent come through? We saw the aging Blake go down in straights, Roddick is on his way out in a couple of years, and the lengthy Californian and N. Carolina native are no spring chickens either. Are there any up and coming Americans to be on the look out for?
Greg Garber
Ryan Harrison and the 17-year-old Andrea Collarini. He made the finals of the French Open junior boys. Born in New York, grew up in Argentina, now playing under USA colors with support of USTA. Aregentina is NOT happy. Full transcript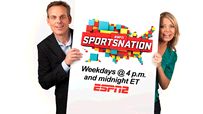 "SportsNation" on TV is finally here. Check out the big stories of the day, cast your votes and watch on ESPN2 at 4 p.m. ET!
After a weekend packed with tragic and triumphant sports news, hosts Michelle Beadle and Colin Cowherd can't wait to debate your answers to the questions below.
Vote: Would it be fun to hang out with Roger Federer?
The tennis great has 15 Grand Slam titles, untold millions and the gold-trimmed clothing, but he presents a very corporate, polished image.

Vote: Is there such a thing as a good loss?
Andy Roddick earned respect but no Wimbledon title in his epic final match against that guy in gold on Sunday.

Vote: Would you boo or cheer Manny Ramirez?
Padres fans have had their chance. The "suspension is over" tour continues this week with stops in New York and Milwaukee.

Vote: Should ESPN show more competitive eating?
For some people, hot dog buns crumbled in water and mouths crammed with food are revolting. For others, like Joey Chestnut, it's a Fourth of July tradition or lunch.

Vote: Which team is the favorite to win the Eastern Conference?
The Cavaliers made the first move, acquiring Shaq. The Magic lost Hedo Turkoglu, and the Celtics added veteran Rasheed Wallace.
Tweet: How will you remember Steve McNair?
After news of the former Titans quarterback's death came out Saturday, NFL players spoke of his competitiveness and toughness.
What is "SportsNation" TV and how do you make your voice heard on the broadcast? Read about the new ESPN show that features fan opionions with calls, tweets, polls, rankers and more.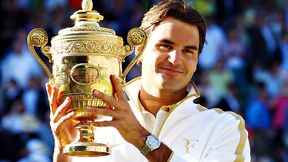 Before the Wimbledon final began, Andy Roddick had already lost. Or so thought almost 70 percent of SportsNation, and we assume Pete Sampras (a 12-hour flight to watch just one match? That's some serious Federer faith).
Fast-forward about four hours, 456,789 tiebreaks and the match was at a 14-14 deadlock in the fifth set. At times, it even looked like this might finally be Andy Roddick's moment. But then, as if the tennis gods woke up and said, "Roddick might win Wimbledon? Wait, this isn't right. Something must be done," Federer broke Roddick's serve for the first time and won his 15th Grand Slam title.
After all was said and done, do you think Wimbledon '09 was the best you've ever seen? Does it top '08's Federer-Nadal battle? Ravi Ubha says no. But what does SportsNation think? Vote and discuss below.
"

Congrats to both players; what a match! It is sad Roddick had to lose, because he played well enough to win. But that's what makes Federer so good. Fantastic stuff.

"

-- redsoxer
"

Andy should be proud the way he played Sunday and for the entire tourney. He just keeps running into the greatest of all time.

"

-- 8underpar64
There will be no weather delays for the finals this weekend at Wimbledon. The Williams sisters raise the roof on Saturday, and Andy Roddick tries to rain on Roger Federer's march toward slam win No. 15 Sunday.
Women's final: SportsNation gives Venus slight edge
Men's final: Two-thirds of SportsNation favors Federer
Vote: Wimbledon Finals
Adi (Toronto)
Hi, Greg. 16 of last 17 slams, 21 consecutive slam semis, 20 total slam finals, what is left for Roger to conquer? How does he stay motivated? Do any of the Andys really have a chance?
Greg Garber

This is the question going forward, Adi. I think Fed's struggles last year, physically and mentally, actually motivated him to get better. That, and losing three Grand Slam finals to Rafael Nadal in a span of eight months. Pete Sampras admitted recently that he had a tough time getting up for the Cincinnatis of the world, but he was always fired up for the Slams. I think Roger will be like that, too.
Ray Gordon Reid (San Jose)
Who do you like tomorrow: Serena or Venus?
Greg Garber

Ray: The sisters are 10-all in their WTA career matches and have split their four previous Wimbledon matches. I'll take Venus in this one. She's going for three straight at All England and her sixth overall. Full transcript.