SportsNation Blog Archives

Chris Pronger
Like watching a shark documentary on the eve of an island vacation, the Rangers and Canadiens offered the rest of the NHL a sober reminder of the perils of free agency on the eve of this summer's spending season.
A year ago, SportsNation voters pegged Scott Gomez as the fifth-best forward in the Atlantic. But after another disappointing statistical season from the former free-agent prize, only 25 percent of voters think he'll be worth the $33.5 million remaining on his contract to the Canadiens, who traded for him this week.
Perhaps that's why the 'Nation is split on whether his old team or new team will fare better next season (although the Alaskan seems to have some pull in his home state).
"

Vancouver is quickly building a team that could contend for the cup in the next 2-3 years. With the US to Canada Dollar spread starting to move toward Canada, they will be able to sign many free agents and build around the twins. Vancouver is a beautiful and growing city that will get a lot of publicity in February with the Winter Olympics. Looks like management is getting ready to capitalize on the window of opportunity.

"

-- tcco007
"

Gomez has never been the same since he broke his pelvis during the lockout playing in Alaska. Class guy with lots of playmaking ability but one of his biggest weapons with the Devils was his speed which he has all but lost. He's an asset to any team, but not the "impact" player he used to be.

"

-- giggums
BEST OF THE BEST
Best dancers?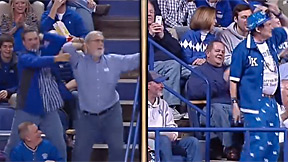 Which fans were better dancers at Tuesday night's Alabama/Kentucky matchup? Vote! »