SportsNation Blog Archives

Shaquille O'Neal
The world has its fair share of enormous human beings and big personalities, but never has someone combined the two quite like Shaquille O'Neal. The Big Aristotle (or insert nickname of your choice here) turns 43 today, which may or may not make us feel old but definitely reminds us of the many reasons he'd be a blast to celebrate with.
10. He would dominate karaoke.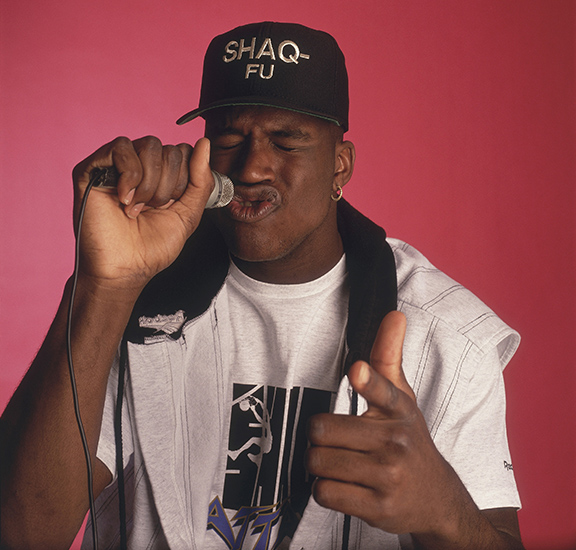 Focus on Sport/Getty Images
9. He might show up with a white tiger like he did for his "Scarface"-themed 34th birthday.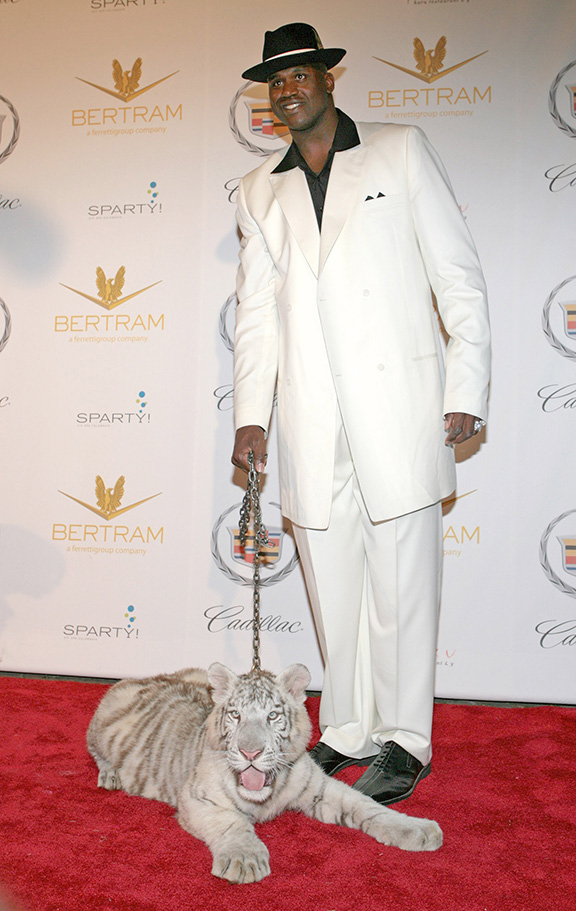 John Parra/FilmMagic
8. ... Or a panda. Look at this panda!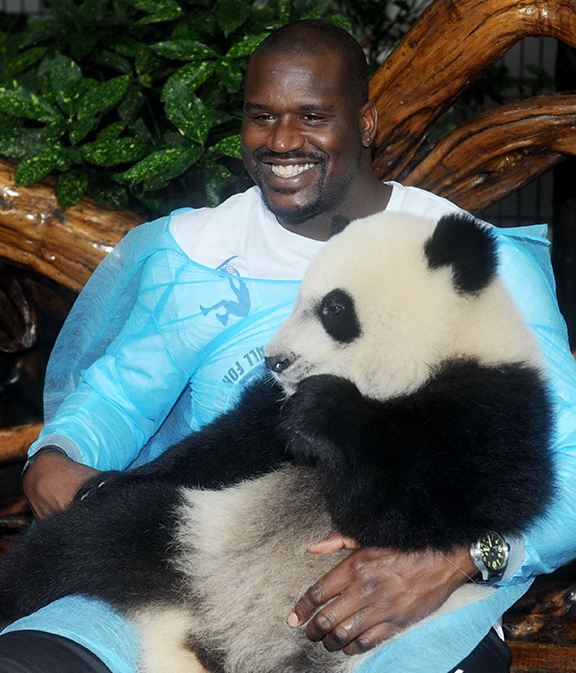 Lei Yuandong/ChinaFotoPress/Getty Images
7. We'd probably hang with famous people.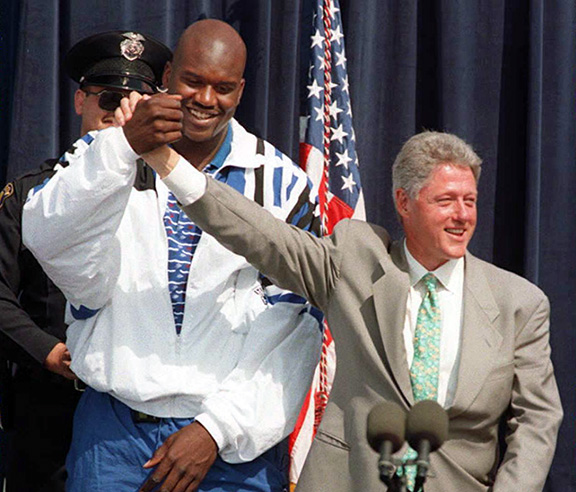 Vince Bucci/AFP/Getty Images
6. We could wear whatever we want. Gingham on gingham, plaid on plaid ...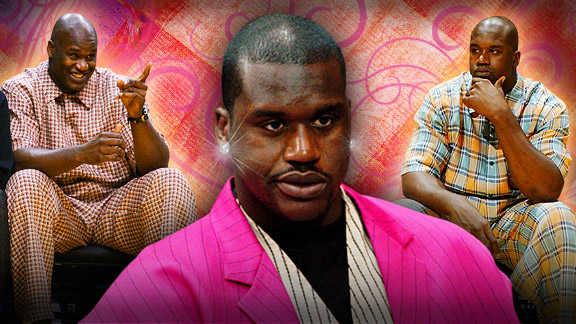 ESPN.com Illustration
5. ... Anyone who can rock overall jorts has to know how to have fun.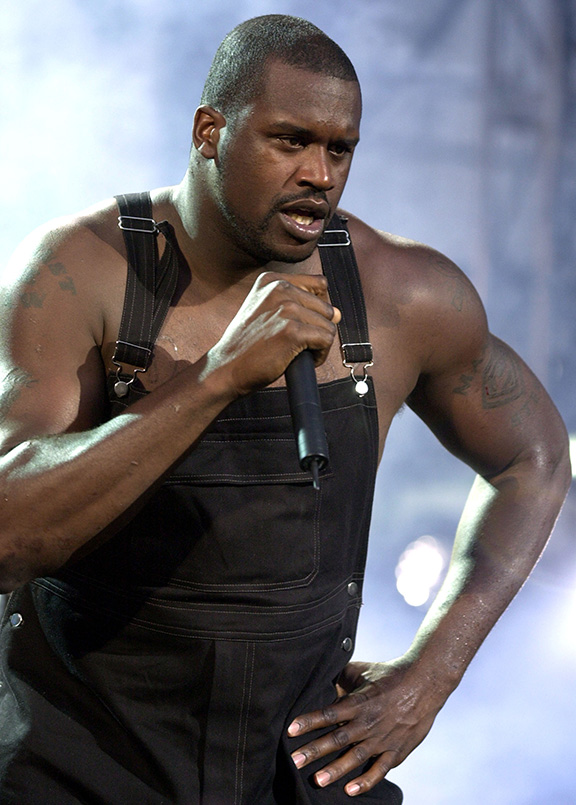 SGranitz/WireImage
4. We'd reminisce about his time in Orlando.
3. And Los Angeles. (He'd tell everyone how he *really* feels about Kobe. Possibly during karaoke.)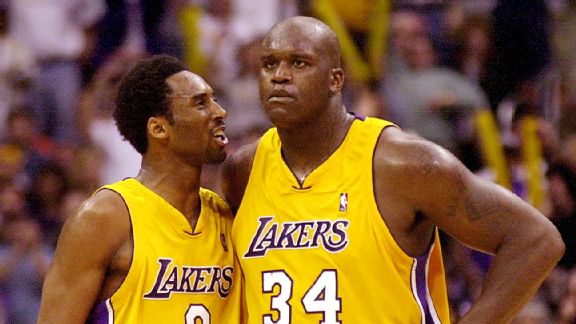 Vince Bucci/AFP/Getty Images
2. He would never object to a spontaneous dance party.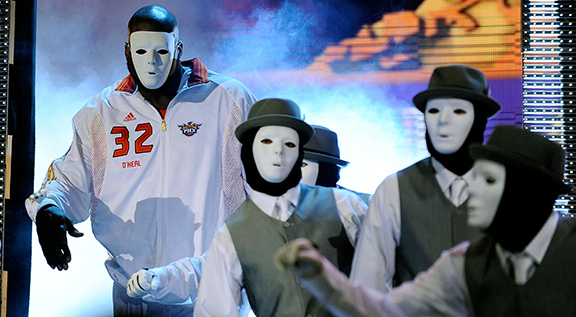 Kevork Djansezian/Getty Images
1. By the end of the night, there'd be many "quotatious" memories.
AP Photo/Mark J. Terrill
Shaq in a Marc Stein Q&A from 2008: "I don't live my life trying to win things back. In this world we live in, they either like you or they don't. But I'm not going to be the one trying to go out of my way to get you to like me. Nothing in the world that someone can say or do will make me go into a depression and drink rat poison."
Cheers to that! Happy birthday, Shaq.
Shaquille O'Neal is apparently discussing a general manager position with the Orlando Magic. Would Shaq be a good GM?
GregWms285: "First and foremost, Shaq is respected throughout the league by NBA Players and because of that, he would be able to convince Top Players to come to Orlando. Second, he would most certainly bring in a coach to run a successful system (Triangle with Brian Shaw and maybe the man himself, Phil Jackson) or Jerry Sloan (Former Utah HC), and third, if Dwight still wants to be traded, Shaq would trade him to the Lakers for Bynum and Gasol, straight up and then try to persuade D-Will to come to Orlando to play with those them. "
MDuke311: "There isn't a quicker way to get Dwight Howard to leave Orlando than by hiring Shaq as your GM."
NJGiant99: "I wonder if having Shaq around would help with free agent acquisitions simply by the relationships hes had with some players? I'm sure it may also destroy said acquisitions though, too."
Giants21Joe10: "Is Shaq at all qualified to be a GM? Just because he was a great player it doesn't mean he'll be a good personnel guy (*cough* Michael Jordan *cough*)."
mguinard10: "That would be a horriable move by the magic. Get a good GM in there trade Dwight get some pieces and build from there."
apex.late: "This Shaq GM / part-Gm talk is a perfect example of the Magic's horrible management in action, and another prime reason why Howard wants OUT."



Join the conversation or respond by signing in or creating a profile and blogging.
SportsNation simply likes Shaquille O'Neal. Forget the rap albums, the horrible movies, the declining skills and the trading in of superstar sidekicks the way some people trade in movies with Netflix. Forget that he's been front and center in our consciousness long past the usual sell-by date for popularity. We just like him.
The day after Shaq become the fifth player in NBA history to score 28,000 career points, check out how his approval rating compares to some of the game's biggest stars.
But unlike another aging peer with longstanding popularity, Brett Favre, Shaq doesn't appear to be helping his legacy much at this point. He's only the third center to score 28,000 points, but is he one of the best centers of all time?
Rank 'Em:
Is Shaquille O'Neal one of your top five centers of all time?
Josh (Cleveland)
J.A. - on a personal level, if you were (God forbid) a Cavs fan, where would you stand on the potential trading of Z? On the one hand, the man has redefined "loyal" (we can only hope LBJ is 1/10 as loyal as Z). On the other hand, doesn't Ferry owe it to the fans to do whatever is necessary to improve the Cavs' chances of winning it all? Even if it means trading a close friend and the most loyal athlete Cleveland will probably ever know?
J.A. Adande

More than Bernie Kosar? I'm not a Cleveland guy, so I'm not sure how they'd rank. I'm guessing Kosar. But if you could get Jamison, I'd do it. Shaq has been playing pretty well lately, so I don't think you need Z as the insurance as much anymore. And if you're a long-suffering Cleveland fan, I'm guessing you would trade your own mother if it could get you a championship Full transcript
Gabe (NY)
i know how [Kansas center Cole Aldrich] is falling on draft boards because he isn't getting as many touches, but he is like a more athletic version of Brook Lopez. Come draft night do GMs really take unproven "projects" over a defensive big man who knows how to really play? Aldrich goes #3-5 or I quit even watching nba basketball--its nonsense..
Chad Ford

I don't know if he's falling, he's stayed pretty steady at No. 7 all year. However, more and more GMs are questioning the "size matters over everything else" mantra that has plagued the league the last 15 years thanks to Hakeem, Ewing, Robinson, Shaq and Yao. More and more teams are going small, playing up tempo and looking for mobile big guys who can get up and down the floor. So players like Aldrich aren't quite as valuable as they used to be. That said, I'd be shocked if he wasn't a Top 10 pick. Full transcript
Shaquille O'Neal thinks LeBron James could be a good player-coach in the NBA right now. We're fairly confident Joakim Noah disagrees. As for Mike Brown, Cleveland's currently employed coach-coach? Our guess is he agrees with James on this -- whatever James believes.
"This is just an opportunity for Shaq to put the spotlight back on him, make him seem unselfish, and hype up his team. Means nothing." -- SN commenter edwin.geinger
Yeah, we don't really have a good comeback for that. The truth hurts. But (there's always a but) since Shaq threw it out there, we at least find ourselves wondering if any player could successfully handle a double role. It wasn't all that long ago, sort of, that Bill Russell led the Celtics to a championship as a player-coach. And SportsNation has already made it clear they think NBA coaches matter less than in any other major sport. So could it happen?
"

Maybe the cavs should fire mike brown and hire lebron as player coach. Don't get me wrong I am a huge cavs fan. Its just a thought since all of clevelands championships with the exception of the browns have had a player-coach for the indians in both world series championship years with lou boudreau and tris speaker.

"

-- 23lebronjames
"

I guess LeBron can keep the basketball IQ. Kobe will keep his rings. lol

"

-- metalsiren00