SportsNation Blog Archives

James Harden
On Wednesday we asked fans: Who, among the top four choices, is your pick for 2014-15 NBA MVP?
As of Thursday evening, the results were nearly unanimous: Stephen Curry, the prodigious point guard who has led the Golden State Warriors to be the best team in the NBA, is the one.
Unless you're an Oklahoman: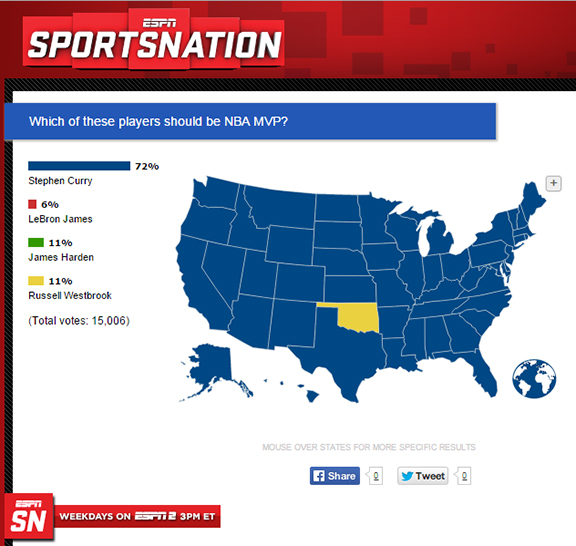 ESPN
Yes, Texas chose Curry over Houston Rockets star James Harden and, even more surprisingly, Ohio picked Steph over homecoming king LeBron James. But the Sooner State is standing with its own point guard: Russell Westbrook, whose recent triple-double binge has helped keep the Oklahoma City Thunder in playoff position despite the absence of Serge Ibaka and reigning MVP Kevin Durant.
If you haven't yet voted, now it's your turn: Do you stand with Oklahoma, or the rest of America?