SportsNation Blog Archives

Edwin Encarnacion
September 11, 2014
Sep
11
By
Joe DeMartino
| ESPN.com
There is nothing more adorable on this planet than a vicious, killer, man-eating animal that happens to be a baby. Baby bears, baby wolves, baby ... well, maybe not baby scorpions, but you get the idea. The Blue Jays found this out firsthand Tuesday, as pitcher Mark Buehrle brought the animals to their clubhouse after he met the owner of a zoo:
Need to hang out with this little guy from now on whenever I pitch pic.twitter.com/eAthTXKMVy

— Drew Hutchison (@1DrewHutch) September 11, 2014
After meeting the tiger and lion cubs and probably making all sorts of embarrassing but totally understandable cutesy voices at them, the Blue Jays went out and demolished the Cubs 11-1, with starting pitcher Drew Hutchison striking out 10. We are totally not envious at all. The preceding sentence was a humongous lie.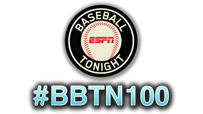 How do the top first basemen in Major League Baseball stack up? That question has been answered by our experts in the latest installment of the "Baseball Tonight" 100 (#BBTN100), a project to rank the top players across all 30 teams. We'll reveal a new position each day and unveil the overall 1-100 rankings March 27.
Do you agree with the experts' take on first basemen? Simply click on the images of the top 10 below to submit your ballot.


Rank: #BBTN100 First Basemen
Miguel Cabrera

Miguel Cabrera
Detroit Tigers
BBTN Rank: 1
Joey Votto

Joey Votto
Cincinnati Reds
BBTN Rank: 2
Paul Goldschmidt

Paul Goldschmidt
Arizona Diamondbacks
BBTN Rank: 3
Joe Mauer

Joe Mauer
Minnesota Twins
BBTN Rank: 4
Chris Davis

Chris Davis
Baltimore Orioles
BBTN Rank: 5
Freddie Freeman

Freddie Freeman
Atlanta Braves
BBTN Rank: 6
Prince Fielder

Prince Fielder
Texas Rangers
BBTN Rank: 7
Adrian Gonzalez

Adrian Gonzalez
Los Angeles Dodgers
BBTN Rank: 8
Edwin Encarnacion

Edwin Encarnacion
Toronto Blue Jays
BBTN Rank: 9
Allen Craig

Allen Craig
St. Louis Cardinals
BBTN Rank: 10
Your Rankings
1.

2.

3.

4.

5.

6.

7.

8.

9.

10.