SportsNation Blog Archives

St. Louis Cardinals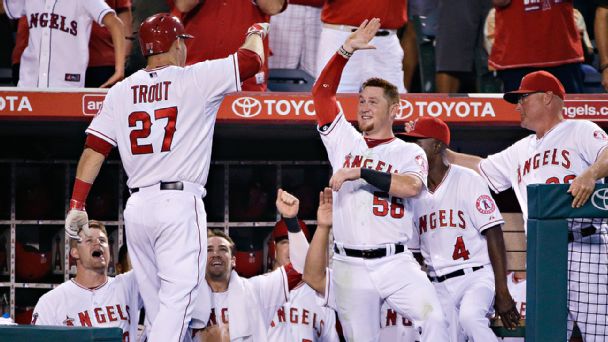 AP Photo/Jae C. Hong
Early MLB playoff predictions
MLB playoff-clinching season is here. The Los Angeles Angels snagged a playoff spot Monday and later locked up the AL West. The Baltimore Orioles and Washington Nationals cemented their respective division titles Tuesday. Meanwhile, it appears the wild-card races are the most competitive, with each league seemingly embroiled in a three-way scrape for two spots. How will it all play out?
AP Photo/Jeff Roberson

Tony La Russa in the Hall of Fame?

Three-time World Series champion manager Tony La Russa will be inducted into the Baseball Hall of Fame on Sunday, albeit with some of the same criticisms and questions that surrounded the Hall of Fame campaign of his most prodigious player, Mark McGwire.

There is no debating that La Russa perfected the art of managing in leading three different teams to World Series titles (the A's in 1989, Cardinals in 2006 and 2011) while racking up 2,728 wins, the third-most all time. But 43 percent of those wins came via the likely chemically induced home run output of McGwire -- the same McGwire who has been denied entry into the Hall of Fame by voters who believe his accomplishments are tainted.

La Russa has said he believes steroid-tainted players should be in the Hall of Fame, but with an asterisk, and that managers should perhaps have the same fate. Do you agree?

Getty Images

MLB second half predictions?

The MLB's second half is upon us, and only two teams have leads of more than 1.5 games in their respective divisions. In other words, this should get intense. Who will win all the divisions? The leagues? The World Series? Cast your votes below!

Rob Carr/Getty Images

Trout MVP in Jeter's final ASG

Beloved New York Yankees shortstop Derek Jeter helped the American League to a 5-3 All-Star Game win Tuesday night, going 2-for-2 with a double and a run in his final Midsummer Classic. MVP honors, however, went to the almost-undisputed best player in baseball, Mike Trout; the Los Angeles Angels outfielder went 2-for-3 with a double, triple and two RBIs -- including the game-winner. St. Louis Cardinals pitcher Adam Wainwright, meanwhile, stirred some controversy by saying he intentionally took it easy on Jeter (he later walked back a bit on his comments). Did Jeter get snubbed? Do you have a problem with Wainwright?