SportsNation Blog Archives

Albert Pujols
On Wednesday, "First Take" brought in special guest Tony La Russa to discuss long-term deals in baseball. The Rangers have a decision to make about Josh Hamilton, and potentially could lock him up for many years to come. La Russa said he wouldn't give more than a five- or six-year deal to a player of any caliber, citing the Angels' 10-year deal with Albert Pujols as one that was not worth the risk. Both Stephen A. Smith and Skip Bayless agreed. What's your take?
Albert Pujols hit his 450th career home run in a win over the Mariners on Thursday. Is he finally coming around?
dollarbill8: "You knew Albert was going to get going. He'll still hit .300 with 30HRs and we'll call it an off year, that he is losing a step, hahahaha"
shufelt: "Look out - his slugging percentage is almost .360! I like Pujols, but his season so far is incredibly bad......I didn't see this coming."
skylers79: "Great accomplishment for him and their pitcher but as of right now he is considered a waste of money with his numbers. Sort of like Jose Reyes....waste of money with his numbers too. He needs to drastically up his game and fast"
Shademan2: "So will the Angels end up paying Albert more or less than $1,000,000 per home run?"
Teresa2992: "here is no way he is going to be able to perform up to the amount of that contract in my opinion. He is still a good players and has a few years left, but I think the Angels overpaid."
pholtos: "I see Pujols is finally starting to see AL pitching all right now."



Join the conversation or respond by signing in or creating a profile and blogging.
His older brother almost had one back in the day, but Jered Weaver's no-hitter wasn't broken up in the late innings by a fly ball to right field like Jeff Weaver's was in 2002. Weaver's no-hitter is the second so far this season, trumped only by Philip Humber's perfect game. Humber's result might have been rarer, but Weaver's future seems brighter -- he's the Angels' ace and much more likely to follow up on his success. Is he a truly elite pitcher?
---
Weaver's rank?
Weaver's stats this season: 4-0, 1.61 ERA, 0.78 WHIP, 45 strikeouts, and one no-hitter.

---
Surprise result?
For once, the big story in Los Angeles wasn't how Albert Pujols has yet to hit a ball out of the park.

---
Playoffs for Angels?
The Angels are 10-15, which doesn't put them out of the playoff race yet, but it'll be tough to overcome the Rangers in their own division.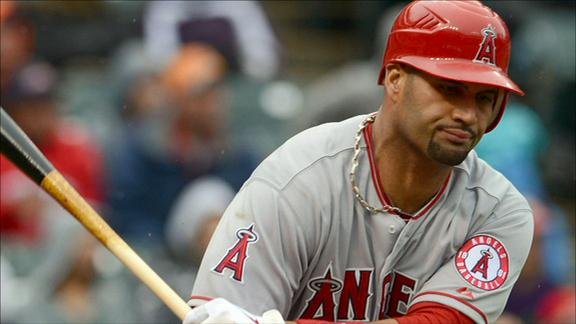 Albert Pujols ended April with no home runs -- his current homerless streak extends to 29 games, counting last season. Will his power outage continue?
markpringle2003: "We know that in baseball the numbers usually come around, however Pujols is 32 years old...not terrible for baseball...but it makes me wonder if things will even out for him so that he's worth what they are paying him. "
jooo83: "The Angels overpaid for Albert Pujols but one bad month doesn't prove anything."
MrMacross: "Based on last season's numbers, I figured he was in the decline phase of his career, but I didn't expect him to have a month this bad so quickly into his Angels career."
sonnysdesign: "happened to Ortiz a few years back. all the talk of "over the hill, release him" .still ended up with 30 or so. All forgotten now."
pcproam: "If the Angels were winning this would be moot. AP has been on base EVERY game this year. He quietly had a 10 game hit streak. The Angels are junk. Bullpen is junk. AP will be fine. "
bmyfive: "This will prove to be one of the worst free-agent signings in baseball history."



Join the conversation or respond by signing in or creating a profile and blogging.
Here is a short list of Angels players who have a higher OPS than Albert Pujols: Maicer Izturis, Chris Iannetta, Mark Trumbo, Vernon Wells, Howie Kendrick. Take heart, Angels fans; he's beating Erick Aybar by a single point. Obviously, this isn't going to last all season, but Pujols has gone almost all of April without hitting a home run, which has to be somewhat perplexing for the team that paid him (we're estimating here) eleven hundred trillion dollars to be their franchise player for the next decade. Should the team be in panic mode about Pujols' slow start?
---
Fans worried?
The Angels' offense is markedly unimpressive past Pujols, but when he's not hitting, it's just plain bad.

---
Home run total?
Pujols' lowest single-season home run total for his entire career is 32, all the way back in 2007.

---
Decline phase?
It's a rare player who gets better the further he advances into his 30s. Pujols is 32 years old, and the Angels likely will have him for the remainder of his career.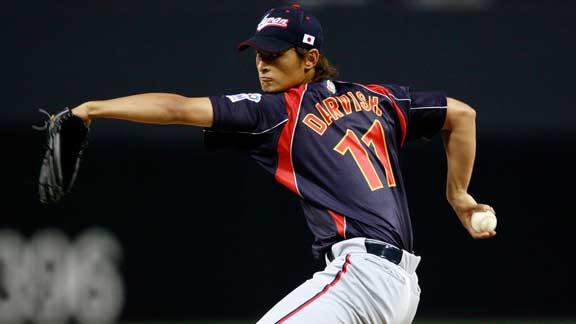 ---
Darvish's future?
The Texas Rangers signed Yu Darvish shortly before the 4 p.m. CT deadline, meaning he'll be in a Rangers uniform and pitching in the States to start this season.

---
Best in the West?
The Rangers may have needed to sign Darvish just to keep up with the Los Angeles Angels of Anaheim, who signed Albert Pujols in the offseason ...

---
Wilson or Darvish?
... and also stole ace C.J. Wilson from Texas. Wilson is a proven commodity in the majors, but Darvish's potential is thought to be nearly limitless.

---
Power struggle?
The AL East has been the home of baseball's model franchises over the past decade, but the Pujols and Wilson deals, plus the Darvish signing, could signal a changing of the guard.

The Miami Marlins already have one of the best shortstops in baseball, but it looks like they'll enter 2012 with one extra. The Marlins have agreed to a six-year, $106 million contract with longtime Met Jose Reyes, who will supplant the incumbent Hanley Ramirez at shortstop. Ramirez will move to either third base (most likely) or center field, which would give the Marlins one of the best left sides of the infield in baseball. If their reported interest in Albert Pujols comes to fruition, however, they might end up sporting one of the best infields (period) of all time, and a Big Three to rival that other Miami team.
"They overpaid for Reyes because he'll never have the season he had last season again." -- SN commenter TommyNJ
"Although I'm a Marlins fan, I highly doubt that Pujos is going to leave the Cardinals. I would be very excited to have him on our team, but I would also be sad that he couldn't finish out his career in St. Louis. " -- SN commenter sejope87
---
Was the contract fair?
Reyes had an astoundingly productive 2011 season, but the contract will take him through a few of his decline years.

---
Who's more valuable?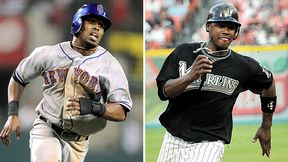 Ramirez has been a better hitter than Reyes over the course of their careers, but his move to third could mean that his bat is no longer a unique asset.

---
Will Pujols sign?
Albert Pujols has a number of suitors, but at this point, the Cardinals and Marlins seem to be the two front-runners.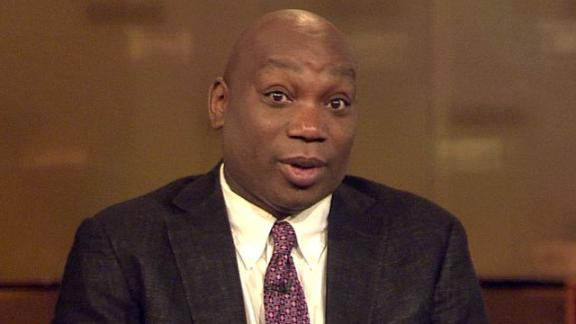 On the off chance that Albert Pujols does end up leaving St. Louis, Cardinals fans can take solace in the fact that they got one more World Series out of the guy before his untimely exit. That would be cold comfort to a team that would be losing one of the game's greatest players, but hey, it's something. The Cardinals seem to be making a pretty big push for Pujols, although he recently met with the Marlins to talk contract details. Any deal that would realistically get Pujols to sign on the dotted line would have to be a) long and b) expensive, so whichever franchise wins the Pujols sweepstakes will be on the hook if he experiences a drastic decline.
More: Is Pujols the best first baseman on the market, or would Prince Fielder suffice?
---
Long-term deals?
Any realistic contract for Albert Pujols will likely take him into his forties. If anyone can still be a productive player close to retirement, it's Pujols, but it's always a risk to rely on older players.

So, that Albert Pujols. He's pretty good, right? Hits home runs, walks a lot, even runs the bases really well. We knew all these things before, but after he hit three home runs in Game 3 of the World Series, it put his greatness into sharp relief. When you get yourself on a list populated by exactly two people, and one of them is Babe Ruth, well, mere words don't really seem to be satisfactory. You would almost be forgiven for ignoring the fact that Pujols went 0-4 in Game 4. Funny game, isn't it?
"They called his first home run at 429 feet. But that was where it was stopped by an abutment. Otherwise, that ball ends up about 525 feet away for sure. Barry Bonds juiced could turn on a high fastball like that. I once saw Ted Williams turn on an Allie Reynolds fastball just like that (3rd Deck, Yankee Stadium). But it doesn't happen often." -- SN commenter JimInNashville
"What I saw Albert do in game 3 was jaw dropping! Has to be one of the greatest single athletic performances ever-regardless of what the sport is! " -- SN commenter Steve610686
---
Where does Pujols rank?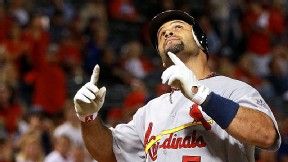 Reggie Jackson, Babe Ruth and Albert Pujols are the only men to have hit three home runs in one game in a World Series. That's a pretty amazing individual accomplishment, but Pujols isn't a one-hit wonder in the postseason.

---
Clutch or business as usual?
Pujols' regular-season OPS is 1.037. His postseason OPS in 71 games is 1.058. That's not a significant difference, but is it enough for you to anoint Pujols a clutch god?

---
Game 5 winner?
Derek Holland shut down the Cardinals in Game 4, tying the series at two games apiece. Chris Carpenter takes on C.J. Wilson in Game 5.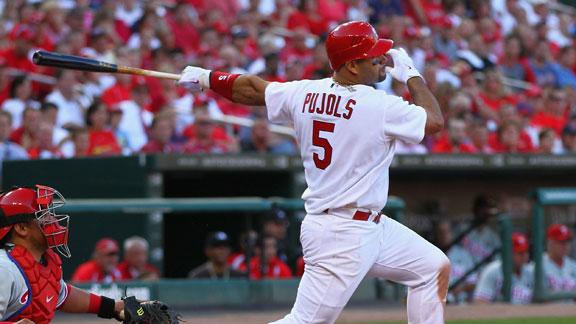 Sure, there is the small matter of a spot in the World Series on the line as Albert Pujols and Prince Fielder trade home runs in the NLCS, but there's also the big matter of impending free agency. Or at least the matter of big money in free agency. Pujols won the day in Game 2 with five RBIs, but who is the prize this winter?
"Albert is a Legend. While he, as he said, has been blessed with this talent, we cardinal fans have been blessed to have him on our team for ten years. If STL doesn't resign him, the organization will forever be known as the one that let the best player in baseball get away. And the fans will NEVER forget it." -- SN commenter Hogphan919
"If Pujols really wants $30 million per for 10 years, I hope the Cardinals don't re-sign him. I'm sorry, but we Cardinals fans are 'blessed' to have a front office that rewards the loyalty of its fans by actually spending on team payroll." -- SN commenter AnthonyP005
---
Who is a bigger prize this winter?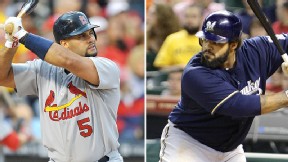 Pujols has a better track record, but is that exactly why the younger model of slugger may be preferred?

---
Who is better right now?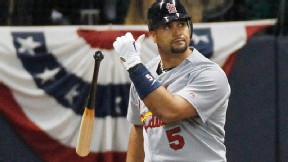 Pujols is hitting .414 with a 1.176 OPS, one home run and six RBIs this postseason. Fielder is hitting .333 with a 1.300 OPS, three homers and six RBIs.

---
What does the future hold?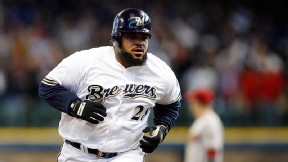 Fielder recently acknowledged this is likely his final season with the Brewers, but would a change of heart surprise you more than a change of scenery for Pujols?