SportsNation Blog Archives

Earl Thomas
Happy Mother's Day! Here's hoping you sons out there didn't forget. A number of athletes sure didn't, taking to social media to share photos and deliver special messages to some of the most important women in their lives.
Kevin Durant, whose emotional NBA MVP acceptance speech included much love for his mother, Wanda Pratt, shared this powerful image before his Oklahoma City Thunder took on the Los Angeles Clippers in Game 4 of their Western Conference semifinal:
Teammate Russell Westbrook was among many other NBA stars to take time out -- some from their still-active playoff runs -- to show their love. Also among them: Paul George, the Indiana Pacers All-Star whose mother, Paulette, suffered a stroke when he was 10.
In the NFL, Seattle Seahawks Pro Bowl safety Earl Thomas paid tribute to his mother, Debbie, a cancer survivor who was diagnosed two years before Earl was born (she calls him her "miracle baby"):
San Francisco 49ers quarterback Colin Kaepernick sent a greeting to his mother and sister, while teammate NaVorro Bowman got his mom quite the gift:
Newly minted draft picks Sammy Watkins and Carlos Hyde joined NFL players Cameron Jordan and Chance Warmack in talking about their favorite mom-related memories:
Courtesy of Relativity Sports
And on the baseball diamond, where teams throughout Major League Baseball are using pink balls, bats, cleats and other accessories, the Milwaukee Brewers' Carlos Gomez went an extra step to show love for all the moms of the world: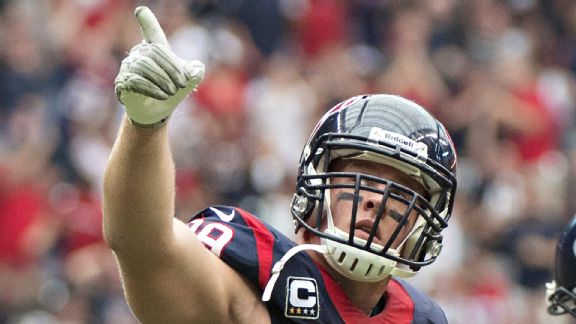 George Bridges/Getty Images
J.J. Watt's 2012 season was one for the ages -- he had 20.5 sacks and an astounding 16 passes defended as opposing quarterbacks quailed at the site of him across the line of scrimmage. His stats this season aren't quite as good, but they still place him in the running for the AP NFL Defensive Player of the Year award. Has he had a better season than the likes of Robert Mathis or Richard Sherman? Submit your rankings!


Defensive Player of the Year
Vontaze Burfict

Vontaze Burfict
Bengals LB
151 tackles, 8 passes defensed, 1 sack, 1 INT, 1 forced fumble
Lavonte David

Lavonte David
Buccaneers LB
126 tackles, 9 pass defenses, 6 sacks, 5 INTs, 2 forced fumbles
Luke Kuechly

Luke Kuechly
Panthers LB
122 tackles, 3 INTs, 2 sacks
Robert Mathis

Robert Mathis
Colts DE
49 tackles, 16.5 sacks, 6 forced fumbles
Robert Quinn

Robert Quinn
Rams DE
46 tackles, 15 sacks, 7 forced fumbles
Richard Sherman

Richard Sherman
Seahawks CB
34 tackles, 6 INTs
Earl Thomas

Earl Thomas
Seahawks FS
93 tackles, 5 INTs, 2 forced fumbles
J.J. Watt

J.J. Watt
Texans DE
69 tackles, 9.5 sacks, 6 pass defenses, 3 forced fumbles
Your Rankings
1.

2.

3.

4.

5.

6.

7.

8.

Two of Earl Thomas' 10 tackles came as the Seahawks made a goal-line stand in the final seconds of a 14-9 win over the Rams. Calvin Johnson set a Lions franchise-record with 329 receiving yards against the Cowboys, just seven yards shy of the NFL single-game receiving record. Both players had MVP-worthy performances, but where does their output rank among other deserving candidates? Below are the 10 players NFL Nation reporter Dan Graziano has in his weekly MVP watch. Click the images below to set your own rankings!


2013 NFL MVP Watch

Drew Brees

Drew Brees
Saints QB
2,290 yards, 19 TD, 5 INT, 67.5 CMP%
Jamaal Charles

Jamaal Charles
Chiefs RB
153 ATT, 635 yards, 6 TD

Andy Dalton

Andy Dalton
Bengals QB
2,249 yards, 16 TD, 7 INT, 65.6 CMP%

Calvin Johnson

Calvin Johnson
Lions WR
47 REC, 821 yards, 7 TDs
Andrew Luck

Andrew Luck
Colts QB
1,574 yards, 10 TD, 3 INT, 60.7 CMP%
Peyton Manning

Peyton Manning
Broncos QB
2,919 yards, 29 TD, 6 INT, 71.2 CMP%

Philip Rivers

Philip Rivers
Chargers QB
2,132 yards, 15 TD, 5 INT, 73.9 CMP%

Aaron Rodgers

Aaron Rodgers
Packers QB
2,191 yards, 15 TD, 4 INT, 67.1 CMP%

Tony Romo

Tony Romo
Cowboys QB
2,216 yards, 18 TD, 5 INT, 66.1 CMP%

Earl Thomas

Earl Thomas
Seahawks S
53 tackles, 2 forced fumbles, 4 INT
Your Rankings
1.

2.

3.

4.

5.

6.

7.

8.

9.

10.

Darrelle Revis, the NFL's premier cornerback for several recent seasons, relocated to Tampa in the offseason. Ed Reed, long one of the league's top safeties, also moved. Troy Polamalu, another standout defensive back, stayed put as he attempts to fight off recent injury issues. Are these three stalwarts still the league's best? Or has football's younger DB generation taken over? Click on the images below to set your rankings!
Rank 'Em: MVP | QBs | RBs | WRs | TEs | DLs | LBs | Offensive ROY | Defensive ROY


NFL DBs in 2013
Champ Bailey

Champ Bailey
Broncos
2012: 66 tackles, 2 INT

Eric Berry

Eric Berry
Chiefs
2012: 86 tackles, INT
Jairus Byrd

Jairus Byrd
Bills
2012: 76 tackles, 4 FF, 5 INT
Antonio Cromartie

Antonio Cromartie
Jets
2012: 35 tackles, 3 INT
Brandon Flowers

Brandon Flowers
Chiefs
2012: 48 tackles, sack, 3 INT
Dashon Goldson

Dashon Goldson
Buccaneers
2012: 69 tackles, FF, 3 INT
Joe Haden

Joe Haden
Browns
2012: 51 tackles, FF, 3 INT
Johnathan Joseph

Johnathan Joseph
Texans
2012: 57 tackles, 2 INT
Patrick Peterson

Patrick Peterson
Cardinals
2012: 55 tackles, 7 INT
Troy Polamalu

Troy Polamalu
Steelers
2012: 34 tackles, sack, INT
Ed Reed

Ed Reed
Texans
2012: 58 tackles, 4 INT
Darrelle Revis

Darrelle Revis
Buccaneers
2012: 11 tackles, FF, INT
Richard Sherman

Richard Sherman
Seahawks
2012: 64 tackles, 3 FF, sack, 8 INT
Earl Thomas

Earl Thomas
Seahawks
2012: 66 tackles, FF, 3 INT

Charles Tillman

Charles Tillman
Bears
2012: 86 tackles, 10 FF, 3 INT
Eric Weddle

Eric Weddle
Chargers
2012: 97 tackles, sack, 2 FF, 3 INT
Your Rankings
1.

2.

3.

4.

5.

6.

7.

8.

9.

10.

11.

12.

13.

14.

15.

16.

Tags:
SportsNation Rank, NFL, Denver Broncos, Champ Bailey, Kansas City Chiefs, Eric Berry, Buffalo Bills, Jairus Byrd, New York Jets, Antonio Cromartie, Brandon Flowers, Joe Haden, Cleveland Browns, Houston Texans, Johnathan Joseph, Arizona Cardinals, Patrick Peterson, Dashon Goldson, Tampa Bay Buccaneers, Troy Polamalu, Ed Reed, Darrelle Revis, Richard Sherman, Seattle Seahawks, Earl Thomas, Charles Tillman, Chicago Bears, Eric Weddle, San Diego Chargers
marcelluswiley

Marcellus Wiley


At UCLA Soccer camp w/my daughter. Ran into my friend & Director of Nutrition at UCLA Emily & the lil… http://t.co/5zaNxGsFv5
8 minutes ago

MichelleDBeadle

Michelle Beadle


A reminder: @jordanhardin5 can breed. Enjoy the evening.
33 minutes ago

jordanhardin5

Shecky Shabazz


From espn's Michelle beadle because I said I wouldn't want to play football with ***** either. She also blocked me lol http://t.co/zPyRtPlKPh
34 minutes ago

wadebeckett

Wade Beckett


Best press photo of 2014 belongs to Seattle's Shabazz Palace. http://t.co/fqV25g9DKo cc: @marcelluswiley @LukeWahl @bernardosays
52 minutes ago

Max_Kellerman

Max Kellerman


.@Im_gr8nss @Woodsy1069 @loudibella Bill James makes case for Oscar Charleston (Negro Leagues) as greatest CF ever.
about an hour ago

Max_Kellerman

Max Kellerman


.@MannyFresh223 potato, maybe
about an hour ago

Max_Kellerman

Max Kellerman


.@_johncarlo use any stat you want
about an hour ago

Max_Kellerman

Max Kellerman


.@Woodsy1069 @loudibella not at all similar. Baseball lends self to statistical analysis (& Mantle & Mays played in same era).
about an hour ago

Max_Kellerman

Max Kellerman


.@BostonBruins28 @loudibella when talking Eli Manning, sure. Not on this subject, though.
about an hour ago

Max_Kellerman

Max Kellerman


.@loudibella agreed. Mays > Mantle career v career also uncontroversial.
about an hour ago

Max_Kellerman

Max Kellerman


.@HuckleberryMD @Trouty20 Trout most accomplished of 3 at same age.
about an hour ago

Max_Kellerman

Max Kellerman


.@Max_Kellerman ironmikegallego @RoldBoxing @sum1onelse @SportsNation duh, Creed.
about an hour ago

Max_Kellerman

Max Kellerman


.@mobodada @marcelluswiley so use win shares, or PER, or post season performance, or anything you want. Answer always same: Jordan.
about an hour ago

Max_Kellerman

Max Kellerman


.@loudibella my opinion based on evidence. Yes stats, which are records of events, after all.
about an hour ago

Max_Kellerman

Max Kellerman


Mantle v Mays? Here: http://t.co/QnvaulIAPU
about an hour ago

Max_Kellerman

Max Kellerman


.@Im_gr8nss difficult for you to understand? There are many RBs more well rounded than AP, don't make them better.
about an hour ago

Max_Kellerman

Max Kellerman


.@sum1onelse @RoldBoxing @Studhardt22 @marqc4 @MyClippers @SportsNation those days never existed. Only Babe Ruth.
about an hour ago

Max_Kellerman

Max Kellerman


.@loudibella @SFGiants not everything, but this is. Prime not close.
about an hour ago

Max_Kellerman

Max Kellerman


.@ Im_gr8nss Mays more well rounded, yes, but Mantle better. Period. Uncontroversial.
about an hour ago

Max_Kellerman

Max Kellerman


.@TheIceIsFake @RoldBoxing @Im_gr8nss @Studhardt22 @marqc4 @MyClippers @SportsNation Trout greatest ever at his age. Now can he keep it up?
about an hour ago