SportsNation Blog Archives

Derek Jeter
September 11, 2013
Sep
11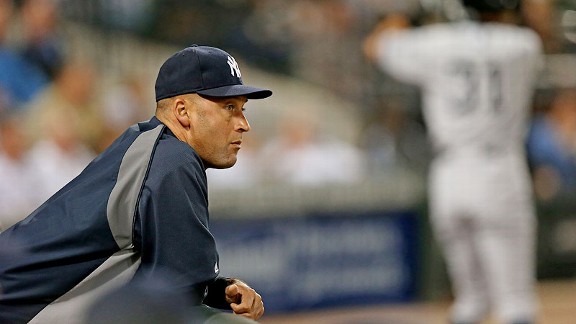 Jonathan Daniel/Getty Images
Jeter hits DL, season likely over
His season was not as tumultuous as a certain Yankee teammate's, but Derek Jeter's 2013 is a year to forget. And it's over -- "effectively," says New York GM Brian Cashman -- after No. 2 made his third trip to the DL on Wednesday, still struggling with injuries related to a broken ankle. Jeter, 39, hit just .190 with one home run in 17 games this season, splitting time between shortstop and DH. What does the future hold for the captain?
There were two elephants in the room with Alex Rodriguez in his season debut on Monday night -- the pressure of getting his first hit out of the way after such a long absence, and that whole suspension thing. Fortunately for A-Rod, the first elephant is gone, as he singled in his first at-bat. The second one, however, will be there for quite some time. It's something of an odd sight, seeing Rodriguez playing as though everything is normal when he's one dropped appeal from being persona non grata until 2015. Yankees fans are presented with something of a dilemma: Say A-Rod hits a walk-off home run in an important game. Would cheering be appropriate? Maybe they could settle on polite applause.

---

Suspended man walking

The remainder of this season could be the last time Alex Rodriguez suits up in a major league uniform for a very long time.

---

Cheer or boo?

Rodriguez received boos from White Sox fans on Monday night, but his being booed by opposing crowds is nothing new.

---

---

Jeter or A-Rod?

Derek Jeter's season has been progressing in fits and starts, while Rodriguez, though under the cloud of a lengthy suspension, seems to have made a full recovery.

---

Derek Jeter returns to DL

Just when the Yankees were finally getting good news on the injury front with the imminent return of slugger Alex Rodriguez, the Bronx Bombers received another blow when they placed Derek Jeter back on the DL retroactive to July 12, just one game into his return after suffering a broken ankle last season. New York could use the help of the face of the Yankees, as shortstop continues to be the team's least productive position.

Derek Jeter has been an excellent hitter for a long time, so it's no surprise that he's pretty high up on the list of Major League Baseball's career leaders in hits. He's in some esteemed company; nearly every player on the list is a Hall of Famer, and the one that isn't is out for off-field reasons. Jeter's ultimate position on the list is still in flux, but can you name the top 20? Take our quiz now!

Check out more quizzes in our Quiz Archive!

An ovation, an infield single (so gritty!) and an early exit; things went mostly as planned in Derek Jeter's return on Thursday. Unfortunately for the Yankees, their longtime captain might end up spending a little more time on the DL. He'll be able to play today, but an MRI to examine his quad tightness isn't exactly good news for the Yankees and their fans. He could have just as easily reinjured himself playing in AAA, but dealing in hypotheticals won't un-tighten his quad.

---

Rushed return?

The Yankees are treading water in the AL East, but waiting a little while longer to bring Jeter back might have been prudent.

Preston Thigpen: " Why would they just not wait until after the All-Star game to bring him back? It's what like 4 games?"
Griffin Jones: "He did score a run and drove one in after not playing all season - thats a pretty good result for his first game back, getting hurt doesn't mean it was a bad comeback start."
Patrick Han: "Jeter should retire already. So many debilitating injuries for him lately. Plus the fact that it takes longer to heal from injuries since he's in his late 30's. Him and A-Rod both need to retire. They aren't nearly as productive as before and are extremely injury prone now due to age."
LuisFe Carrazana: "I knew this would happen...he rushed the comeback, and Cashman allowed it."
David Christopher Turkowski: "It's just tightness. He already said he feels good enough to go tomorrow. Glad to see Jeter back out there. Not a Yankees fan but baseball didn't seem quite the same without him. Classy guy all the way."