SportsNation Blog Archives

Osi Umenyiora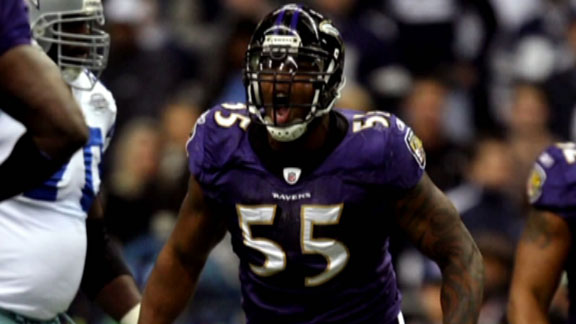 If you're going to sign a guy to a six-year, $63 million contract, do it the day after a team gave the same contract to a quarterback who never started a game in college.
A moral of limited use in your everyday life? Perhaps, but that's apparently the lesson SportsNation is offering in the wake of the Ravens' keeping pass-rusher extraordinaire Terrell Suggs in the fold for the next six seasons (hypothetically, at least, given the nature of NFL contracts; let's just say voters aren't sure he'll be around in 2015).
But if the 'Nation thinks Suggs is a safer investment than Matt Cassel, does it mean he's one of the best pass-rushers in the NFL? Because if that's the only qualification, Citibank might be one of the NFL's best pass-rushers.
"

D. Ware is smiling from ear to ear right now. He should send Suggs a thank you card.

"

-- Ashy-Larry
"

That's a lot of pressure to perform. You know the more you earn the more the company and people expect from you, except if you're a CEO of a company that deals with mortgages, stocks, or any other financial institution.

"

-- sfirx
BEST OF THE BEST
George vs. James?
Who has a better shot at winning the NBA MVP award -- Paul George, or LeBron James? Vote! »