SportsNation Blog Archives

NCF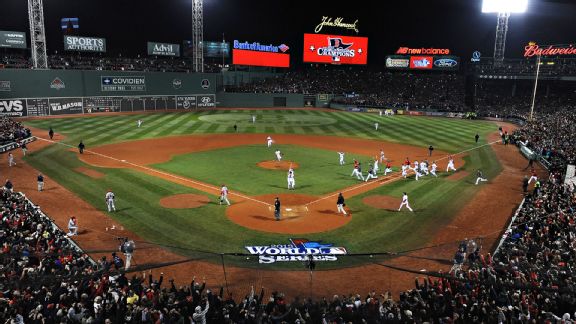 Rob Tringali/Getty Images
Football at Fenway?
Fenway Park hasn't hosted a football game since the Johnson administration, but that's all set to change in 2015. Boston College and Notre Dame will play a game at the venerable ballpark, following the example of football games being played at Wrigley Field and Yankee Stadium. Fenway's quite a bit smaller than your typical college football venue, but it's always interesting to see the typical formula shaken up a bit. We'd love to see what the Monster Seats end up going for at this one.
Jameis Winston hoisted the Heisman Trophy on Saturday, joining the ranks of college football's greatest players. The award isn't always a ticket to NFL stardom, however; for every Barry Sanders, there's an Eric Crouch. The 10 winners prior to Winston have experienced varying degrees of NFL success. Can you name them all?

Here is an uncontroversial statement: Jameis Winston is very probably going to win the Heisman Trophy. What's controversial is Winston's candidacy itself. Though his play on the field is top-notch, the fact that he was accused (although not charged) of a sexual assault has cast something of a pall over the proceedings. None of the other candidates have done enough to jump ahead of Winston in the voters' rankings, meaning he'll likely become the second straight freshman winner of the Heisman. Whether or not he should, of course, is still an open question.

AP Photo/Michael Thomas

Mack Brown stepping down?

It's been an interesting day in Austin, Texas. A report first surfaced that Mack Brown would resign his post as Texas Longhorns head coach ... then Brown refuted the story ... then a source told ESPN's Brett McMurphy that the Longhorns' coach of 16 years indeed would leave, likely by the end of the week. This could conclude a roller-coaster season for Brown and the Longhorns, who started 1-2 but ended up one win away from claiming the Big 12 title. It also could restart the speculation that Nick Saban might move from Alabama to Austin.

Getty Images

Which team will win the Fiesta Bowl?

Don't be put off by the lack of prestige traveling to Glendale, Ariz., this January. While Baylor and UCF aren't exactly renowned programs, each will relish its rare trip to a major bowl. The Bears haven't been to a big postseason contest in decades. The Knights? Never. The only thing that might make the Fiesta Bowl an uninteresting blowout is Baylor's offense; the nation's best scoring unit has been hard for everyone (except Oklahoma State) to stop. Can George O'Leary's group figure out a way?