SportsNation Blog Archives

NBA
This weekend, we brought you the stories of how Doc Rivers' Los Angeles Clippers used experts' predictions, including some from this site, as motivation in their first-round series against the San Antonio Spurs.
Apparently that isn't stopping in the Clippers' second-round series against the Houston Rockets. But this time, it's someone from the other team who is vowing to remember the picks.
@ESPNSteinLine @ramonashelburne @tomhaberstroh @kevinarnovitz extra motivation in our Wheaties this morning. ESPN does not believe in us!

— Daryl Morey (@dmorey) May 3, 2015
That, from Rockets general manager Daryl Morey, comes in response to this post, in which all five of our experts predict a Golden State Warriors-Clippers matchup in the Western Conference finals.
Furthermore, 12 of our 15 experts expect Chris Paul & Co. to outlast James Harden and the Rockets.
Stay tuned ...
The Los Angeles Clippers took down the San Antonio Spurs in a seven-game series that players sure loved.
But the Clippers weren't exactly favorites to advance to the second round of the NBA playoffs. In fact, before the series, coach Doc Rivers handed players one sheet of paper as motivation (read more about it here):
The sheet of paper Clippers players were given before their series against the Spurs. pic.twitter.com/QPSUOvQc3M

— Arash Markazi (@ArashMarkazi) May 3, 2015
Yes, those are predictions from nationally known analysts, including many of ESPN's own.
Guess the Clippers might be paying attention to this page a little more closely than we thought ...
Nobody wants to see their ex doing well after a breakup, especially if the other party was the one who decided they're just not that into you.
That much is true of the acrimonious complicated relationship between Seattle-area NBA fans and the Oklahoma City Thunder since their messy divorce in 2008. Those Seattle-loyal fans who proudly rocked Gary Payton, Shawn Kemp and Lenny Wilkens jerseys on game day no longer rock with the franchise after its move to Oklahoma City, and they took great joy throwing shade at the Thunder's failed postseason bid on social media Wednesday night.
Congratulations to the New Orleans @PelicansNBA on making the playoffs. And more importantly, preventing the OKC Thunder from making it.

- Seattle SuperSonics (@BringBackSonics) April 16, 2015
@Softykjr #Eliminated pic.twitter.com/9UfVEn8dj2

- Dan Boyer (@WildKingdumb) April 16, 2015
It didn't stop there. According to Twitter user @Mr10K, Kemp -- a Sonics legend and the NBA's frontcourt dunk god, pre-Blake Griffin -- took things a step further by co-hosting a Thunder elimination party at a local club Thursday night.
OKC thunder not-making-playoffs party hosted by Neema & Shawn Kemp tonight at Neumos with DJ Clinton Sparks pic.twitter.com/ibOsDG5CyG

- Neema Khorrami (@Mr10K) April 16, 2015
We weren't on the guest list, but sources tell us Kemp and several fans were observed making this sign whenever the Thunder were mentioned (not really, but you get it).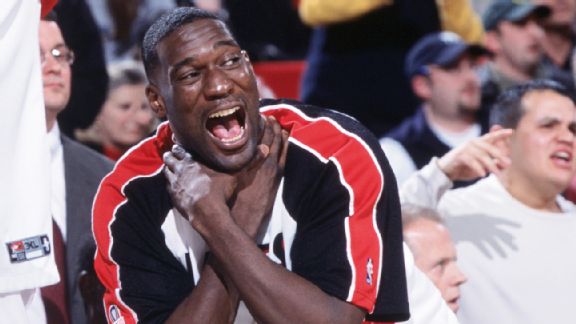 Sam Forencich/NBAE/Getty Images
Petty? Maybe. Salty? Of course. But we know how you feel, Seattle. Love hurts, love scars.
By
Kenny Legan
| ESPN.com
The hockey playoff beard is one of the greatest postseason traditions in all of sports. Whether your beard more closely resembles a bird's nest or a constellation, growing out facial hair in the spring is a mark of hirsute respect. It's so great, in fact, that we think every sport should adopt this annual passage of beard appreciation.
Here's what we imagine some NBA players would look like if they sported the playoff beard.
The hairy-faced assassin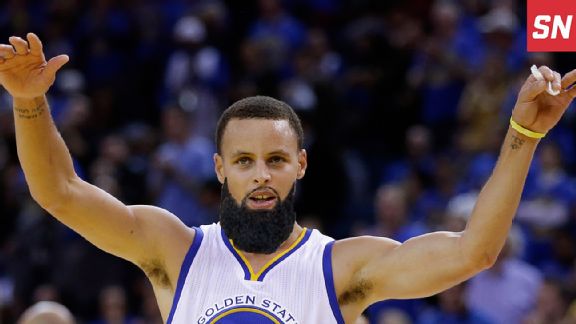 Getty Images/ESPN illustration
Tim Duncan still playing in 2058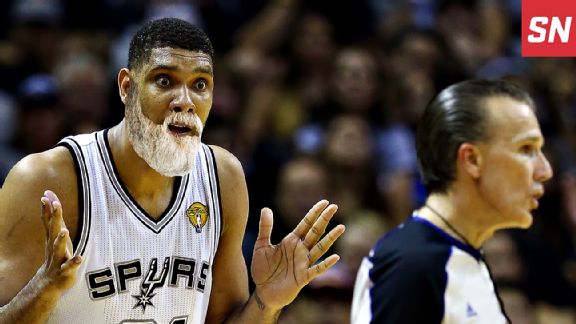 Getty Images/ESPN illustration
James Harden's beard grows its own playoff beard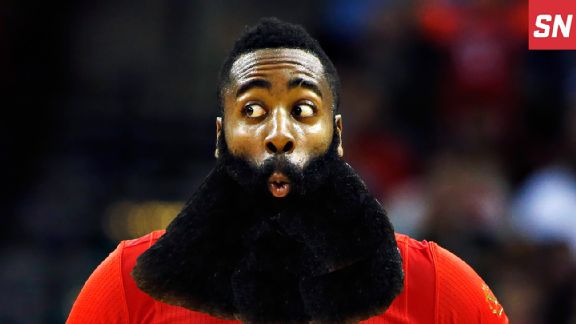 Getty Images/ESPN illustration
Kevin Can I Be A Part Of "Duck Dynasty" If Cleveland Doesn't Pan Out?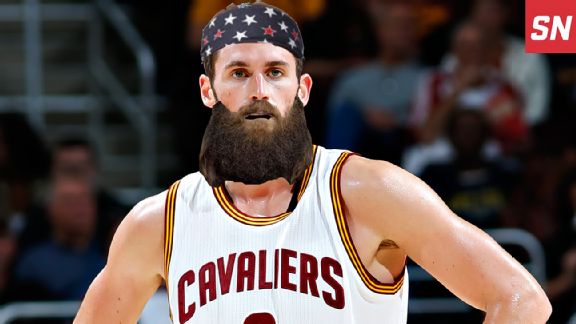 Getty Images/ESPN illustration
Joa-Khal Drogo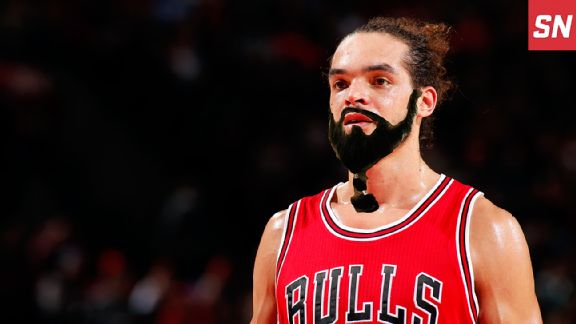 Getty Images/ESPN illustration
The 'stache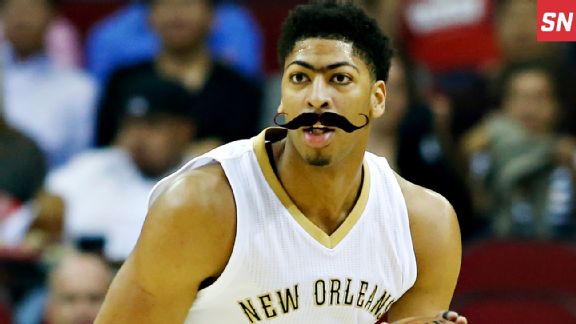 Getty Images/ESPN illustration
Ashton Korver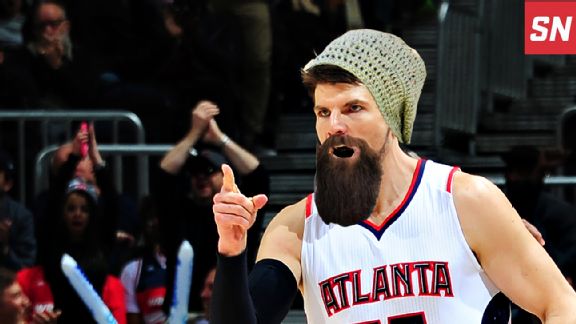 Getty Images/ESPN illustration
The mangy Maverick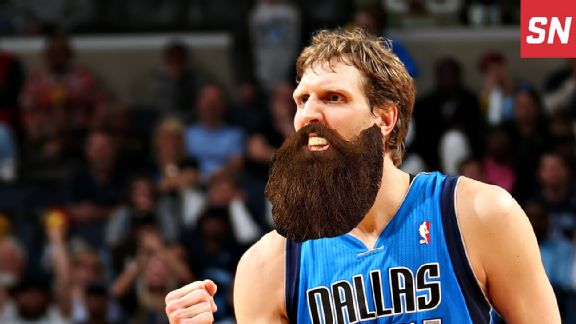 Getty Images/ESPN illustration
The playoffs are here. Long live the beards!
Russell Westbrook had an incredible statistical day Sunday: 54 points, nine rebounds and eight assists.
But other things did not go as well for the Oklahoma City Thunder star. His team lost 116-104 at the Indiana Pacers, which kept them behind the New Orleans Pelicans for the final Western Conference playoff spot because of the head-to-head tiebreaker. And the guard was called for the following technical, which will have him suspended one game, per NBA rules: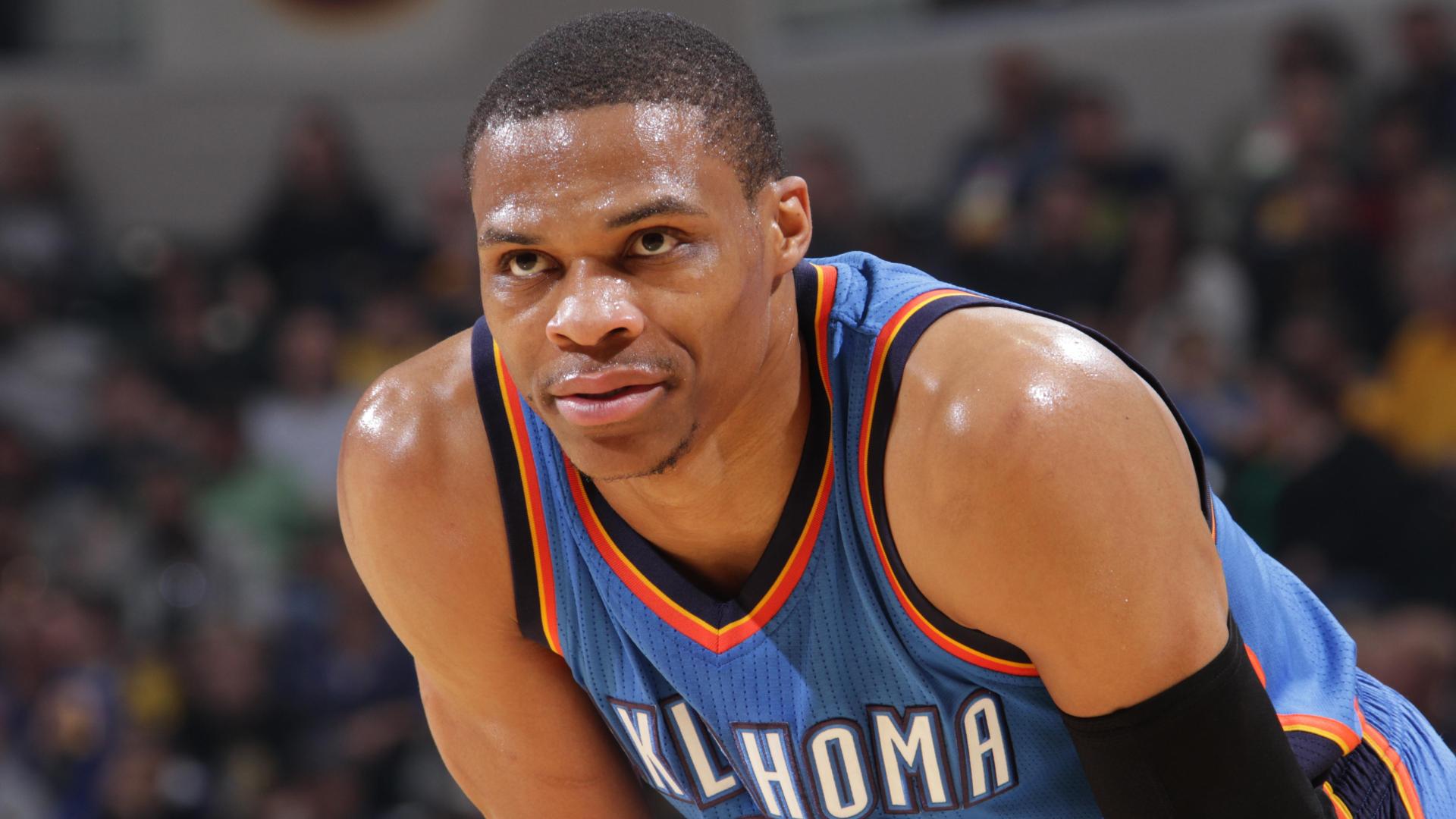 Westbrook's injured teammate, Kevin Durant, was apparently not happy with the call: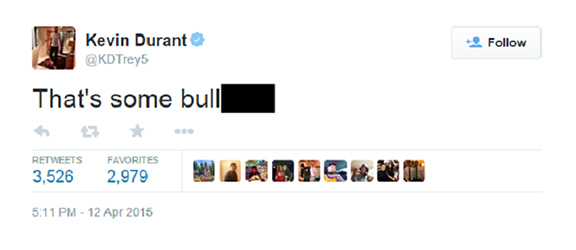 KDTrey5/Twitter
Durant, who has been rather outspoken of late, did not delete the tweet (at least as of this writing). He followed with another that showed how much it pains him to watch this playoff race from the sideline:
Good fight fellas! Love yall, let's get this one tomorrow!! #Imissgoingtobattlewiththemob

— Kevin Durant (@KDTrey5) April 13, 2015
If the technical isn't rescinded, Westbrook will miss Monday's home game against the Portland Trail Blazers. That game is followed by a visit to the Minnesota Timberwolves.
The Pelicans, meanwhile, also travel to Minnesota, then play host to the San Antonio Spurs.
Both teams are 43-37.
UPDATE: The NBA rescinded Westbrook's technical, meaning he will play Monday night.