SportsNation Blog Archives

NBA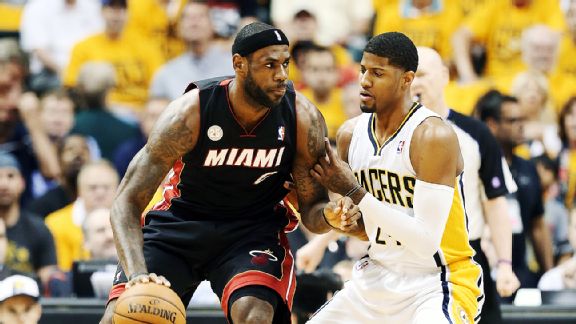 Andy Lyons/Getty Images
Which team wins -- Pacers or Heat?
Can a mid-December NBA game be a must-win? It just might be, thanks to the stakes involved in the Indiana Pacers-Miami Heat series. While no team has come close to these two in the Eastern Conference, home-court advantage appears to be all-important. And if the Heat don't defend AmericanAirlines Arena on Wednesday night (7 p.m. ET, ESPN), they'll be in an 0-2 head-to-head hole -- and trail the Pacers by three games in the standings. Making things murky: LeBron James (ankle) is a game-time decision.
Is Mike Woodson on thin ice?

Mike Woodson's already-precarious position with the Knicks became that much more untenable on Monday, as a coaching blunder resulted in an embarrassing loss to the Wizards. Woodson failed to call a timeout to set up a final play with 6.9 seconds to play and trailing by a point, despite New York having three timeouts to use. Carmelo Anthony thinks Woodson is safe for now, but with losses piling up, it's becoming more and more likely that the Knicks will have a new coach soon.

LaMarcus Aldridge goes off

Normally, it would be worth talking about a 32-point, 17-rebound performance from Dwight Howard, but not today. Instead, we're marveling at LaMarcus Aldridge scoring 31 points and grabbing 25 rebounds in a 111-104 win over the Rockets. Aldridge has really come into his own this season; through 23 games, he's averaging 23.5 points and 10.6 rebounds per game, both far above his career averages. If he keeps this up -- and the Trail Blazers remain atop the tough Western Conference -- he might be in line for the NBA's top award.

AP Photo/Mark J. Terrill

What's up in Western Conference?

If the Minnesota Timberwolves were in the Eastern Conference -- like, say, their neighbors the Milwaukee Bucks -- they'd be fourth, with an 11-12 record. Instead, the Kevin Love-led team is in the West ... where it's 11th. And just half a game out of 13th. Tough conference, eh? Which teams will come good?

Ron Hoskins/NBAE/Getty Images

Who wins East -- Heat or Pacers?

There's not much going on in the Eastern Conference outside of the Heat and Pacers, which made Tuesday night's game in Indiana a must-watch. And it didn't disappoint; the home team won 90-84. This shouldn't surprise; Pacers came close to knocking off the Heat in last season's playoffs, and the way they're playing this season, it's not clear that Miami would have the home-court advantage this time around. Paul George might even be able to challenge LeBron James' MVP hegemony -- although, as in all things NBA pre-New Year's Day, it's still quite early.