SportsNation Blog Archives

Tiger Woods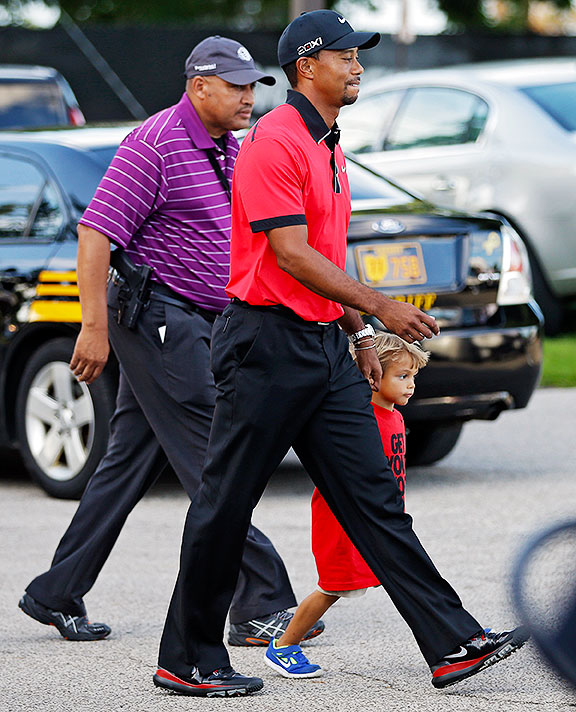 AP Photo/Mark DuncanTiger Woods and son Charlie leaving the 2013 Bridgestone, presumably going to a mini-golf course.
Tiger Woods might not be winning a lot at professional golf these days, but that doesn't mean he's lost the killer instinct that has helped him to 14 career major titles and 79 PGA Tour victories.
Addressing the media Monday, Woods spoke about a family vacation he took with 7-year-old daughter Sam, 5-year-old son Charlie and girlfriend/champion skiier Lindsey Vonn:
"We had a good little time," Woods said. "We toured a little bit and even played a little putt-putt, which I won every single time."
That's right. Woods would rather go SportsCenter "Big Buddy" commercial than baby his kids.
And hey -- apparently it's working:
"I've got a little 5-year-old right now that is really pushing me pretty hard," Woods said. "He wants to beat me in everything. That said, I was able to kick his butt in putt-putt. I've shown him how to get it done."
(H/T The Washington Post)
Rory McIlroy wins Open Championship
His early career has had plenty of downs, but few can deny Rory McIlroy's many ups, the latest of which came at the Open Championship at Royal Liverpool. There, the 25-year-old from Northern Ireland went wire-to-wire to beat Sergio Garcia and Rickie Fowler by two strokes, making McIlroy only the third player to win three majors by the time he was 26. The other two? Jack Nicklaus and Tiger Woods -- meaning McIlroy's future seems quite bright indeed. Woods, meanwhile, posted his worst 72-hole finish at a major as a pro, ending up in 69th out of the 72 players who made the cut, 23 shots behind the winner. This leaves his Ryder Cup slot in further jeopardy.
Who will win 2014 Masters?

Bubba Watson started the day 4 shots up. Now he's tied for the lead with rising star Jordan Spieth, who joined the 2012 Masters champion at 5-under atop a suddenly jammed leaderboard. Matt Kuchar and Jonas Blixt sit 1 shot back, with a host of others within a few shots. How will it play out Sunday?

This year's Masters tournament brings together some of the best golfers in the world, but there's one notable omission: Tiger Woods won't be there. This is the first Masters without Woods since 1994, and though he hasn't won since 2005, it won't be the same without him.

1995

A 19-year-old Tiger Woods, shown with his father Earl after practice, tied for 41st place at the 1995 tournament as an amateur.

AP Photo/Amy Sancetta

1996

Tiger missed the cut at the 1996 Masters, his final as an amateur.

Stephen Munday/Getty Images

1997

The 1997 Masters was the first of Tiger's 14 major wins. He was the youngest champion in Masters history at 21 and posted the largest margin of victory ever.

AP Photo/ Dave Martin

1998

An off year for Tiger, he tied for eighth place at the 1998 Masters.

Timothy A. Clary/AFP/Getty Image

1999

Tiger won the PGA Championship in 1999 but struggled at the Masters, tying for 18th place.

Getty Images

2000

Perhaps Tiger's most dominant year, he won three of the four major tournaments and came in fifth place at Augusta.

Jeff Haynes/AFP/Getty Images

2001

Tiger's fourth straight major championship, albeit spread over two calendar years. He beat out Phil Mickelson by a single stroke.

AP Photo/Amy Sancetta

2002

Back-to-back Masters championships for Tiger. He surged ahead of the field in the final round after finishing Saturday neck-and-neck with Retief Goosen.

AP Photo/Elise Amendola

2003

The first of consecutive down years for Tiger, he tied for 15th place in the 2003 Masters ...

Sam Greenwood/Icon SMI

2004

... and finished out of the top 20 in 2004.

AP Photo/David J. Phillip

2005

Tiger's final Masters championship to this point. He showed his ability to recover from early struggles after posting a +2 in the first round.

Harry How/Getty Images

2006

Tiger touched off a six-year streak of finishing in the top 10 in the Masters in 2006 while failing to win in any of those years.

David Cannon/Getty Images

2007

This was the first major that Tiger lost despite holding a lead at some point on Sunday.

AP Photo/Morry Gash

2008

Tiger closed the gap on Trevor Immelman in the final round but couldn't overcome a six-stroke deficit.

Jamie Squire/Getty Images

2009

Tiger's tie for sixth place was a footnote in the 2009 Masters, as Angel Cabrera won an exciting three-man playoff.

AP Photo/Charlie Riedel

2010

Despite putting up an 11-below-par score in his first Masters post-scandal, Tiger couldn't overcome Mickelson's exceptional -16 performance.

Jamie Squire/Getty Images

2011

Tiger tied for the lead in the final round of the 2011 Masters but fell off late with a costly bogey on the 12th hole.

AP Photo/Chris O'Meara

2012

Tiger struggled in the 2012 Masters, his first since firing longtime caddie Steve Williams.

Streeter Lecka/Getty Images

2013

Tiger posted a 5-under-par performance in the 2013 Masters but was forced to watch Adam Scott win it all with Steve Williams as his caddie.

Mike Ehrmann/Getty Images




Thoughts on a Tiger-less Masters?

Golf's major championships are always difficult to predict, but the 2014 Masters is particularly perplexing. An injury-afflicted Woods won't play. None of the recent major winners (Rory McIlroy, 2013 champion Adam Scott, et al) has burned up the course of late. And so we head to Augusta without a clear idea of what will happen. What's your take on this intriguing event? Or do you not find it intriguing with Woods gone?