SportsNation Blog Archives

Kemba Walker
By
Joe DeMartino
| ESPN.com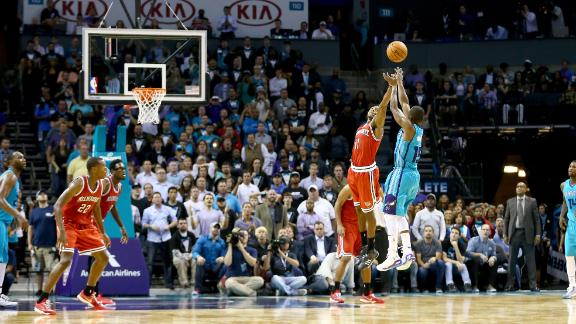 Kemba Walker's last-minute shot to lead the Hornets to an overtime win over the Bucks was pretty sweet, but look at how Michael Jordan reacted to it from the sidelines:
That's exceptional. We can't think of many better ways to start off a season -- at least for Hornets fans.
Amid all the offseason NBA movement, the position of steady hands stayed steady. That is, most of the league's top point guards remained right where they were, gearing up to lead their (often new-look) teams to another run at a title. Which ones are the best as individuals? Our own Bradford Doolittle made his stats-based projections earlier this week. Now, click on the boxes to rank Doolittle's top 16 for yourself!
Rank 'Em: Power forwards | Shooting guards | Centers | NBA teams' under-25 talent


NBA Point Guards
Jose Calderon

Jose Calderon
2012-13: 11.3 PPG, 7.1 APG, 0.8 SPG
Mike Conley

Mike Conley
2012-13: 14.6 PPG, 6.1 APG, 2.2 SPG
Stephen Curry

Stephen Curry
2012-13: 22.9 PPG, 6.9 APG, 1.6 SPG
Kyrie Irving

Kyrie Irving
2012-13: 22.5 PPG, 5.9 APG, 1.5 SPG
Ty Lawson

Ty Lawson
2012-13: 16.7 PPG, 6.9 APG, 1.5 SPG
Damian Lillard

Damian Lillard
2012-13: 19.0 PPG, 6.5 APG, 0.9 SPG
Kyle Lowry

Kyle Lowry
2012-13: 11.6 PPG, 6.4 APG, 1.4 SPG
Tony Parker

Tony Parker
2012-13: 20.3 PPG, 7.6 APG, 0.8 SPG
Chris Paul

Chris Paul
2012-13: 16.9 PPG, 9.7 APG, 2.4 SPG
Rajon Rondo

Rajon Rondo
2012-13: 13.7 PPG, 11.1 APG, 1.8 SPG
Derrick Rose

Derrick Rose
2011-12: 21.8 PPG, 7.9 APG, 0.9 SPG
Ricky Rubio

Ricky Rubio
2012-13: 10.7 PPG, 7.3 APG, 2.4 SPG
Kemba Walker

Kemba Walker
2012-13: 17.7 PPG, 5.7 APG, 2.0 SPG
John Wall

John Wall
2012-13: 18.5 PPG, 7.6 APG, 1.3 SPG
Russell Westbrook

Russell Westbrook
2012-13: 23.2 PPG, 7.4 APG, 1.8 SPG
Deron Williams

Deron Williams
2012-13: 18.9 PPG, 7.7 APG, 1.0 SPG
The crop of great young point guards in the NBA continues to grow each year, making it one of the deepest positions in the league. ESPN.com's NBA experts picked their top five point guards from the last five draft classes and now it's your chance to rank them. Cast your votes by clicking on the images below.


Best Young Point Guards

Eric Bledsoe

Eric Bledsoe
Los Angeles Clippers
2012-13 stats: 9.4 PPG, 2.9 APG
Stephen Curry

Stephen Curry
Golden State Warriors
2012-13 stats: 19.9 PPG, 6.3 APG
George Hill

George Hill
Indiana Pacers
2012-13 stats: 15.2 PPG, 5.3 APG
Jrue Holiday

Jrue Holiday
Philadelphia 76ers
2012-13 stats: 18.4 PPG, 8.9 APG

Kyrie Irving

Kyrie Irving
Cleveland Cavaliers
2012-13 stats: 23.6 PPG, 5.5 APG
Brandon Jennings

Brandon Jennings
Milwaukee Bucks
2012-13 stats: 18.0 PPG, 5.9 APG
Brandon Knight

Brandon Knight
Detroit Pistons
2012-13 stats: 14.5 PPG, 4.9 APG
Ty Lawson

Ty Lawson
Denver Nuggets
2012-13 stats: 14.5 PPG, 7.0 APG
Damian Lillard

Damian Lillard
Portland Trail Blazers
2012-13 stats: 18.8 PPG, 6.3 APG
Derrick Rose

Derrick Rose
Chicago Bulls
2011-12 stats: 21.8 PPG, 7.9 APG*
*Has not played in 2012-13 due to injury
Ricky Rubio

Ricky Rubio
Minnesota Timberwolves
2012-13 stats: 4.0 PPG, 6.5 APG
Jeff Teague

Jeff Teague
Atlanta Hawks
2012-13 stats: 13.3 PPG, 6.4 APG
Isaiah Thomas

Isaiah Thomas
Sacramento Kings
2012-13 stats: 9.7 PPG, 2.0 APG
Kemba Walker

Kemba Walker
Charlotte Bobcats
2012-13 stats: 18.8 PPG, 6.1 APG
John Wall

John Wall
Washington Wizards
2011-12 stats: 16.3 PPG, 8.0 APG*
*Has not played in 2012-13 due to injury
Russell Westbrook

Russell Westbrook
Oklahoma City Thunder
2012-13 stats: 21.1 PPG, 8.8 APG