SportsNation Blog Archives

Ole Miss Rebels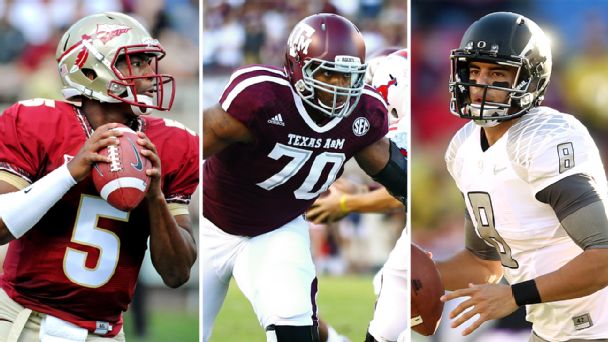 USA TODAY Sports
2014 college football predictions
The 2014 college football season -- aka Year 1 of the College Football Playoff -- is upon us, with Texas A&M thumping South Carolina on a night of Thursday kickoffs. Johnny Manziel is gone, but reigning Heisman Trophy winner Jameis Winston still is here. So are a good number of other Florida State Seminoles who helped the team to last season's national championship. Will they repeat? Who will win the conferences? Cast your votes below!
More: Rank: Top 25 | Rank: Conferences | Rank: Heisman candidates | Rank: QBs
CFB: (8) Mizzou at (24) Ole Miss

Even if Alabama beats Auburn in the Iron Bowl, its work isn't done. The Crimson Tide then must play in the SEC Championship Game, against an SEC East winner that just might be Missouri. But the Tigers have a lot of work to do to get to Atlanta, starting Saturday at Ole Miss and, if they beat the Rebels, ending next week at home against Texas A&M. James Franklin returns from injury to retake his spot under center. Will he lead the Tigers to the two wins they need?

AP Photo/Eric Gay

CFB: (21) Ole Miss at (1) Alabama

While other high-ranked teams were putting up staggering numbers, No. 1 Alabama followed its impressive win at Texas A&M with an uninspiring 31-6 home victory over Colorado State on Saturday. The fact is, both games exposed some issues with the Crimson Tide. Will they haunt the two-time defending national champions? Ole Miss might help us find out.