SportsNation Blog Archives

J.J. Watt
According to J.J. Watt, one young fan named Trey was having trouble proving to his schoolmates that he was friends with the Houston Texans' star defensive end. So Watt made this video: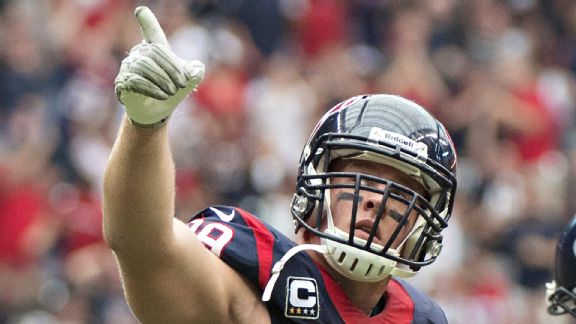 George Bridges/Getty Images
J.J. Watt's 2012 season was one for the ages -- he had 20.5 sacks and an astounding 16 passes defended as opposing quarterbacks quailed at the site of him across the line of scrimmage. His stats this season aren't quite as good, but they still place him in the running for the AP NFL Defensive Player of the Year award. Has he had a better season than the likes of Robert Mathis or Richard Sherman? Submit your rankings!


Defensive Player of the Year
Vontaze Burfict

Vontaze Burfict
Bengals LB
151 tackles, 8 passes defensed, 1 sack, 1 INT, 1 forced fumble
Lavonte David

Lavonte David
Buccaneers LB
126 tackles, 9 pass defenses, 6 sacks, 5 INTs, 2 forced fumbles
Luke Kuechly

Luke Kuechly
Panthers LB
122 tackles, 3 INTs, 2 sacks
Robert Mathis

Robert Mathis
Colts DE
49 tackles, 16.5 sacks, 6 forced fumbles
Robert Quinn

Robert Quinn
Rams DE
46 tackles, 15 sacks, 7 forced fumbles
Richard Sherman

Richard Sherman
Seahawks CB
34 tackles, 6 INTs
Earl Thomas

Earl Thomas
Seahawks FS
93 tackles, 5 INTs, 2 forced fumbles
J.J. Watt

J.J. Watt
Texans DE
69 tackles, 9.5 sacks, 6 pass defenses, 3 forced fumbles
Your Rankings
1.

2.

3.

4.

5.

6.

7.

8.

Thomas B. Shea/Getty Images
AFC South Preview -- 2013
J.J. Watt and the Houston Texans cruised to the AFC South title last season, but not everything was rosy; after an 11-1 start, the team lost four of six -- including 41-28 to the New England Patriots in the divisional round. Will Houston build on last season? Or will the Indianapolis Colts take over?
More: NFC East | NFC North | NFC South | NFC West | AFC East | AFC North | AFC West
In 2012, J.J. Watt nearly unanimously won NFL defensive player of the year, thanks to video-game-on-easy numbers (and, as a result, the success of his Houston Texans). Is the 24-year-old already the best defensive lineman in football? Or will the rest of the pack catch up in 2013? Click on the images below to set your rankings!

Rank 'Em: MVP | QBs | RBs | WRs | TEs | LBs | DBs | Offensive ROY | Defensive ROY

NFL DLs in 2013

Jared Allen

Jared Allen

Vikings
2012: 45 tackles, 12 sacks, FF

Geno Atkins

Geno Atkins

Bengals
2012: 53 tackles, 12.5 sacks, 4 FF

Elvis Dumervil

Elvis Dumervil

Ravens
2012: 54 tackles, 11.0 sacks, 6 FF

Chris Long

Chris Long

Rams
2012: 33 tackles, 11.5 sacks

Haloti Ngata

Haloti Ngata

Ravens
2012: 51 tackles, 5 sacks

Julius Peppers

Julius Peppers

Bears
2012: 39 tackles, 11.5 sacks, FF

Jason Pierre-Paul

Jason Pierre-Paul

Giants
2012: 66 tackles, 6.5 sacks, FF

B.J. Raji

B.J. Raji

Packers
2012: 26 tackles

Justin Smith

Justin Smith

49ers
2012: 66 tackles, 3 sacks

Ndamukong Suh

Ndamukong Suh

Lions
2012: 35 tackles, 8 sacks

J.J. Watt

J.J. Watt

Texans
2012: 81 tackles, 20.5 sacks, 4 FF

Cameron Wake

Cameron Wake

Dolphins
2012: 53 tackles, 15 sacks, 3 FF

DeMarcus Ware

DeMarcus Ware

Cowboys
2012: 56 tackles, 11.5 sacks, 5 FF

Vince Wilfork

Vince Wilfork

Patriots
2012: 48 tackles, 3.0 sacks, 2 FF

Kevin Williams

Kevin Williams

Vikings
2012: 30 tackles, 2.0 sacks

Mario Williams

Mario Williams

Bills
2012: 46 tackles, 10.5 sacks, 2 FF

Your Rankings

1.

2.

3.

4.

5.

6.

7.

8.

9.

10.

11.

12.

13.

14.

15.

16.

Tags:

SportsNation Rank, NFL, Minnesota Vikings, Jared Allen, Cincinnati Bengals, Geno Atkins, Elvis Dumervil, Baltimore Ravens, Chris Long, St. Louis Rams, Haloti Ngata, Julius Peppers, Chicago Bears, New York Giants, Jason Pierre-Paul, B.J. Raji, Green Bay Packers, San Francisco 49ers, Justin Smith, Ndamukong Suh, Detroit Lions, J.J. Watt, Houston Texans, Cameron Wake, DeMarcus Ware, Vince Wilfork, Mario Williams, Kevin Williams, Miami Dolphins, Dallas Cowboys, New England Patriots, Buffalo Bills