SportsNation Blog Archives

LeBron James
Appearing Wednesday on The Dan Le Batard Show, rapper and creator of the "cooking dance" Lil B (aka The Based God) discussed his gripe with James Harden, the origin of the cooking dance and why LeBron James might be the next NBA star to face his wrath.
Before heading to Oakland (where he sat behind the Houston Rockets' bench and watched James Harden fall to Steph Curry and the Golden State Warriors) on Wednesday night, the rapper aired his grievances with Harden, while emphasizing the importance of authenticity:
"People want original paintings. There are a lot of artists that might recreate Picasso's painting. So the gullible buyers, they might buy the off-brand Picasso painting. But for the real artist and the real people, they want that Picasso painting, which is Lil B."
It doesn't get much realer than calling someone fraudulent through a Pablo Picasso analogy. If only Harden had squadded up with Lil B when he had the chance.
In other news, J.R. Smith posted an Instagram video of himself, LeBron James, Kyrie Irving, Iman Shumpert and Kendrick Perkins getting hyphy to Chedda Da Connect's "Flicka Da Wrist" after clinching the Eastern Conference title.
Needless to say, Lil B noticed and was NOT pleased. This is because all dances that involve any cooking motion or wrist-flicking originate from Lil B's cooking dance. Therefore, the players -- specifically LeBron James -- must give credit to The Based God immediately or they are going to land themselves a classic case of "The Based God's Curse":
"That is what LeBron James, J.R. Smith, Kyrie Irving ... that is the celebration they all were doing ... but they called it something else. I think they are a bit misled."
Lil B went on to single out LeBron as the culprit behind this offense. He also questioned the leadership ability of the four-time MVP:
"Now the thing is, if LeBron James continues to be arrogant and with all his leadership, the supposed leader that LeBron James is, if he's doing dances and celebrations where he doesn't know the source, that shows a little bit about LeBron James' personality. If LeBron James is doing things where he doesn't really know the source, LeBron James might be the person who buys a fake Picasso painting too. He might do that."
Luckily one of King James' teammates, Iman Shumpert, isn't chancing letting a Based God's Curse get in the way of the Cavs winning an NBA title.
. @LILBTHEBASEDGOD Preciate the swag killa =L<þ. I cooks I chef <À all love

— Iman Shumpert I (@I_Am_Iman) May 27, 2015
And just like that, Shump appeased The Based God! "Major respect to the Cavaliers organization and for them having a great, stand-up, honorable player like Iman Shumpert to come out and say he is doing the Lil B cooking dance and he's been doing that," Lil B said.
LeBron: It might not be a bad idea to take his lead lest you risk ending up like Kevin Durant and James Harden. Just saying.
.@LILBTHEBASEDGOD reminds the crowd who owns the cooking dance. http://t.co/EtJqVLk42c

— NBA on ESPN (@ESPNNBA) May 28, 2015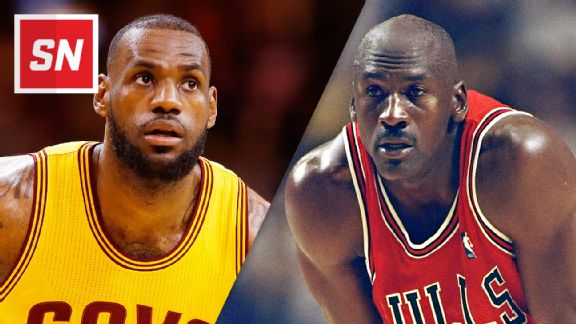 Getty Images
Ah, the Michael Jordan versus [insert modern star here] debate. As much as many (most?) people might like to see it retired, or at least diminished, it's not going away anytime soon.
Case-in-point: Kendrick Perkins and J.R. Smith, Cleveland Cavaliers players fresh off watching LeBron James' gutsy performance in a Game 3 overtime win over the Atlanta Hawks, brought up MJ in the context of their four-time-MVP, two-time-champion teammate.
Perkins, as told to Northeast Ohio Media Group: "The only thing that he's missing is a couple more championships, and then it's a wrap. Right now, we have arguably the best player to ever play the game. I'm just saying, man. I'm not taking anything away from Jordan, but all [James is] missing is titles. A couple of more titles, and that's it."
And Smith, as told to the same publication: "That's one hell of a debate. Honestly, in my opinion, if it's not Jordan, then it's him. It used to be no question. It was a landslide. It was Jordan. Now, you have to consider my boy."
Smith's comments are more measured; if you don't consider James one of the greatest players of all time, you're just a hater.
But Perkins? He's kind of, sort of saying LeBron is better ... if only he had Jordan's six rings.
Some might channel Jason Segel and respond that six rings is THE ONLY ARGUMENT I NEED, KENDRICK!
We prefer a more nuanced view, though nearly every unit of measurement favors MJ as No. 1.
Still, there's time left in LeBron's career, so you never know ...
After trailing 2-1 in the series, you could say the Cleveland Cavaliers turned things around against the Chicago Bulls. LeBron James & Co. won three straight, including the clincher: Thursday night's emphatic 94-73 victory in Chicago.
Then someone had a little fun on Wikipedia (to you we-love-LeBron-so-much truthers, we promise it wasn't us):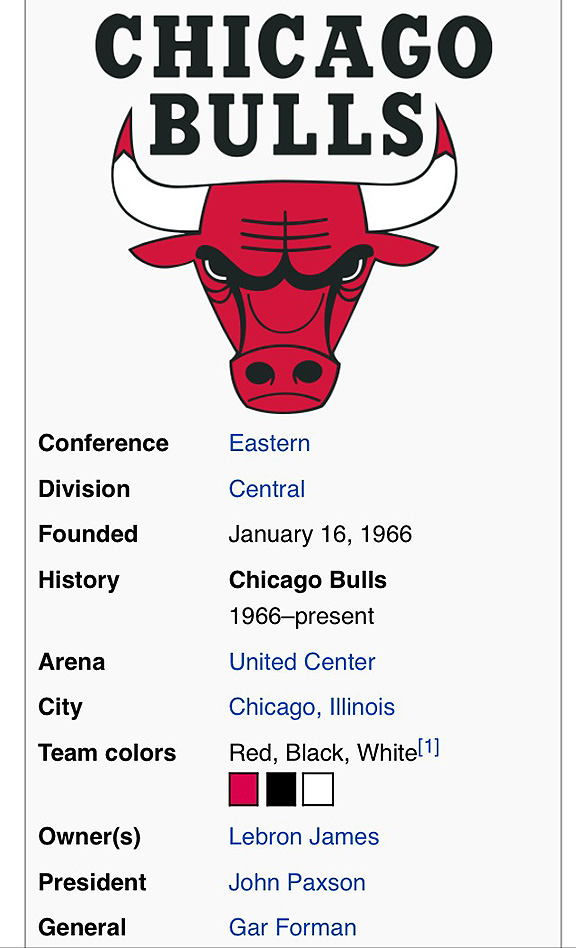 Wikipedia
LeBron James, owner of the Bulls. And while Jerry Reinsdorf (the real owner) isn't going to hand his franchise over anytime soon, we see why this Wikipedia jokester did what he or she did: A James team has eliminated the Bulls from four of the past six postseasons, while the Bulls have never done the same to James.
So yes, in web parlance, they've definitely being "owned."
(The page has since been changed back, by the way.)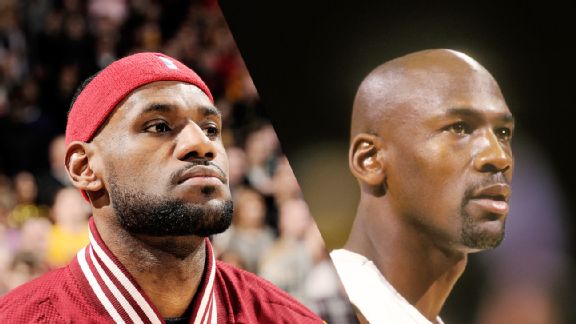 Getty Images
Americans' respect, reverence, love and outright worship of Michael Jordan might never end.
The latest evidence: In a recent survey of 1,471 registered voters conducted from May 7 to May 10, Public Policy Polling found that not only do 77 percent of people find Jordan to be the greatest NBA player of all time, but 34 percent said MJ would beat LeBron James one-on-one ... right now. Only 54 percent said LeBron would win the matchup.
Reminder: Jordan is 52, and retired from basketball 12 years ago after posting decent but very un-MJ-like stats (19.3 player efficiency rating and a pedestrian 6.2 win shares). James is 30, just finished third in NBA MVP voting, posted a 25.9 PER and 10.4 win shares, and scored 38 points and grabbed 12 rebounds in a playoff game.
Now, these being registered voters and therefore 18 and older, it's possible that their age and memories of vintage Jordan are influencing their opinion.
It's also possible that you agree with their assertion -- that MJ was just so good as to be unbeatable.
We don't agree; while we're on board with Jordan being the clear No. 1 all-time, today this matchup wouldn't even be close.
Now it's time for you to decide, then check out who is America's favorite NBA player (you can also read the full report here).
LeBron James hit quite the big shot Sunday, helping his Cleveland Cavaliers complete a comeback win against the Chicago Bulls to even their series 2-2.
The sports world, as it is wont to do, recognized greatness when it saw it -- none more emphatically than Odell Beckham Jr., the New York Giants wide receiver who is a known fan/friend of James.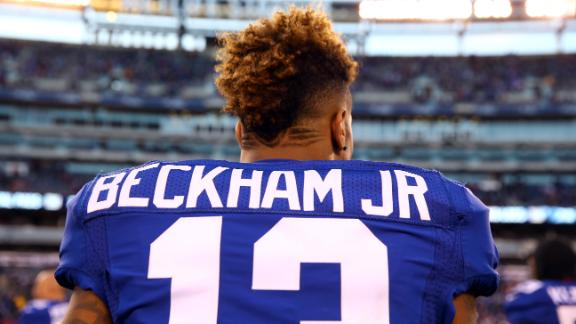 Absolutely classic.
Other athletes showed their enthusiasm, albeit via written word and not video. There were basketball players ...
Bang!!!

— DWade (@DwyaneWade) May 10, 2015
LEBRON JAMES!!!!!!!!

— Nik Stauskas (@NStauskas11) May 10, 2015
Crazy Game Winners

— BRANDON JENNINGS (@BrandonJennings) May 10, 2015
He is Nasty #cold

— Zach LaVine (@ZachLaVine) May 10, 2015
Tristan Thompson almost chocked him out! Lol GEESH! Tough shot by Lebron!

— Skylar Diggins (@SkyDigg4) May 10, 2015
Football players ...
Lebron !!!!

— Antonio Brown (@AntonioBrown84) May 10, 2015
Bron not playin with them boys!

— Le'Veon Bell (@L_Bell26) May 10, 2015
Damn!! #bronbron

— Matt Ryan (@M_Ryan02) May 10, 2015
.@KingJames does it again!! #NBAPlayoffs

— Larry Fitzgerald (@LarryFitzgerald) May 10, 2015
I love it!!! Dude put up with so much hate =ª<þ

— Mike Wallace (@Wallace17_daKid) May 10, 2015
LETS GOOOOOOOOOOOOOOOOOO @KingJames =¯=¯=¯=¯=¯=¯=¯=¯=¯=¯=¯

— Joe Haden (@joehaden23) May 10, 2015
Baseball players ...
Wow wow wow!! Thank you Lebron for allowing this clubhouse to WITNESS GREATNESS!!!! #tigersthankyou #jvknows

— David Price (@DAVIDprice14) May 10, 2015
What a win!! Wow! @cavs @KingJames

— Nick Swisher (@NickSwisher) May 10, 2015
Wow... Just wow. =3... D Rose did it and now LBJ does it right back! #whataseriessofar

— Jason Kipnis (@TheJK_Kid) May 10, 2015
At least one enthusiast from across the pond ...
Lebron James the Man himself!!! #NBAPlayoffs

— Bentekechristian (@bentekechris20) May 10, 2015
But, of course, some haters (or realists, depending on your perspective; a late review did in fact give the Cavaliers time to figure out a play).
Great shot, bad D...

— rudy gobert (@rudygobert27) May 10, 2015
that review was a free timeout tho.

— Solomon Hill (@solohill) May 10, 2015
No matter what you think, it was some shot.