SportsNation Blog Archives

Carmelo Anthony
European money machine and reigning UEFA Champions League winner Real Madrid currently is in the U.S., training at UCLA for games in Berkeley, California, and Dallas.
New York Knicks star and big-money player Carmelo Anthony is almost always in the U.S., and he too spent some time at UCLA on Wednesday with friend Dontaye Draper ... who happens to have played for Real Madrid's basketball team.
And so the two famous entities met, with Anthony and son Kiyan playing a little soccer -- albeit not against any of los Galacticos -- taking photos with stars such as Gareth Bale and Xabi Alonso, and answering questions about (naturally) new Knicks teammate/Spanish basketball star Jose Calderon.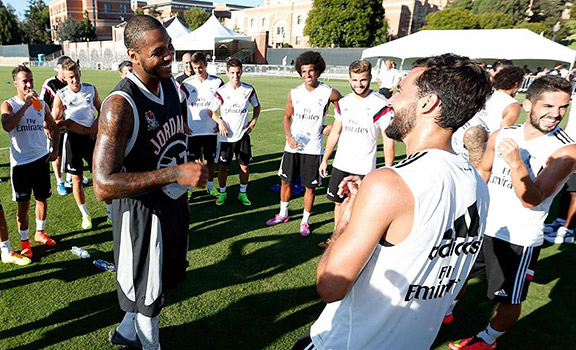 Real Madrid/FacebookCarmelo Anthony with several Real Madrid players.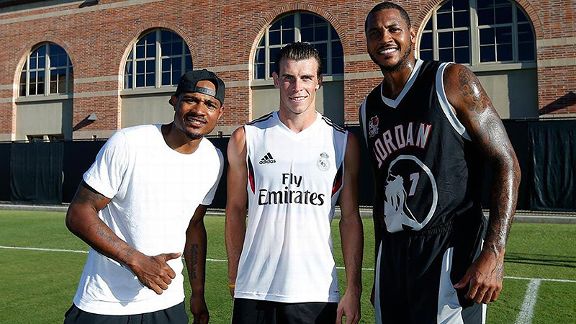 Real Madrid/FacebookCarmelo Anthony, right, with Dontaye Draper, left, and Gareth Bale.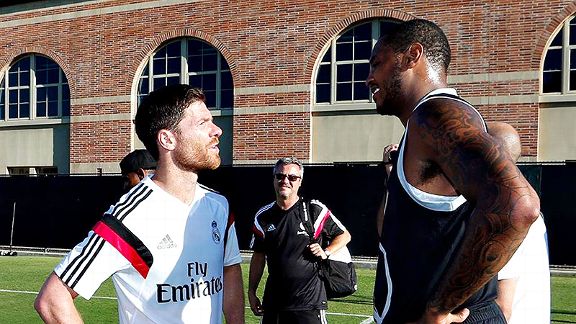 Real Madrid/FacebookCarmelo Anthony with Xabi Alonso.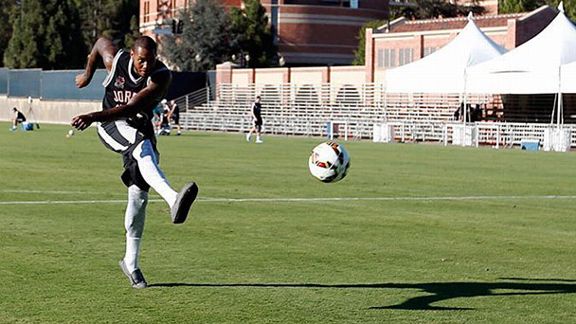 Real Madrid/FacebookCarmelo Anthony goes for goal.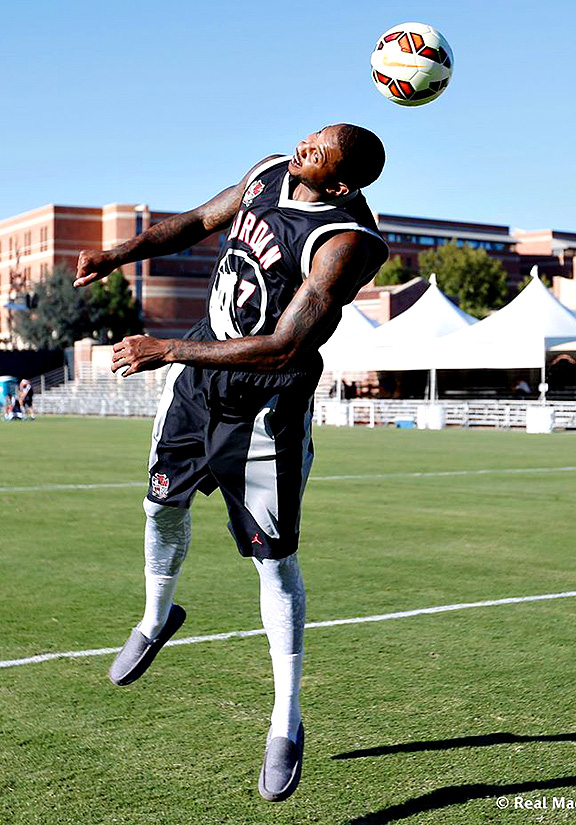 Real Madrid/Facebook Carmelo Anthony goes for a header.
This comes about six weeks after Real Madrid's own top star, Cristiano Ronaldo, tried his hand at American football.
So we ask: Who would be better at their new sport, Ronaldo or Melo?
Carmelo Anthony stays with Knicks
LeBron James is moving. But Carmelo Anthony is staying, re-signing with the New York Knicks for a reported five years and $122 million. Anthony chose New York over the Chicago Bulls and Los Angeles Lakers among others, deciding to stick with new team president Phil Jackson. But will the Knicks, who recently traded Tyson Chandler, compete anytime soon?
Getty Images

NBA free agency predictions?

July 1 marks the beginning of NBA free agency, and what a time it should be. LeBron James is available. So are Carmelo Anthony, Chris Bosh, James' and Bosh's fellow Big Three member Dwyane Wade and -- perhaps briefly, if he re-signs as expected -- Dirk Nowitzki. That's not to mention restricted free agents such as Eric Bledsoe and Gordon Hayward, plus trade targets like Kevin Love. What will happen when the players start moving?

Where will Carmelo Anthony go?

The expected has happened, as Carmelo Anthony opted out of his contract to become a free agent this summer. This would make him the biggest name -- so far -- on the market, with the Chicago Bulls considered a primary option. Where will he end up? Would you want your favorite team to sign him?