SportsNation Blog Archives

NFL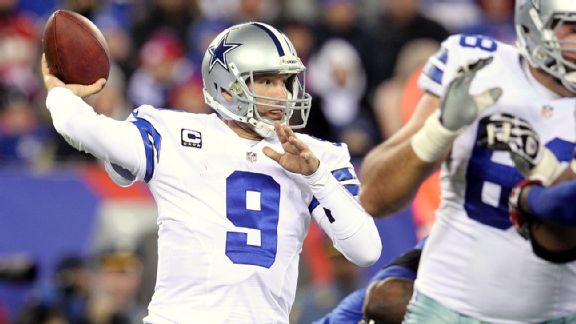 Brad Penner-USA TODAY Sports
NFL Week 15 Pick 'Em
The Cowboys will try to get their defense back on track against the Packers in Green Bay. The Jets look to keep their fleeting playoff hopes alive in Carolina against the Panthers. The Ravens take on the Lions on Monday night in a game with huge playoff implications. Which teams will win in Week 15? Cast your votes now!
Should the Redskins sit RGIII?

Mike Shanahan may be on the hot seat, but he's still looking for ways to at least partially salvage the Redskins' disastrous 3-10 season -- and, potentially, their future. One option he's considered is benching Robert Griffin III in favor of Kirk Cousins for the remainder of the season. Griffin simply hasn't been his usual self this year, with many blaming lingering injuries for his struggles. Cousins is a proven backup and could be a respectable steward of the team while Griffin heals, but Griffin is at a point in his career where he needs as much on-field experience as possible.

AP Photo/Nam Y. Huh

Who wins NFC North? NFC East?

Now things are interesting. Actually, they already were interesting. And they remain that way, after the Chicago Bears routed the Dallas Cowboys in what seemed like an evenly matched game between two playoff-hungry teams. Not so much. This puts Chicago in a tie for NFC North supremacy with the Detroit Lions, with the Green Bay Packers just half a game behind. The Cowboys, meanwhile, must scramble to catch the Philadelphia Eagles -- now one game up -- although the two teams do meet on the final day of the season, and Dallas beat Philly in their first matchup ...

Otto Greule Jr/Getty Images

Which team will win the NFC?

In the afternoon, the San Francisco 49ers exacted revenge -- through a close call -- on the Seattle Seahawks team that thrashed them earlier in the season. At night, the New Orleans Saints put a thunderous stop to the Carolina Panthers' eight-game winning streak, moving a game up in the NFC South race. Who will take these divisions? Is Seattle your pick to win the NFC championship?

Gronkowski tears ACL, MCL

The Patriots are a different (read: worse) team without Rob Gronkowski, so the news that he's out for the season after tearing his ACL and MCL must put a damper on their third consecutive comeback win. Gronkowski was hit in the knee by Browns safety T.J. Ward after catching a pass from Tom Brady, and he had to be carted off the field. The news couldn't be much worse for the Patriots, who've won their past three games only by the slimmest of margins and have already suffered devastating injuries to stalwarts like Vince Wilfork and Jerod Mayo. Though Brady thinks the team will adapt, it's hard to see how New England can make another Super Bowl run without their best pass-catcher.