SportsNation Blog Archives

NCW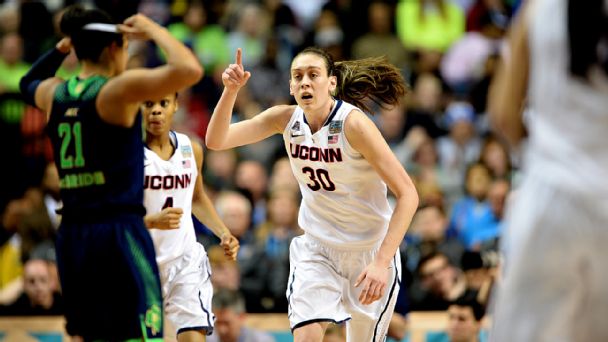 Allen Kee/ESPN Images
UConn women win record 9th title
One night after the Connecticut men's basketball team claimed an improbable national championship, the women did what most expected: They set the record for most titles, beating Notre Dame 79-58 for their ninth NCAA tournament triumph. The Fighting Irish were clearly hurt by the absence of injured star Natalie Achonwa. Would she have changed things versus the also-undefeated Huskies? Is Geno Auriemma the best women's basketball coach of all time?
AP Photo

UConn-Notre Dame for women's title

And here we have it: the undefeated matchup many expected, with Connecticut (39-0) and Notre Dame (37-0) squaring off Tuesday in Nashville for the women's NCAA tournament title. The Huskies are the unanimous AP No. 1 and vying for their record ninth title. The Fighting Irish are No. 2 and without one of their best players (Natalie Achonwa). Still, Notre Dame cruised past Maryland in their Final Four game, while UConn had a bit more trouble against Stanford in theirs. What will happen on Tuesday?

Women's Final Four predictions?

The women's Final Four is set, and -- surprise! -- undefeated Connecticut and Notre Dame made it to Nashville. The other two teams were not No. 1 seeds: No. 2 Stanford won on its home floor, while No. 4 Maryland beat host/No. 3 Louisville. Can either keep the unbeatens from an epic final? Will Notre Dame overcome the loss of Natalie Achonwa? Cast your votes below!

Connecticut coach Geno Auriemma is knocking on history's door. With his eighth NCAA championship, he has tied former Tennessee coach Pat Summitt for the all-time women's basketball record and is only two titles from tying John Wooden's 10 at UCLA. And as long as players such as freshman Breanna Stewart keep going to Storrs, records that once seemed untouchable appear to be within reach. Will Auriemma win three more titles and pass the Wooden for the most NCAA basketball championships ever?

---

Measure of success

For years, Pat Summitt and Geno Auriemma were the benchmark for excellence in women's college basketball -- and their rivalry showed it. Is Auriemma now the best women's coach ever?

---

The Program

Now that UConn has matched Tennessee's eight NCAA titles, are the Huskies the team that comes to mind first when you think of women's college basketball?