SportsNation Blog Archives

Tony Romo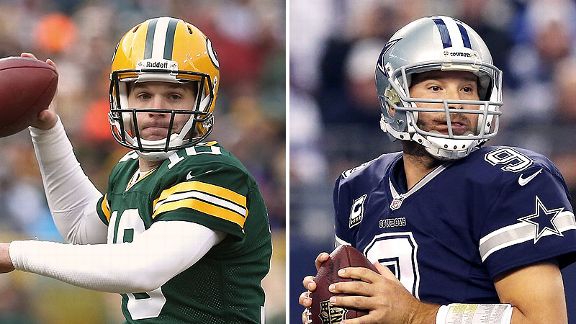 Getty Images
NFL Week 15 -- Packers at Cowboys
The fight for the playoffs continues in the Northeast quadrant of the NFC, with the Green Bay Packers and Dallas Cowboys both looking up at their respective division rivals. This means Sunday's game between the two feels almost like a playoff contest. Adding to the intrigue: questions surrounding Aaron Rodgers' return; he experienced pain in his most recent practice session, making Matt Flynn the likely starter Sunday. Which team will keep a division title in sight?
USA TODAY Sports

NFL Week 14 -- Cowboys at Bears

While the NFC West and NFC South might feature the conference's top contenders, the NFC East and NFC North aren't without heated divisional races. That's where these two teams come in: the 7-5 Dallas Cowboys, tied atop the East, and the 6-6 Chicago Bears, one game behind the Detroit Lions in the North. Which team will snag a critical win Monday night?

Peyton Manning remains on top in Dan Graziano's weekly MVP watch list. Manning's five-touchdown performance led the Broncos to a crucial 35-28 win over their AFC West rival Chiefs. With 41 touchdowns, Manning has a pretty good shot to break Tom Brady's single-season record of 50 TDs. Is he your choice for MVP?

2013 NFL MVP Watch

Tom Brady

Tom Brady

Patriots QB
3,267 yards, 19 TDs, 8 INTs, 60.7 CMP%

Drew Brees

Drew Brees

Saints QB
3,794 yards, 29 TDs, 8 INTs, 67.7 CMP%

Vontaze Burfict

Vontaze Burfict

Bengals LB
131 tackles, 1 INT, 1 sack

Nick Foles

Nick Foles

Eagles QB
1,791 yards, 19 TDs, 0 INTs, 63.3 CMP%

Calvin Johnson

Calvin Johnson

Lions WR
72 catches, 1,299 yards, 12 TDs

Peyton Manning

Peyton Manning

Broncos QB
4,125 yards, 41 TDs, 9 INTs, 68.1 CMP%

LeSean McCoy

LeSean McCoy

Eagles RB
232 carries, 1,088 yards, 5 TDs

Cam Newton

Cam Newton

Panthers QB
2,616 yards, 19 TDs, 11 INTs, 61.7 CMP%

Tony Romo

Tony Romo

Cowboys QB
3,140 yards, 24 TDs, 7 INTs, 64.8 CMP%

Russell Wilson

Russell Wilson

Seahawks QB
2,672 yards, 22 TDs, 6 INTs, 64.9 CMP%

Your Rankings

1.

2.

3.

4.

5.

6.

7.

8.

9.

10.

AP Photo/Matt Rourke

Which team will win NFC East?

Neither team had it easy, but both got the job done. On Thursday, the Dallas Cowboys erased an early two-touchdown hole against the Oakland Raiders to (temporarily) take the outright lead in the NFC East. Three days later, the Philadelphia Eagles held off a late charge by the Arizona Cardinals to win 24-21 and resume their tie atop the division. New York and Washington are still mathematically alive, but it appears the Eagles or Cowboys will take the crown. Which will it be?