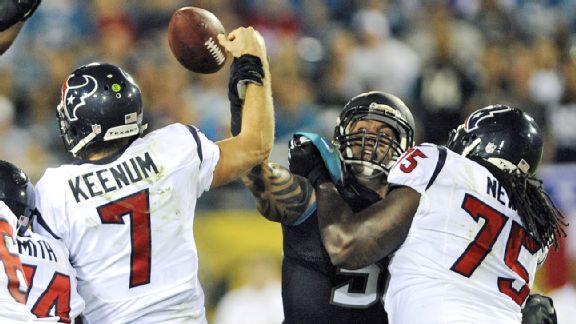 AP Photo/Stephen Morton
Will Texans 'earn' No. 1 pick?
Don't say Thursday night's game between the Houston Texans and Jacksonville Jaguars was meaningless. Not only did the 27-20 decision give the Jaguars their first home win in more than a year -- extending their victorious streak to an AFC-best three games -- but it also put Houston in prime position to "earn" the No. 1 overall pick in the 2014 NFL draft. Will the Texans end up with the league's worst record? If so, what should they do?
Getty Images

Brighter outlook -- Knicks or Nets?

The New York Knicks weren't supposed to light up the league this season, but their floor seemed like a low playoff seed in the Eastern Conference. And yet, after Thursday night's game at the Brooklyn Nets, Carmelo Anthony & Co. are just 4-13. The Nets, meanwhile, are 5-14 -- but lost Thursday's game by 30. And they were supposed to be the contending team of the two. Woof. Needless to say, things don't look good in Gotham. Which franchise's outlook is better, if ever-so-slightly?

Will Peyton struggle in the cold?

Peyton Manning is one of the finest quarterbacks to play the game -- that is, at least, until things get a bit nippy. Manning denied that he's a worse quarterback in cold weather, but when the temperature drops to freezing, he's tended to struggle, throwing 11 touchdowns to 12 interceptions in 10 such games. The Broncos may be favorites to make the Super Bowl in the AFC, but considering this year's game is outdoors, fans in Denver might have reason to be concerned about their franchise savior.

The Clippers have a problem common to teams that approach offense with a fanatic's zeal: They can't stop other teams from matching them point-for-point. Los Angeles is giving up 102.1 points per game, the sixth-worst mark in the league, and is in the midst of a two-game losing streak in which it allowed the Hawks to drop 107 points on it. Chris Paul thinks the Clippers need to find a defensive identity, but when you're coming off a game in which the opposing team shoots 52.2 percent from 3-point range, it might simply be that you don't have the personnel to do the job.

Here's a sampling of what readers had to say in our Facebook conversation on the story:

Ian Moore: "I'm sorry but this to me indicates how overrated Blake and DeAndre are. Offensively they're explosive, defensively they horrible. You have two 6'10 and 250lb guys who can kiss the rim but can't average a block a game. That's horrible when a guard like Wade plays better defense. "
Evander Smart: "That the stars see the problems, and are accepting responsibility is a great sign. This team will get better as the season goes along. They will be a team you don't want to face in the Playoffs. Doc will help them figure it out."
Josh Lee: "While Blake Griffin is a tremendous athlete, he's not the type of big man you want to win a championship. If he develops a post game, improves his post defense, and can consistently hit mid range, then he will be a huge threat in the post-season. Till then, Blake will only be a showtime highlight player in the regular season. CP3 needs a post man as well as a wing player that is all-star caliber and a great scorer."
Jessie Ortiz: "Is anyone surprised that the Clippers are once again loaded with talent and can't seem to "figure it out". That's always been the case with the lowly Clippers."
Miles Peterson: "The Clippers are never gonna win unless they get different players, 'cause its not like Doc can go out there and play again. He's not gonna make much difference."

What do you think? Leave your comments below.